While Auston Matthews and Patrik Laine have dominated many of the headlines around the NHL since the moment they put on their respective sweaters on June 24th, 2016 there were other names picked that day that have received much less attention. Matthew Tkachuk has burst onto the scene in Calgary, recording an incredible 41 points in his rookie season (including more assists than either of the top 2) while Jakob Chychrun has steadily improved in the desert and is now logging 20 minutes a night as an 18-year old.
There were three other names taken between Laine and Tkachuk, and though their respective fan bases surely haven't forgotten about their prized assets, drooling over the potential they bring while combing through box scores—that is if anyone combs through box scores anymore—the rest of the league might have. As we head past the trade deadline many teams look towards the future, hoping for a brighter sunrise next season and looking at comparables for their expected draft position this summer.
5th Overall Pick – Olli Juolevi (VAN)
The first defenseman picked in the draft was Olli Juolevi from the London Knights. The smooth skating defender that was heralded as a future #1 who could play in any situation has had an excellent, if a little underwhelming season for the Knights in 2016-17. Playing on a great team in front of a great goaltender, Juolevi has continued to rack up assists while being a main part of one of the stingiest defensive teams in the OHL. The Knights have allowed just 165 goals this season and Juolevi is one of the reasons why.
With 39 points in 49 games, he continues to produce in junior hockey, though a little less can be said about his performance at the World Juniors. Captaining a Finnish squad that was without almost all of their key players—including one we will speak of later—Juolevi didn't impress much through the preliminary round. After his coach got fired midway through the tournament, Juolevi stepped up a bit but still finished with just two points in six games.
It's hardly enough to judge him on, but Vancouver Canucks fans were likely hoping to see him take over the tournament all by himself and drag the Finnish team to the medal round. They should however be excited about the prospect that London will be in the OHL playoffs starting later this month, where Juolevi will try for a second crack at the Memorial Cup.
4th Overall Pick – Jesse Puljujarvi (EDM)
One of those missing Finnish forwards was none other than Jesse Puljujarvi, who missed the tournament because he was in the NHL at the time. The Oilers couldn't believe it when the second-best Finnish draftee fell into their laps at fourth overall, as he was expected to go one spot higher. The big (big) winger is expected to turn into a dominant power forward in the NHL capable of playing an elite two-way game and helping the Oilers round out their top-six.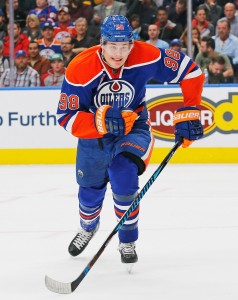 When Edmonton broke camp with Puljujarvi in tow, it was an interesting decision to keep him and not give him the icetime that Laine and Matthews immediately received. While not as polished as those two, putting him on the ice for 10-12 minutes a game seemed like a waste of his talent and something that couldn't last. Well it did, until just after the World Juniors completed, amazingly playing Puljujarvi in his final game in Edmonton the same day as the gold medal match. In that final contest, he saw just over three minutes of ice time.
Since then, Puljujarvi has adapted to the AHL quite well scoring 16 points in 20 games and starting to get his confidence back. The winger is the youngest player on the team, only able to play in the professional ranks before the age of 20 because he was drafted out of a European league. Puljujarvi may even return to the NHL this season should the Oilers feel he's ready, but it looks like next year (or later) will be the time when he makes his mark at this level.
3rd Overall Pick – Pierre-Luc Dubois (CBJ)
Oh Pierre-Luc Dubois, the player who will always have more pressure on him because the Columbus Blue Jackets shocked everyone by picking him ahead of Puljujarvi. When Jarmo Kekalainen read out Dubois' name, it was a surprise to much of the draft room—but maybe it shouldn't have been.
In the inevitable arguments about who is better between Laine and Matthews, many defenders of the Toronto center point to his position as the determining factor. That's the same argument that Columbus used on Dubois, though Blue Jackets fans might need to scream it to make it count. He's had a fine season, scoring 49 points in 41 games split between the Cape Breton Screaming Eagles and Blainville-Boisbriand Armada of the QMJHL but it hasn't quite lived up to the hype he created last year when he scored 99 in 62.
Add in the fact that he didn't impress during the World Juniors (though his team still won a silver medal) and it's been a rough year for Blue Jackets fans hoping to have another top center as soon as 2018. Dubois is a dominant physical presence in the Q, a league known for skill and offense more than two-way strength. A down year doesn't mean he still won't develop into that Anze Kopitar-like presence, but it doesn't help fans who expected him to lead the junior league in scoring after coming in third last season.