The Los Angeles Kings have moved big winger Dwight King to the Montreal Canadiens for a conditional fourth-round pick in 2018. The pick can become a third-round selection should King re-sign with Montreal this summer. No salary will be retained in the transaction.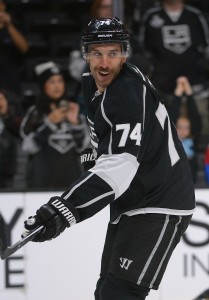 King is another expiring contract, earning $1.95MM in the last season of a three-year deal. The 27-year old is a huge bottom-six player capable of giving the Canadiens a little more punch in the corners. He's not an offensive presence, but is capable of scoring 10-15 goals and chipping in here and there.
After bringing in Steve Ott last night, the Canadiens will be a much harder team to play against for the rest of the season. They've been the most active team so far, bringing in Brandon Davidson and Jordie Benn as well. After a brilliant start to the season on the back of what was some of the best goaltending the league had ever seen, the struggles the team has faced have clearly sparked something in Marc Bergevin.
A fourth-round pick isn't much for the team to give up, especially when they still have five second-round selections over the next two years. They won't miss the mid-round pick much, especially if King helps them win a playoff round.
For Los Angeles, moving out King's salary will open up a bit more room to add if they want, and the fourth-rounder is a nice return. If they are indeed going after Jarome Iginla at the deadline, they've just opened up a spot for him.
John Shannon of Sportsnet was the first to report the deal, with Renaud Lavoie of TVA Sports giving us the details on the pick.
Photo courtesy of USA Today Sports Images