In a couple pieces written about the Dallas Stars, The Dallas Morning News' Mike Heika and Fan Rag's Carolyn Wilke both look at what has gone wrong with the Stars and how best to reverse course. Heika calls them "toast," recognizing that a 1-7-0 run sunk the Stars chances at the playoffs. Heika notes that though the Stars have missed the playoffs six out of the last eight seasons, it isn't often in February that their season obituary could be written. While some fans may think it's unfair to write the Stars off so early, he shows that unless the Stars go 18-5 the rest of the way, it's pretty hopeless.
Heika offers advice, noting that the Stars need to evaluate their young defensemen, determining which ones should be kept since the expansion draft is around the corner. He also believes they need to assess their best veterans, seeing if they should take a flier on Ales Hemsky, Lauri Korpikoski, Adam Cracknell and Jiri Hudler beyond this season. It would also be best if the Stars chose one goaltender between Antti Niemi and Kari Lehtonen since it's leading to a financial impasse.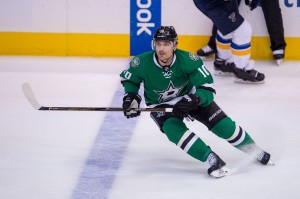 Wilke takes a different look, wondering if the coaching staff is to blame, and takes the approach that Ruff simply cannot be the sole blamed for the season they've endured. A roster decimated by injury didn't help matters, she writes, but Ruff can still shoulder some blame with his playing decisions and deployment, not to mention an anemic penalty kill. But going in Ruff's favor is a lack of coaches on the market, none of whom seem a good fit for the young and fast Stars. Wilke sees the Stars selling off and warns fans to wave goodbye to some of their favorite players. She also asks some questions about Jim Nill's job.
PHR's Glen Miller wondered a few weeks ago if the Stars are going to follow in Minnesota and Columbus' footsteps, finding success only a year after a throw away season. Injury is certainly the greatest factor in Dallas' fall. Further, coaches or front office executives don't suddenly become geniuses or buffoons over one season's time. Nill sat a little too long on the goalie issue, as Wilke points out, but without Nill, the Stars don't have last season's successes. His aggressiveness and eye for talent, especially with prospects, will pay dividends for the Stars. Further, looking at Jim Rutherford, who made a few tweaks to a Penguins roster and shuttled a coach, suddenly found himself hoisting a Stanley Cup six months later.
There is no secret formula. Teams like the Detroit Red Wings have shown that not everything can last forever, especially with a loyalty that has been one of the strongest in the NHL  Rutherford's example shows that sometimes it takes a few changes to win. Others, like the Avalanche, struggle to find success no matter how many changes they make.
The Stars have the roster to compete. It may just be a few Rutherford-like moves that shows this season was an anomaly.