After clearing waivers today, Teemu Pulkkinen is off to Arizona. The Coyotes have acquired the minor league scoring winger from the Minnesota Wild for future considerations. As the Coyotes continue their rebuild, the team has added another dangerous offensive player to their minor league stables.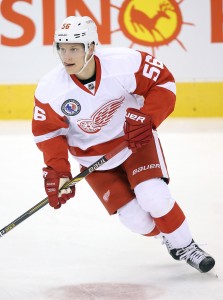 Pulkkinen was picked off waivers by the Wild earlier this year from the Detroit Red Wings, but still hasn't been able to establish himself as a force in the NHL. His AHL numbers are outstanding but some believe that his skating ability is not yet strong enough to compete in the big leagues. Now he'll likely get an extended chance with Arizona to prove those naysayers wrong, as according to Dave Vest of NHL.com he will join the team in Boston for their game tomorrow night. The Coyotes have nothing to lose this season and can give Pulkkinen time in the NHL to see if he can come close the nearly point-per-game pace he's established in the minors.
As Arizona sells off its expiring assets, they've now completed two deals with Minnesota in the past 24 hours. Yesterday they dealt Martin Hanzal in a larger deal and perhaps had agreed to include Pulkkinen after seeing what happened on waivers today. The Coyotes have continued to stockpile young talent both at the NHL level and in the minors, hoping that in a few seasons they will have enough to compete for the Stanley Cup.
Their newest Finnish forward is just 25 years old and is now on his third franchise. With just 79 games under his belt in the NHL he'll be up for arbitration this summer as he becomes a restricted free agent for the third time. The rest of this season will likely determine his future in the league.