Bob McKenzie of TSN was first to report on Twitter that Detroit Red Wings forward Gustav Nyquist has been given a six-game suspension for his high stick on the Minnesota Wild's Jared Spurgeon this weekend. This comes after Nyquist waived his right to an in-person hearing that came with an expected minimum of six games. Because the Red Wings have a mandated bye-week starting a week from today, he'll be eligible to return March 4th against the Edmonton Oilers.
Chris Johnston of Sportsnet tweets that it will cost Nyquist $158,333.33 in salary, though that amount will still count against the Red Wings' cap.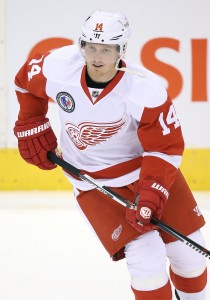 His suspension comes on the heels of Antoine Vermette receiving a ten-game ban for a much less violent stick infraction. That incident came with a automatic minimum suspension of 10 games, because it involved an official. The six game suspension is tied for the second longest suspension this season with Radko Gudas for his late, high hit on Austin Czarnik back in October. Gudas was a repeat offender, while this is Nyquist's first interaction with the Department of Player Safety.
Many fans will be surprised by this outcome, given what looked like intent to injure on Nyquist's part. He seemed to be looking right at Spurgeon when he attacked him in a retaliatory manner—Spurgeon had cross checked him into the boards moments prior.
In the league's official video report, the Department said that it was "not an accidental or inadvertent high stick". Nyquist said during his phone hearing that he was trying to get his stick around Spurgeon's body to deliver a cross check of his own. In the report, they do include that since there was no injury sustained on the play (Spurgeon would return to the game quickly after receiving stitches in the dressing room) and he had no prior history of discipline, he was given a lesser suspension.
As Helene St. James of the Detroit Free Press reports, Ken Holland will not appeal the suspension. It sounds like Nyquist admitted fault in the hearing and will accept his punishment. Perhaps it is true that he wasn't attempting to high-stick him, but he has to control his stick at all times. It could have easily resulted in a much more severe injury for Spurgeon.
Photo courtesy of USA Today Sports Images.