What will the Detroit Red Wings do as the exhibition season only has one week left? General manager Ken Holland had a lot of people scratching their heads when it came to his offseason signings, no one more than Steve Ott, who adds an element of grit, but already irritated the Red Wings faithful with his hit on teammate Tomas Nosek during a scrimmage. Holland made it a priority to get "tougher" and while that's certainly a sure bet with Ott in Detroit, head coach Jeff Blashill wants to feature speed in his lineup, which favors the younger players.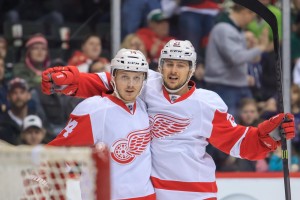 So what to expect if you're a Red Wings fan? Seasons past certainly favors the veterans, but with Anthony Mantha having a solid preseason and Andreas Athanasiou picking up where he left off, it would certainly behoove the Wings to watch those two younger players closer than just sending them back to Grand Rapids because they're safe getting through waivers. Three seasons ago, the Wings did just that with Gustav Nyquist, who when finally given the chance, went on a torrential scoring binge that helped the Wings into the playoffs.
Sure Bets 
Henrik Zetterberg, Dylan Larkin, Justin Abdelkader, Tomas Tatar, Frans Nielsen, Gustav Nyquist, Thomas Vanek, Darren Helm, Riley Sheahan, Luke Glendening, Steve Ott. 
These guys are all in, though Zetterberg is still iffy based on his knee. Should he not play, it would open up a spot for one of the younger kids to get a chance to stick longer with the big club. Nielsen is looking like a great pickup after he had a terrific World Cup of Hockey performance, along with teammate Tomas Tatar. Larkin has looked strong on his skates and made immediate contributions upon his return from the World Cup. He will also move to center, relinquishing Zetterberg from a heavier workload. Abdelkader, Helm, and Glendening will be counted on to grit out scoring chances and chip in with goals. Detroit is hoping Vanek will have a bounce back year with at least 20 goals. Sheahan, who has also been strong in the preseason, is also being looked upon to add more in scoring.
This is where it gets interesting. Miller and Ott's contracts can be buried in the AHL because of the minimal amount they're making: Ott at $800K and Miller at $1.025MM. Ott will most assuredly be on the opening night roster, but isn't guaranteed to stay there. Ott will make the roster only because the team is in love with the grit narrative that doomed Team USA in the World Cup.
Though it bothers Red Wings fans that the loyalty is shown to players like Miller, who despite supposed penalty killing prowess, adds very little in terms of productivity on the ice at full strength. Going off of previous trends, it's a safe bet that Miller will most likely end up on the Detroit roster, which if it sends Athanasiou and Mantha to Grand Rapids, will cause the fanbase to howl with disgust.
Finally, should Nyquist get the ice time he deserves, he should have no problem reaching the 20 goal plateau and in theory, should get close to his first 30 goal campaign.
Bubble players: 
Martin Frk, Tomas Nosek, Tyler Bertuzzi Anthony Mantha, and Andreas Athanasiou.
With Mantha and Athanasiou making strong cases, it should give Holland pause as to going with his "over ripen" strategy and sending younger players to the minors.  Mantha beefed up in the offseason and has been a force on the ice, netting goals in consecutive games. Athanasiou has been his usual disruptive self, using his speed to force turnovers and make plays on the offensive side of the ice. But basing it off previous Detroit decision making, no matter what the younger players do, unless they prove them indispensible as Larkin did last preseason, they will end up in the AHL because of the "Red Wings way" of favoring veterans.
Frk is an interesting case. After struggling and going back to the ECHL to retool his game, he has been steady and making his case during the preseason. The problem is Frk is not waiver exempt and would likely be claimed should he be exposed.
Bertuzzi is scrappy and has a knack to find the net, but needs just a little more seasoning before making the final roster–not to mention that Mantha and Athanasiou will block his path.
Nosek will start the season in the AHL with chances to make appearances in Detroit should there be injuries.
Injured: Teemu Pulkkinen and Tomas Jurco.
Jurco is not expected back until November while Pulkkinen is projected to play later this week.
Long Term Injured Reserve: Johan Franzen and Joe Vitale.