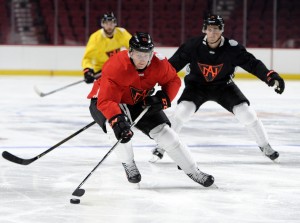 News and notes from around the NHL this morning:
Team North America announced the lineup for its second World Cup of Hockey exhibition matchup against Team Europe today. According to Sportsnet's Mark Spector, Todd McLellan decided to sit Jacob Trouba, J.T. Miller, and Matt Murray. Murray sitting means that John Gibson is set to play the full game. Healthy scratches in this format do not imply injuries—ESPN's Craig Custance says JT Miller is completely healthy—but rather chances for coaches to see other fringe players in action. Last night Canada held out Sidney Crosby in its matchup with Team USA simply because the coaching staff knew what he could do, and wanted to see other players in action. For Team North America, this means both Dylan Larkin and Colton Parayko will get an opportunity to showcase their skills.
Patrick Kaleta spoke to the Buffalo News this week about his attempt to make an NHL comeback. Kaleta does not have a contract this season, but is working out in Buffalo with former teammates in an effort to reattain his former level of play. Kaleta is hoping to receive a PTO from a team this year, but expressed that he does not want to toil in the AHL again this season. Last year Kaleta tried out for the Buffalo Sabres in training camp before a groin injury cut his attempts short. He played only 26 games for the Rochester Americans—Buffalo's AHL affiliate—due to injury and limited playing opportunities. The Buffalo native embodied the enforcer role during his NHL stint with the Sabres over nine years, never scoring more than 15 points in a season. In his last season with the big club he netter only 3A in 42 games. Look for Kaleta to garner a PTO from the Buffalo Sabres, if only because of his previous service to the club.