To public knowledge, Calgary Flames defenseman Nikita Zadorov is the only member of the team to request a trade. With the Flames 26th in the NHL with a 5-8-2 record, though, the club could very well end up trading quite a few more veterans this season than just Zadorov.
According to The Athletic's Pierre LeBrun, the Flames are "open for business" regarding potential trades. LeBrun writes that Calgary is "ready to shift gears" into more of a rebuild or re-tool direction, and that word has spread during the GM meetings in Toronto that "the Flames are willing to listen on most of their pending unrestricted free agents." (subscription link)
The Flames have quite a few pending UFA's of note, players who would likely be among the best players available during the 2024 trade deadline season. They're players who are strong enough and valuable enough to potentially shift the balance of power in any division they are dealt to, meaning they could command the type of high prices in terms of asset cost that the Flames would likely be hoping would fuel a quick turnaround for the club.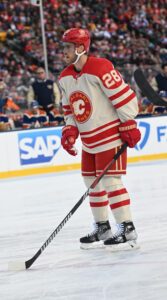 Likely to be the top player on any list of players available from Calgary is pending UFA center Elias Lindholm.
The 28-year-old Swedish pivot has played like a true first-line center at times with the Flames, including a stellar 2021-22 campaign that saw him score 42 goals, 82 points, and finish second place in Selke Trophy voting.
Lindholm's production has declined since Johnny Gaudreau's departure, just as the Flames have declined as a team.
But if placed in a situation where he has strong chemistry with his wingers, just as he did centering Gaudreau and Matthew Tkachuk, it's possible Lindholm could quickly find himself back in the conversation as one of the best two-way centers in hockey.
Centers with that kind of ability, pivots who could credibly call themselves first-line centers recently in their careers, are very rarely made available. When the St. Louis Blues traded Ryan O'Reilly last season, O'Reilly's production was on a far steeper, more lasting decline and O'Reilly was further removed from his last point-per-game season. Yet O'Reilly, alongside bottom-sixer Noel Acciari, still netted the Maple Leafs' first, second, and third-round picks alongside prospect Mikhail Abramov.
Although it's obviously no guarantee, Lindholm's overall profile merits at the very least a comparable trade package to what the Blues received for O'Reilly, though it's fair to argue that Calgary deserves a little bit more.
Beyond just Lindholm, the Flames have even more pending UFA's who are likely to attract attention on the trade market, especially on defense where just Rasmus Andersson and MacKenzie Weegar are under long-term team control.
If a contending team is seeking a left-shot defenseman with two-way ability, there may not be a better player available than Noah Hanifin. The 26-year-old has averaged over 21 minutes per night in Calgary, and two years ago set a career-high with 48 points. He's established himself as a legitimate top-pairing defenseman, if maybe not a true number-one blueliner.
Those players are extremely valuable and rarely made available, which would mean Hanifin draws a bidding war between defense-needy teams. As a result, it's hard to see a scenario where Hanifin is traded and a first-round pick, at the very least, does not head to Calgary as part of the return. (Unless the Flames do not target draft picks, which appears unlikely but is of course a possibility)
If a contending team is looking for a right-shot blueliner with an exceptional track record of shutdown defensive play, veteran Chris Tanev is a pending UFA and fits the bill there. The 33-year-old has led the Flames in short-handed ice time per game in each season since he arrived, and is widely respected as one of the game's premier defensive defensemen.
His offense appears to have dried up compared to the career-best season he posted in 2021-22, but that's not a major issue. He's of interest to teams due to his stellar defensive track record, and it's that track record that could net the Flames a solid return package should he be dealt before the 2024 trade deadline.
Although the Flames' struggles this season paint a picture of a club with little going right, a pivot to more of a re-tool type of team direction could change things quickly. The Flames happen to have a collection of valuable players on expiring contracts, something that for a team looking to contend in the immediate term would represent a major issue.
But for a team looking to infuse its veteran core with quality young talent, those pending UFAs represent a significant opportunity to leverage on the trade market. According to LeBrun's report, that appears to be the route the Flames prefer to go down, meaning it could be an extremely interesting few months for Flames fans, despite the on-ice issues.
Photos courtesy of USA Today Sports Images