As training camps and the preseason continues, teams are trimming down their roster and getting closer to the final group of players they'll bring into opening night. We'll keep track of the names that hit the waiver wire here. Today's list comes courtesy of CapFriendly.
Colorado Avalanche
Pittsburgh Penguins
F Jonathan Gruden
F Rem Pitlick
D Ty Smith
D Taylor Fedun
D Xavier Ouellet
Vancouver Canucks

Smith is the biggest name here is Smith. Smith was a 2018 first-round pick of the New Jersey Devils and became a star WHL blueliner for the Spokane Chiefs. He turned pro in 2020-21, scoring 23 points in 48 games. That performance landed him on the NHL's All-Rookie team, as well as some down-ballot Calder Trophy votes.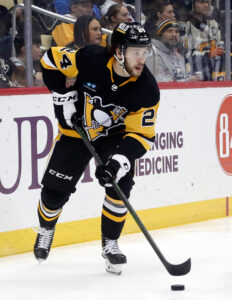 The Devils dealt Smith and a third-round pick to the Penguins in exchange for John Marino, who went on to have a stellar 2022-23 season. Smith, on the other hand, played in only nine NHL game for the Penguins. He spent most of last season in the AHL, scoring 24 points in 39 games, and now the AHL is where he'll be once again assuming he can clear waivers.
Given the promise Smith showed earlier in his career and his pedigree as a former top prospect, it would not be shocking whatsoever to see a team put a claim in on Smith, who is playing on a one-year, league-minimum cap-hit.
In terms of the other names on the waiver wire, Martin's placement comes as no surprise after the Canucks' acquisition of Casey DeSmith from the Montreal Canadiens. Martin posted a dreadful .871 save percentage in the NHL last season, but fared far better in the AHL. The Canucks will hope he'll clear waivers so he can provide quality goaltending alongside prospect goalie Artūrs Šilovs in AHL Abbotsford.
Another recognizable name on the waiver wire is that of Rem Pitlick. Pitlick scored 37 points in 2021-22 on the Montreal Canadiens and Nashville Predators, but struggled in 2022-23. He was dealt to Pittsburgh by Montreal as part of the Erik Karlsson trade with the hope, from Pitlick's perspective, that the Penguins would provide a solid change-of-scenery NHL opportunity.
He now finds himself on the waiver wire, though, and his $1.1MM cap hit could be a barrier towards another team putting in a claim. The versatile forward scored at an above-point-per-game rate in the AHL last season, and could end up an impact player for AHL Wilkes-Barre Scranton.
Photos courtesy of USA Today Sports Images