ESPN's Kevin Weekes has reported that Tampa Bay Lightning superstar goalie Andrei Vasilevskiy underwent successful back surgery, and is expected to be out of commission on an eight-to-ten-week timeline. The Lightning confirmed the news, with GM Julien BriseBois stating that Vasilevskiy is expected to miss "the first two months of the regular season."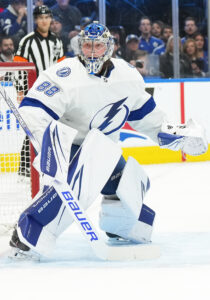 Vasilevskiy hasn't been a regular participant in Lightning camp in recent days, with head coach Jon Cooper previously telling reporters that Vasilevskiy was out day-to-day with an undisclosed injury.
This is obviously a major blow to the Lightning, who have come to rely on the brilliant goaltending provided by Vasilevskiy in order to remain among the top teams in a highly competitive Atlantic Division.
While this development is something of a surprise, it doesn't come completely out of nowhere.
Vasilevskiy has in the past commented on how his high workload has impacted his body, which is something to be expected given the number of deep playoff runs the Lightning have made in recent seasons, led by Vasilevskiy in the crease on a nightly basis. The hope here will be that Vasilevskiy can make a full recovery before the new year, and get back to playing like one of the league's best netminders.
The 2018-19 Vezina Trophy winner's injury thrusts new backup Jonas Johansson into an unfortunate spotlight. It'll be up to him to keep the Lightning competitive in the Atlantic for the first two months of the regular season, which is something of a tall task for a player with a career .887 save percentage in the NHL.
That being said, Johansson's more recent form does provide reason for optimism. He posted a .932 save percentage playing in parts of three NHL games last season, and had a .920 save percentage in the AHL.  But with only 35 total games of NHL experience, a massive test is coming up for the 28-year-old.
Behind Johansson on the depth chart is Hugo Alnefelt, who has just 20 minutes of NHL experience, and Matt Tomkins, a player who represented Canada at the 2022 Winter Olympics in Beijing but has never skated in an NHL game.
Photos courtesy of USA Today Sports Images