The Tampa Bay Lightning's upcoming season got turned on its head late in training camp, when it was announced that star goaltender Andrei Vasilevskiy underwent surgery and would miss the first two months of the year. Given their tight cap, Tampa will need to lean on Jonas Johansson, Hugo Alnefelt, and Matt Tomkins in Vasilevskiy's absence. That's a rocky leg to start the season on but with many of their core pieces still in place, Tampa is still sure to be a tough matchup and contender for the postseason.
Draft
2-37: F Ethan Gauthier, Sherbrooke (QMJHL)
4-115: F Jayson Shaugabay, Warroad (U.S. High School)
6-179: D Warren Clark, Steinbach (MJHL)
7-193: F Jack Harvey, Chicago (USHL)
7-211: F Ethan Hay, Flint (OHL)
Tampa entered the 2023 NHL Draft with only three draft picks, in the fourth, sixth, and seventh rounds. But two draft day swaps – sending Ross Colton to Colorado and Corey Perry to Chicago – earned them a second-round and seventh-round pick respectively. That let them make a bigger splash, drafting Ethan Gauthier, who was considered a First Round talent by many public scouting services. They also traded up for Minnesota's reigning Mr. Hockey Award winner Jayson Shaugabay in the fourth round – earning another high-upside prospect. But their draft day was otherwise without much flair, drafting MJHL defender Warren Clark, two-time draft re-entry forward Jack Harvey, and the OHL's Ethan Hay. The draft has not been a priority of the Lightning as they've roared to success over the last six years and that trend seemed to continue this season.
UFA Signings
F Conor Sheary (three years, $6MM)
G Jonas Johansson (two years, $1.6MM)
F Logan Brown (one year, $775K)*
F Luke Glendening (two years, $1.6MM)
F Mitchell Chaffee (one year, $775K)*
D Calvin de Haan (one year, $775K)
F Tyler Motte (one year, $800k)
* indicates a two-way contract
In typical fashion, Tampa patched the holes in their roster through free agency, getting a role player for all ends of the lineup. With the news of Vasilevskiy's injury, Johansson steps into the biggest role. The 28-year-old goaltender has played with three different NHL clubs over the last four seasons, including two separate appearances with Colorado. But he hasn't been able to earn consistent playing time anywhere, playing only 35 career games and recording a .887 save percentage. Tampa represents perhaps the biggest opportunity of his young NHL career and how he'll adjust to an increased role will be a major storyline through the start of Tampa's year.
Conor Sheary steps into a large role as welll; a candidate to fill in Alex Killorn's spot in the top-six. The 31-year-old Sheary has developed into an admirable role player in his later career, recording 80 points in 153 games over his last two seasons with the Washington Capitals. He averaged 15:46 through 82 games last season, the most ice time and games that he's played in his eight-year NHL career. Sheary is a good best for around 15 goals every season and has seemingly evaded the injury concerns that plagued the middle of his career. But it's hard not to question how big of a role he can step into for the Lightning. Sheary will carry a $2MM cap hit until he's 34.
And while Sheary may rotate with the top-nine, Motte, Brown, Glendening, and De Haan all represent important depth pieces. Motte likely has the easiest path to an everyday role, with openings on either side of the fourth line. Brown and Glendening will rival for the fourth-line center role, while De Haan should be able to earn a spot in the team's defense rotation.
With their UFA signings, Tampa continues to prioritize filling out their depth – a focus they popularized through their back-to-back Stanley Cup wins and something re-emphasized by Cup winners like the St. Louis Blues or Washington Capitals. And with the key departures they've seen, these depth pieces will need to help bolster Tampa's talented top-end.
RFA Re-Signings
F Cole Koepke (one year, $775K)*
F Gabriel Fortier (one year, $775K)*
F Tanner Jeannot (two years, $5.3MM)
F Brandon Hagel (eight years, $52MM)
D Darren Raddysh (two years, $2MM)
* indicates a two-way contract
Tampa's biggest move of the summer comes in Brandon Hagel's long-term extension, which carries a $6.5MM yearly cap hit starting in 2024-25. Tampa acquired Hagel in right before the 2022 NHL Trade Deadline, sending the Chicago Blackhawks Taylor Raddysh, Boris Katchouk, and two first-round picks in exchange for the winger and two fourth-round picks. One of the first-round picks involved in this deal turned into 2022 Draft prospect Oliver Moore, while the other is a 2024 Draft pick carrying top-10 protection (turning into a 2026 pick if Tampa earns a top-10 pick in the upcoming draft).
This past season was Hagel's first full year in Tampa and he made the most of it, scoring 30 goals and 64 points in 81 games and adding an additional five points in six playoff games. He recorded these numbers while averaging just over 18-and-a-half minutes in ice time every game. Those are strong numbers for the now-25-year-old and Tampa clearly agrees, making him a consistent feature of their top-six for the foreseeable future.
The Lightning also re-signed Tanner Jeannot, who originally filed for salary arbitration but found terms on a multi-year deal with the club. Tampa acquired Jeannot at last season's trade deadline, trading a pick in each of the first five rounds, throughout various drafts, and Cal Foote for the winger. Jeannot only played 20 games with the Lightning to end the year, recording four points, and represents one of the biggest question marks on the 2023-24 Lightning roster.
Other than re-signing recent trade deadline pickups, Tampa's RFA signings continued to round out their depth. Although, interestingly, Darren Raddysh earned a one-way, $1MM-per-year contract. Raddysh played a mere 17 games with Tampa last season, the most the 27-year-old has played in one NHL season. The new deal suggests he'll be a part of the NHL roster in the upcoming year, an exciting change for a defender that's played the last six years in the AHL.
Departures
F Corey Perry (trade with Chicago)
F Ross Colton (trade with Colorado)
F Rudolfs Balcers (ZSC Lions, NL)
F Grant Mismash (Östersunds, HockeyAllsvenskan)
D Dmitri Semykin (SKA-Neva, VHL)
F Alex Killorn (Anaheim, four years, $25MM)
D Dominik Masin (Ilves, Liiga)
D Ian Cole (Vancouver, one year, $3MM)
G Maxime Lagace (unsigned UFA)
F Pierre-Cedric Labrie (unsigned UFA)
F Pierre-Edouard Bellemare (Seattle, one year, $775K)
D Trevor Carrick (Anaheim, one year, $775K)*
F Patrick Maroon (trade with Minnesota)
* indicates a two-way contract
Tampa had a slew of departures this off-season, including a major top-six piece in Alex Killorn. The 34-year-old forward recorded 27 goals
and 64 points with the Bolts last year, representing major shoes to be filled. Anaheim signed Killorn through his age-37 season, carrying a cap hit of $6.25MM in each of the next four seasons – a deal far too rich for the cap-strapped Lightning.
Ian Cole appeared in nearly 19-and-a-half minutes per night last season, now opening a hole in the team's blue-line rotation. And while Ross Colton's role was reduced to the bottom-six, his knack for coming up in clutch moments, and 30-to-40-point upside, will be difficult to replace.
In fact, Tampa will need to replace much of the bottom of their lineup, losing an three players that appeared in 70-or-more games for the squad last season in addition to Killorn, Cole, and Colton. While the team used UFA signings to fill these holes, it still represents significant turnover.
With no large-name replacement for Killorn's scoring, and a lot of new faces in depth roles, Tampa will need to gel quickly if they want to maintain the success they've become known for.
Salary Cap Outlook
Tampa is, once again, very tightly bound by the salary cap. They'll enter the season just at the cap ceiling, after moving Brent Seabrook's contract to long-term injured reserve. But there's very little opportunity for cap relief elsewhere, with Vasilevskiy's injury not being long enough to garner any significant cap space.
Key Questions
How Will The Goalies Step Up? There's no arguing the massive step down that Tampa takes in losing Vasilevskiy. His talent is so great that even two months without him can have substantial ramifications. If Tampa wants to avoid an ice cold start to the year, they'll need both their blue line and their goaltenders to step up. And there's certainly reason to think both can. Johansson has carried the faith of many NHL teams and Alnefelt performed admirably in the AHL last season. Matt Tomkins was also a standout in the SHL over the last two seasons, although he struggled in North American minor leagues earlier in his career. All three goalies will likely have their chance at making an impact – and which, if any, can take advantage of the opportunity will define Tampa's season early on.
What is Tanner Jeannot's Upside? The Lightning spent a seriously pretty penny on acquiring Jeannot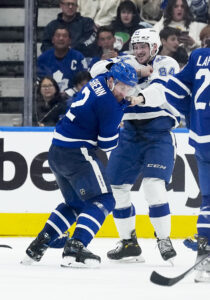 at the deadline. But he didn't necessarily jump off of the page in his early games with the club. Alex Killorn's departure leaves a major need for scoring and grit in the team's top-six. Jeannot can undoubtedly bring grit and physicality, and his 24 goals and 41 points in his rookie season speak to his scoring upside. With Tampa in need of more difference-makers, this season will be Jeannot's chance to solidify himself in an NHL team's top-six.
When, and How, Will Stamkos Extension Talks Come Up? While not directly impacting their next season, Steven Stamkos' expiring contract is already a major focus of the team's season. The future-Hall of Fame forward is set to hit free agency after this season and is reportedly yet to engage in extension talks with the club he's spent his entire career with. He's undeniably still an impact-player, recording 34 goals and 84 points last season, but more than that, Stamkos is a Tampa Bay legend. His next contract will likely carry him to retirement, so it will be interesting to see if Tampa offers him a path to do end his career with the club.