Carey Price hasn't considered retirement, at least not yet. While meeting the media this morning, he explained that he is focused on getting pain-free and will take things day-by-day from there. Price explained that he is still having trouble climbing stairs or with other activities, but hasn't closed the book on his NHL career.
Price, 35, is still signed through the 2025-26 season, earning at least $7.5MM in each season. That will stay on the books for the Canadiens, though it will be moved to long-term injured reserve every year he isn't able to play, essentially allowing the team to spend that money elsewhere if needed.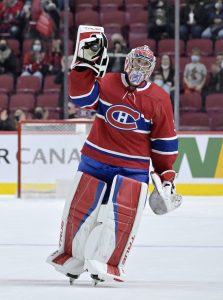 Selected fifth overall in 2005, Price was always touted as the next great Canadiens goaltender. Though he didn't step directly into the NHL, going back to the WHL for two full seasons, he quickly showed why he was drafted so high upon his arrival. As a rookie in 2007-08, Price posted a .920 save percentage, going 24-12-3 and finishing ninth in Vezina Trophy voting. By the time he was 23, he was leading the league in wins and finishing as a top-10 Hart Trophy finalist.
In 2014-15, both those trophies ended up in his possession, after one of the best seasons the NHL has ever seen from a goaltender. Price led the league with 44 wins, a .933 save percentage, and a 1.96 goals-against average. He added the Jennings and Lindsay to the trophy case as well, but that peak wouldn't last long. The netminder would end up playing just 12 games the next season, and injuries would start to shape the narrative of his career.
His regular season performance since the start of 2017-18 has continued to decline, registering a save percentage of just .908 over that stretch. Even still, he showed a flash of peak Price in the playoffs, taking the Canadiens all the way to the Stanley Cup final in 2021.
Now, with retirement not on the table, Price says he is hoping to recover from a knee injury without undergoing another surgery – one that he suggests could risk his quality of life down the line. When asked if he's been told when the knee issues started, Price laughed and said "about eight years old." He listed off several other injuries he's experienced – referencing his back, hip, and ankle – explaining that as he got older, it was harder to bounce back from these things.
Whether Price is focused on it or not, the end of his playing career seems closer than ever. He suggested that the surgery on the table – OATS, a procedure that takes cartilage from one area of the knee and grafts it into a damaged area – has a chance of causing further issues, both for his performance and quality of life. Without it, he is not able to train at a high level, meaning he's just waiting to see if his knee responds to time and rehab instead.
If it is the end, Price would go down with 712 regular season appearances in his career, 28th all-time. His 361 wins put him even higher on the NHL leaderboard, sitting 21st, just ahead of Jonathan Quick.
When asked if he is at peace with the idea that he may have played his last game, Price used the word "miracle" to describe the possibility of a return.
Photo courtesy of USA Today Sports Images