Canadiens goaltender Carey Price missed most of the season with knee issues dating back to offseason surgery.  While he was able to play in a handful of games – including last night – he also had to sit for nearly a week after just four games to undergo testing due to continued swelling.
Speaking at his end-of-season media availability (video link), the veteran told reporters that if the problems with his knee stay the same, he doesn't think he will be able to come back.  To that end, he acknowledged that he approached Friday's game against Florida as if it was his final NHL contest.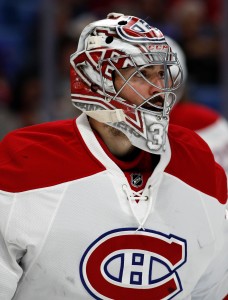 It's not a guarantee yet that this will be the eventual outcome as Price did mention that further testing is still required and he'd be going for a second opinion on the results so there won't be any immediate confirmation on that front.  Another surgery is an option as well and the 34-year-old isn't ruling out going down that route which could potentially allow him to return to play.
Price has been a fixture between the pipes for Montreal since he was drafted fifth overall back in 2005.  He has spent his entire 15-year NHL career with the Canadiens and is their franchise leader in games played and wins while sitting third in shutouts.
He has four years remaining on his contract, one that carries a $10.5MM cap hit, the highest in NHL history for a goaltender.  Price admitted that if he is able to return, he doesn't see himself being able to withstand the workload of a typical starting goaltender which would put some extra pressure on veteran backup Jake Allen, who also battled significant injury issues this season.
If Price doesn't return, he'd become eligible to go back on LTIR which would then give them the ability to spend over the cap to bring in a replacement player.  Such a move would be difficult, however, unless he was ruled out for the entire year before the start of free agency.  If Price was to start next year on LTIR with an intention of returning, Montreal would likely have to fill his spot internally with either pending RFA Sam Montembeault or prospect Cayden Primeau forming the tandem with Allen.
After their improbable run to the Stanley Cup Final last summer, it was revealed that one of their franchise cornerstones in Shea Weber was seeing his playing days come to an end.  Not even twelve months later, it's possible that the Canadiens will be in that situation again with their franchise netminder.
Photo courtesy of USA Today Sports Images.