1001-game NHL veteran Andrew Ladd announced his retirement today on X, the platform formerly known as Twitter. Ladd finishes an NHL career that began in the 2005-06 season after he was made the fourth overall pick of the Carolina Hurricanes at the 2004 draft.
Ladd had an undoubtedly impressive NHL career. He's a two-time Stanley Cup champion, winning it as a rookie with Carolina and in 2010 with the Chicago Blackhawks.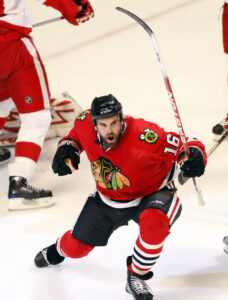 Ladd didn't quite live up to the promise of his selection in Carolina, but quickly changed that narrative after arriving in Chicago.
With the Blackhawks, Ladd broke out as a top-six forward by scoring 49 points in 2008-09.
But while he had his breakout in Chicago and won a Stanley Cup there, it was Ladd's trade to the then-Atlanta Thrashers that truly led to his ascent to NHL stardom.
Ladd was immediately named captain of the Thrashers and instantly reached new offensive heights. He scored 29 goals and 59 points, beginning a run of seven consecutive seasons where he scored 20 goals or at a 20-plus goal pace.
It was in Winnipeg where Ladd made his biggest mark, leading the newly relocated franchise as its first captain. He led them to the playoffs for the first time since their relocation, and in his last full season in Winnipeg Ladd had a career-high 62 points. Ladd even dabbled in international play during his time captaining the Jets, representing Canada at three IIHF Men's World Championships.
Ladd returned to the Blackhawks for their 2016 Stanley Cup push, though the team ultimately fell short and Ladd hit unrestricted free agency. That was undoubtedly the turning point of his career, as Ladd signed an ill-fated $5.5MM AAV contract with the New York Islanders that stretched through the 2022-23 season. Ladd did manage 23 goals in his first season on Long Island, but only added eight assists.
That would be the most productive year in his time in New York, by far. His goal total dropped to 12 the following year, and in 2018-19 Ladd only managed to play 26 games. Ladd's years of intense physical play, the things that made him such a valuable power forward in his prime, had taken its toll on Ladd's body. The wear and tear he'd sustained over the years became more difficult to ignore, and Ladd could only manage sporadic availability.
By 2019-20, Ladd was outside the Islanders' NHL plans, and playing more and more time in the AHL with the Islanders' affiliate in Bridgeport. He was dealt in a cap-clearing trade to the Arizona Coyotes for 2021-22, where he managed to play in 51 games and finally crossed the 1,000 game plateau. Last season, Ladd failed his physical and was unable to suit up for the Coyotes, effectively ending his career one year before his contract was set to expire.
Now Ladd has officially retired, and he leaves behind a highly respectable NHL career. While the difficulties he faced with injuries and inconsistency, as well as his diminished physical tools in his final few years may have clouded people's impressions of Ladd, he was undoubtedly a valuable power forward in his prime. We at PHR wish Ladd the best for whatever lays ahead of him now that his playing days have concluded.
Photos courtesy of USA Today Sports Images.