The Pittsburgh Penguins have re-signed winger Drew O'Connor to a two-year deal worth $925K per season, according to a team announcement Wednesday morning.
O'Connor was Pittsburgh's last unsigned RFA and one of two unsettled arbitration cases remaining league-wide. Anaheim Ducks winger Troy Terry, whose hearing is scheduled for today, is now the only unsettled case. Pittsburgh and O'Connor were headed for a hearing on Friday, August 4, the last day on this year's arbitration calendar.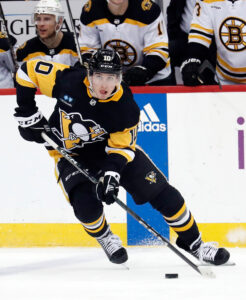 The 25-year-old forward continues working toward a full-time NHL role, which the team hopes he can achieve in 2023-24. Many expected O'Connor to lock down an everyday role in the team's bottom six last season, and while he did skate in a career-high 46 games with Pittsburgh, he didn't avoid AHL assignment either. O'Connor started last season in the minors, recording 22 points in 20 games with the Wilkes-Barre/Scranton Penguins before he was permanently called up to Pittsburgh in December 2022.
Those scoring totals in WBS are closely aligned with what he posted the previous two seasons, meaning he clearly has nothing left to prove in the minors after scoring at around a point-per-game clip for three years. His five goals and 11 points in 46 games in Pittsburgh last season seem more impressive when you consider he was playing just 9:49 per game.
O'Connor also had quite a strong end to the 2022-23 season, doing well with the United States at the 2023 IIHF World Championship in Finland and Latvia. He was among the team's best offensive players, ranking fourth with eight points in ten games.
Since signing in Pittsburgh as an undrafted free agent out of Dartmouth College at the end of the 2019-20 season, O'Connor's posted eight goals, nine assists and 17 points in 78 games with the Pens. They're totals he'll undoubtedly build significantly on next season, with him currently penciled in on the team's fourth line.
While Pittsburgh may have their last necessary signing done, their offseason is far from over. Per CapFriendly, the team currently sits roughly $3.2MM over the $83.5MM salary cap Upper Limit after signing O'Connor. However, their roster projection at the time of writing includes 13 forwards, eight defensemen and three goalies – putting them one player over the maximum 23-player roster. Some of that cap overrun will be cleared by assigning one of Casey DeSmith or Alex Nedeljkovic to the minors, depending on who wins the backup spot to starting goalie Tristan Jarry out of training camp.
This won't fix everything, though, as neither of their cap hits ($1.8MM and $1.5MM, respectively) are fully buriable in the minors. That means they'll still carry some cap penalty if they're not on the active roster. Given the maximum buriable threshold next season is $1.15MM, this would mean Nedeljkovic would still carry a $350K cap hit if assigned to the AHL, while DeSmith would carry a $650K cap hit.
Don't forget the Penguins remain deep in trade rumors to acquire San Jose Sharks defenseman Erik Karlsson, who's fresh off a Norris Trophy-winning season and a 100-point campaign. While getting O'Connor locked into a six-figure contract for two years is a nice bit of work for interim general manager Kyle Dubas, the team is far from having their ducks in a row ahead of next season.
Some cap relief could come soon, though. Settling with O'Connor has opened up a second buyout window for Pittsburgh, which opens in three days and will last for 48 hours. As a reminder, post-arbitration settlement buyouts are subject to strict regulations: the player must have been on the team's reserve list at the time of the 2023 trade deadline, and they must have a cap hit of at least $4MM. Two potential targets for Pittsburgh are forward Mikael Granlund and defenseman Jeff Petry, who are both locked in through the next two seasons at rather extravagant cap hits of $5MM and $6.25MM, respectively.
Signing O'Connor to a two-year deal buys up his remaining RFA years and walks him directly to unrestricted free agency in 2025, as CapFriendly notes.
Photo courtesy of USA Today Sports Images.