The Winnipeg Jets are approaching a potentially franchise-altering season. Two of the organization's key players, former Vezina Trophy winner Connor Hellebuyck and team number-one center Mark Scheifele are each on expiring contracts that stand to walk them straight to the unrestricted free agent market next summer.
The Jets are intent on remaining competitive with key players such as Kyle Connor, Josh Morrissey, Nikolaj Ehlers, and recent acquisition Gabriel Vilardi still on their roster. So it stands to reason that the team would be interested in retaining Scheifele, the player with the most goals in Jets history since they arrived from Atlanta.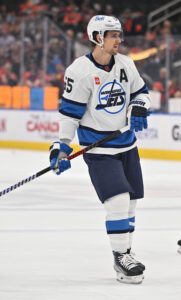 But seeing as his name has come up in trade rumors this summer, it's also a very real possibility that he ends up on a different team next season. A poor campaign by Winnipeg could finally catalyze the type of re-tool that seems off the table at this current moment entering 2023-24.
The likeliest scenario that would result in Winnipeg engaging in serious discussions about a long-term contract with Scheifele next season would be if the team sprints out of the gate at the start of the regular season and looks like a legitimate Stanley Cup contender.
If that ends up happening, the Jets finding a way to retain their number-one center would likely become an organizational top priority. Should the Jets make a determined effort to extend Scheifele — assuming they haven't already — what might that contract look like?
2022-23
For quite a while now, the question of Scheifele's true on-ice value has been a hotly debated one. He's a divisive player, and that's not even a reference to the vicious hit he laid on an unsuspecting Jake Evans during the 2021 playoffs — one that got him suspended for the team's final three games as well as Winnipeg's season-opener the following campaign — but rather a reference to the way in which Scheifele approaches the game.
Scheifele places a premium on offensive creation and offensive production, something that is certainly admirable, but often comes at the detriment of his all-around value. His fixation on always maximizing his and his linemates' offensive production has made him something of a lightning rod for criticism as the Jets franchise has declined since their 2018 run to the Western Conference Final.
Scheifele's approach to the game has at times attracted harsh criticism from those who would like to see him take a more committed approach to the defensive side of the game. A lot is typically asked of elite centers in the NHL, and nothing Scheifele has shown in recent seasons has suggested he is able to capably manage the sort of defensive commitment many coaches want to see out of top pivots. Jets coach Rick Bowness even appeared to show some frustration at Scheifele during last season, per The Athletic's Murat Ates, suggesting that many fans' frustration with Scheifele's offensive focus could be shared, to a certain extent, by figures within the Jets organization.
But on the flip side of those negatives is the undeniable reality that Scheifele is among the most offensively gifted centers in the NHL. He scored a career-high 42 goals last season and has frequently been an at-or-above point-per-game scorer. He's a two-time NHL All-Star and has even been productive in the playoffs, with 32 points in 37 career games. He undoubtedly has the numbers of a true first-line center, and first-line centers are extremely rare. But then the question becomes, he has number-one center numbers, but does he play like one?
Statistics
2022-23: 81 GP, 42 G, 26 A, 68 pts, -16 rating, 43 PIMs, 206 shots, 20:29 ATOI, 58.5% CF
Career: 723 GP, 272 G, 373 A, 645 pts, +46 rating, 303 PIMs, 1,620 shots, 19:59 ATOI, 55.7% CF
The Market
Centers who put up the kind of numbers Scheifele has throughout his career don't come cheap. While Scheifele is undoubtedly a cut below the dynamic, league-defining centers such as Nathan MacKinnon that are at the top of the financial leaderboard, he nonetheless has the profile of a player who merits a franchise-defining contract.
It's very rare for a point-per-game top-line center to hit the open market, and while it's certainly up for debate if Scheifele truly fits that mold, he'd certainly end up the best center on the open market assuming both Auston Matthews and Steven Stamkos re-sign with their current clubs.
That would likely aid Scheifele significantly should he be seeking the highest AAV mark possible on his next deal, as it's probable that teams desperate for a true scoring center (such as the Boston Bruins, who lost David Krejci and Patrice Bergeron to retirement) would be ready to open their wallets for Scheifele.
The Jets have the sort of cap space to afford a hefty raise for Scheifele, in large part thanks to the nearly $7MM set to come off their books at the expiration of Brenden Dillon and Dylan DeMelo's contracts. The team shifting to a cheaper goaltender should Hellebuyck depart could also make fitting a pricey Scheifele extension all that much easier for Jets GM Kevin Cheveldayoff.
Comparable Contracts
Dylan Larkin (Detroit Red Wings) – Detroit invested an $8.7MM AAV in Larkin's next contract, and although Scheifele is three years older he has a decent argument to have earned more than that number. Scheifele has a more extensive track record of offensive production than Larkin, though Larkin's defensive game certainly surpasses Scheifele's. It's also worth noting that Larkin was signing with his hometown team and the club he captains, and although Scheifele has spent his entire pro career with the Jets it's unlikely he has ties as deep, long-lasting ties as Larkin had, the sort of ties that would make a player particularly motivated to re-sign.
Bo Horvat (New York Islanders) Horvat has posted numbers far below Scheifele's career standards for much of his time in the NHL, and he earned an $8.5MM AAV from the New York Islanders. Horvat's commitment to defense far surpasses Scheifele's and he is two years younger. But NHL teams first and foremost pay for production when it comes to scoring forwards, and as a result, it's difficult to imagine Scheifele earning less than Horvat on his next deal, at least on an average annual value basis.
Projected Contract
In our preview of the 2024 free agent class, we projected a $9.4MM AAV on Scheifele's next contract, on a seven-year term. That's certainly a fair number looking at Scheifele's offensive production, but one wonders if teams would give pause to committing that kind of money to a player with Scheifele's defensive warts now that he's past the age of 30.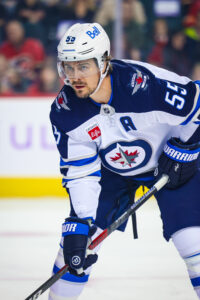 That being said, the type of bidding war that would be likely to take place should Scheifele hit the open market would almost undoubtedly see Scheifele offered a contract at that AAV, if not higher. Quite simply, centers of his caliber are among the rarest commodities in the NHL, and almost never hit unrestricted free agency.
If the Jets want to motivate Scheifele to forgo a likely highly lucrative trip to the free agent market, they'll likely need to pony up, potentially giving him a maximum-term deal above the $10MM mark.
Similarly, for a team to prevail in what is likely to be a hotly contested battle for his signature in any potential Scheifele unrestricted free agency, they'll likely need to cross that $10MM threshold as well.
It's far from a given we reach that point since Scheifele still needs to have a productive 2023-24 season, but if he has another near or above-point-per-game season he could very well end up the star of next summer's free agent frenzy. Though if he does, there will undoubtedly be quite a bit of debate over whether he truly merits the contract he'll receive.
Photos courtesy of USA Today Sports Images