Jul 6: As expected, Zadina is on the waiver wire today for the purposes of mutual contract termination, per Sportsnet's Elliotte Friedman. He's joined by New York Islanders farmhand Andy Andreoff, who had one season left on a two-way contract.
Jul 5: The Detroit Red Wings are expected to place 2018 sixth-overall pick Filip Zadina on waivers again tomorrow, this time for the purpose of terminating his contract, reports Sportsnet's Elliotte Friedman.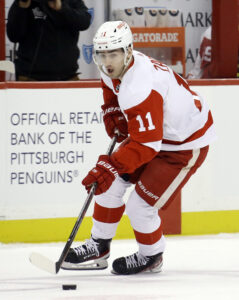 There's little reason to believe anyone would issue a claim if Detroit does opt to go the contract termination route, considering Zadina cleared just yesterday and was made available to all 31 teams via trade – yet he remains a Red Wing today.
The reason for that isn't necessarily that no one wants to take him on as a reclamation project. It's the financial commitment that comes with him – he's got two seasons remaining on a backloaded $1.825MM AAV contract that would result in a costly gamble for a team claiming him if it doesn't pan out. In real cash, he's owed $4.56MM over the next two seasons.
It's money that Zadina could willing to walk away from entirely to have a better chance of a successful NHL career, says Friedman. Although Zadina's agent, Darren Ferris, declined to comment on the matter, Friedman's reporting suggests Zadina has made it clear he would not report if assigned to the AHL next season, which would violate his contract and result in suspension without pay.
With both Zadina and Detroit cleared of any contractual obligation to each other, he would then be free to sign with any team in the league – giving him full control over his destiny, at least among the teams interested in adding him. Zadina had already requested a trade before the draft, which Detroit general manager Steve Yzerman expressed earlier in the week, but again cited Zadina's contract as a significant obstacle in moving him.
Yzerman had expressed his reluctance to put Zadina on waivers, considering he'd signed the winger to a three-year contract just a year ago with the belief that he would continue to develop. It didn't happen this season, as he posted just seven points in 30 games and averaged 13:05 per game.
All that being said, it's fair to speculate now which teams could have interest in picking up the Czech-born winger, and where he could have success and ultimately develop into the top-six (or top-nine, at this point) forward he was projected to be.
Somewhat ironically, Zadina has some history with two teams that could make sense. Before falling to Detroit at sixth overall at the 2018 Draft, Zadina said regarding two teams, the Montreal Canadiens and Ottawa Senators, that "if they will pass on me, I'm going to fill their nets with pucks." Montreal selected Jesperi Kotkaniemi third overall, while Ottawa selected now-captain Brady Tkachuk with the fourth selection. Both teams are looking to add some forward depth today, and Montreal has displayed a liking to taking on reclamation projects in recent years (Kirby Dach, Denis Gurianov, Alex Newhook).
Photo courtesy of USA Today Sports Images