After dealing Reilly Smith just hours earlier, the Vegas Golden Knights have put their cap space to use. They've signed top pending unrestricted free agent forward Ivan Barbashev to a five-year, $25MM extension, earning him $5MM per season. That's significantly shorter and cheaper than what Barbashev was expected to earn on the open market. PuckPedia has the breakdown of the deal: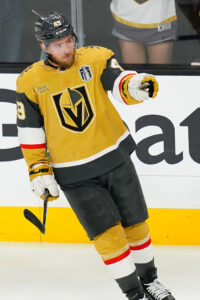 2023-24: $3MM base salary, $4MM signing bonus, eight-team no-trade clause
2024-25: $5.4MM base salary, eight-team no-trade clause
2025-26: $4.2MM base salary, eight-team no-trade clause
2026-27: $4.2MM base salary, five-team no-trade clause
2027-28: $4.2MM base salary, five-team no-trade clause
This has now become a money-in, money-out move for the Knights, who've swapped Smith's $5MM cap hit for Barbashev's, retaining the younger player (with more term) in the process. The move takes Barbashev, who was ranked eighth on our list of the top 50 UFAs, off the open market sooner than most had expected.
The two-time Stanley Cup champion has seemingly sacrificed a bit on his big payday in hopes of running it back. It's quite a cheap deal, especially considering the lack of significant trade protection included in the contract.
That being said, it's a good bit of business here for Vegas to keep Barbashev in the organization after he emerged as a true top-six threat down the stretch. While he's not incredibly strong defensively, extended time on the wing has done Barbashev well, and he seems likely to be a consistent long-term fixture – just not as a center as the St. Louis Blues tried with him many times.
The Blues' 2014 second-round pick was one of the hotter commodities at this year's trade deadline, where Vegas picked him up in a one-for-one swap for prospect Zach Dean, who the Knights selected 30th overall in 2021. Barbashev proceeded to find a home as the left wing on a line with Jack Eichel and Jonathan Marchessault, finishing fifth on the Knights in playoff scoring with 18 points in 22 games. He also recorded 16 points in 23 regular-season games with Vegas after notching 6o points in a full season for the first time in 2021-22 with St. Louis.
Barbashev will undoubtedly reprise his first-line role next season, and he'll look to start his new extension off strong by setting a career-high in points alongside one of the best centers in the league and the reigning Conn Smythe Trophy winner.
Of significance, the Golden Knights will once again be over the salary cap once Adin Hill's reported two-year, $4.9MM average annual value extension becomes official. That could be alleviated, though, if Robin Lehner and his $5MM cap hit are destined for long-term injured reserve next season.