Just days after winning the Stanley Cup, the Vegas Golden Knights are moving on from original expansion draft acquisition Reilly Smith. He's been dealt to the Pittsburgh Penguins for a 2024 third-round pick, one the Penguins acquired from Vegas just a few months ago in exchange for center Teddy Blueger.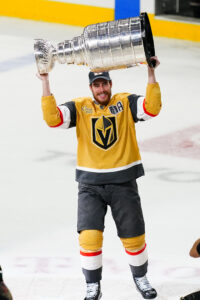 To say this move is a shock to most fans is an understatement. While cap-clearing moves have become commonplace in recent history, especially in Vegas, Smith had a spectacular postseason run for the Knights with four goals and 14 points in 22 games. At the time of the trade, he was second in franchise history in goals (124) and third in points (286), joined in the top three by longtime linemates Jonathan Marchessault and William Karlsson.
Smith, 32, has two seasons remaining on his contract at a $5MM cap hit. Of note, this is the first trade completed by Kyle Dubas as interim general manager of the Penguins.
Parting ways with that $5MM, as tough as it may be, gives Vegas significant flexibility into an offseason clouded by uncertainty over the playing future of goaltender Robin Lehner, who missed the entire 2022-23 season recovering from double hip surgery and is under contract, as Smith is, for $5MM per season until 2025. With netminder Adin Hill expected to sign a two-year extension in the neighborhood of $4.9MM per season, clearing Smith's cap hit leaves the Knights with about $3.5-$4MM in space should Lehner be healthy next season.
In Smith, Pittsburgh may not be getting any younger, but they are getting a spectacularly consistent winger with good ability on both the power play and penalty kill. A well-rounded talent, his 26 goals this season were one short of his career high, set with Vegas in the 2019-20 season. He could very well slot in on Pittsburgh's second line with Evgeni Malkin and Rickard Rakell.
With the Smith acquisition, it seems improbable that Pittsburgh will extend Jason Zucker, who held the top-six spot in the lineup Smith is expected to replace. The 31-year-old will be one of the better options on the UFA market among left wingers after recording 27 goals and 48 points in 78 games this year.
What exactly Vegas does with its newfound cap space remains to be seen. If they learn Lehner could be an LTIR candidate next season in the near future, they'd likely have enough flexibility to get a deal done to retain winger Ivan Barbashev. There's no telling how long it will take to glean clarity into Lehner's playing future, though, and Vegas will be forced to operate under the expectation they won't have his LTIR relief until proven otherwise. If that's the case, they could still sign a middle-six winger on the free agent market who'd command around the $2MM mark.
It's still a bittersweet day for Knights fans, who have now lost fan favorites Smith, Marc-Andre Fleury, and Max Pacioretty to similar salary-dump moves in each of the last three offseasons.
ESPN's Kevin Weekes was first to report the trade.