Topics in this edition of the PHR Mailbag include finding a way for Vegas to try to re-sign Ivan Barbashev, goalies to watch for in the upcoming draft, and much more.  With so many questions being submitted (thanks, as always, for sending them in), we'll run two more mailbags from our recent callout.  They'll be run between now and the end of next weekend so if your question doesn't appear here, be sure to check those ones when they come out.
Emoney123: Petersen making $5MM as a backup to Hart's $3MM? Two #1 picks this year and next with Gauthier, Brink, Foerster hopefully coming up and a relatively young roster, are brighter days right around the corner? Flyers back in the Playoffs next season!
I'm intrigued to see if Cal Petersen gets a real shot to be Carter Hart's backup or if they'll treat him as a sunk cost and bury him in Lehigh Valley.  I think he can be a lot better than he was this past season and if they are able to get him performing at the NHL level next season, perhaps there's a chance to salvage a bit of value from him in 2024-25.
Are brighter days ahead?  Sure.  Their prospect pool is improving and as you noted, they're getting two more first-rounders in a week and a half that's going to make it stronger.  If they choose correctly with those selections, they could have a good foundation to work off of in a few years.
But making the playoffs next season feels like a bit of a pipe dream.  They just moved one of their better defensemen in Ivan Provorov for futures.  By all accounts, Travis Konecny is in play, their leading scorer.  Kevin Hayes seems like a strong trade candidate.  Hart has been drawing interest.  These are not statements that should be associated with a team looking to make the playoffs next season.  These are statements about a team that's looking to finish at or near the bottom of the standings.
jchancel: Given the NY Rangers' cap issues, what are the alternatives? Give up Goodrow, Mikkola, Motte. Keeping one of Kane or Tarasenko?
Promote Othmann and Cullye? Does that alleviate some of the problem?
I mentioned the importance of moving Barclay Goodrow in their recent Offseason Checklist.  It's not that he's a bad player, he's just a luxury they can no longer afford at just over $3.64MM for the next four seasons.  They have around $11.7MM in cap space per CapFriendly but more than half of that is going to be allocated to re-signing Alexis Lafreniere and K'Andre Miller.  That leaves enough to sign a bunch of players for close to the minimum to round out the roster but that is also going to result in a significant talent drain.
Among the UFAs, I expect Niko Mikkola will go elsewhere to a team that will be able to afford him.  I'm not certain Tyler Motte walks though.  His market wasn't great last summer which frankly surprised me.  His performance this past season wasn't significantly better either so it stands to reason his market won't be the strongest this time either.  If that's the case, would he accept a multi-year deal around the $1MM range, getting some stability after being on the move a lot in recent years?  I think New York could find a way to make that work.  I'd be stunned if either of Patrick Kane or Vladimir Tarasenko return unless a significant contract is on the way out.
I do expect both Brennan Othmann and William Cullye to see regular action next season.  Othmann had a nice playoff and Memorial Cup run and plays a rugged style that makes him work in the bottom six to start, allowing him to potentially ease into a more important role over time.  Cullye had a fine rookie year in Hartford and also fits nicely into a bottom six group that I anticipate will have a physical edge to it.  Perhaps they're not full-timers (especially if GM Chris Drury wants them to see some time in scoring roles) but they'll be factors on the roster next season.
@HolgerStolzen1: Hey Brian,
I'm trying to figure out a way for the Golden Knights to re-sign Ivan Barbashev in the off-season, but not sure it's possible. I'm already going with the assumption that they re-sign Adin Hill and find a way to move out Lehner. Any chance we can bring back Barbashev?
Hey Holger, always nice to hear from a former PHR teammate.
Let's dig into those assumptions first.  Adin Hill's strong playoff run is going to earn him a nice raise.  Let's peg him at $4MM.  I'm not as optimistic as you are that they'll find a way to move Robin Lehner but I'll play along.  Him coming off the books saves them $5MM which gives them a little over $4MM in cap room, per CapFriendly's numbers.  That's not going to be enough to keep Ivan Barbashev.
However, there are two options where they can trim payroll.  The first is trying to incentivize a team to take on Alec Martinez's contract.  The 35-year-old can still play but his days as a core blueliner are probably done.  His trade protection dips to eight teams on July 1st so there might be a move to be made on that front.  That would more than free up enough cap space to re-sign Barbashev and pending RFA Brett Howden between his $5MM and their existing space.  That's Plan A.
Plan B might come as a bit of a surprise but I'd kick the tires on the trade market for Nicolas Roy.  $3MM for a third center isn't bad by any stretch but it is a luxury in this cap environment.  Some teams can afford it and with the market for middlemen not being great, I think Vegas would get a good return in a trade.  Take half of that money added to their cap room and that might get Barbashev done.  The other half goes to Howden with Ben Hutton being waived in training camp to make up the rest of Howden's money.  Kaedan Korzcak then near-daily appearances on this site in shuffles to and from Henderson to bank some cap space and give them a bit of in-season room.  They'd be carrying a minimum-sized roster, however, though they're certainly used to that.
So, yeah, I think there's a chance they can bring him back and the fact they can offer an eighth year certainly helps on that front.  I'm not sure I'd predict that particular outcome but there's a pathway to do it.
aka.nda: Semi-related.. thinking about Logan Thompson.. // Brossoit.. Hill. What's Vegas gonna do with their goalie situation?
Let's do the easy ones first.  Logan Thompson stays.  He's on a contract that's below the league minimum AAV making him arguably the best bargain contract for any NHL goalie next season.  They're not moving him.  As for Laurent Brossoit, I don't think he comes back.  Has he really helped his value since joining them two years ago?  I don't think so.  There are teams that will view him more as a third-string option and while he might get a one-way deal backing up somewhere, I think Vegas needs someone more capable of playing a heavier workload.
Let's talk about the one not on this list, Lehner.  If he's going to be ruled healthy to play next season, I think he stays in Vegas and that his trade market would be next to non-existent.  Generally speaking, if a goalie misses the entire year and is suddenly declared healthy, I think teams are going to react one way – 'prove it'.  To have trade value, he needs to play and if he's on their active roster, there's no possible way that they can afford to bring Hill back.  At that point, you're pivoting to an above-average third-stringer and paying him $1MM to start in Henderson and be available in case Lehner isn't healthy.
But if Lehner can't recover and is heading for LTIR, then I suspect the Golden Knights will take a serious run at trying to keep Hill.  I mentioned $4MM as a rough price point in the previous question so I'll stick with that here.  Maybe three years at that cost gets it done?  With just 101 regular season games under his belt, he doesn't have a long-term track record that will push him into true number one money and that deal feels like a reasonable one for both sides.  It would give Hill some stability while allowing Vegas to keep their goalie costs in check knowing that Chandler Stephenson is heading for a big-ticket deal next summer while Thompson will need a new contract as well.
SkidRowe: What could the Bruins get for Linus Ullmark? A soon to be 30 yo Vezina trophy winner signed for 2 more years at a reasonable $5 million?
The additions of Connor Hellebuyck and even John Gibson to the trade market don't help Boston here if this is the route they're going to go.  Ullmark had a great year, no question and is absolutely well-deserving of the Vezina should he get it as expected.  But will teams call his performance a byproduct of their system?  If so, he won't be viewed as highly.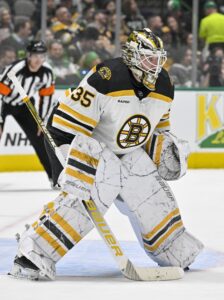 Will teams view Ullmark as a top-ten goalie in their system?  I'm not certain they will and the offers will be lower accordingly.  Could they get a first-round pick for him?  Possibly, but it would be at the back of the first round.  Not a lot of netminders have fetched first-round picks recently.  They'd probably need to take a goalie back which would limit the cap savings.  Maybe there's a prospect involved but it wouldn't be an 'A' player.
In a follow-up comment, you noted you wouldn't move him unless you were getting a pair of first-rounders or a young top-six center.  As well as Ullmark played this season, I don't think he gets that.  I don't think Jeremy Swayman would yield a pair of first-rounders either (and I feel he'd have the higher trade value being younger with more years of team control).  I don't expect an extended Hellebuyck to bring that type of return and even though his cap hit will be higher, his track record would look better in the eyes of interested teams which might make him more sought-after than Ullmark.
I like the player and I like the contract.  But it has been a long time since a goalie has yielded a return that makes people go 'wow' in terms of the haul being significantly strong.  I don't think Ullmark will buck that trend if he's made available.
joebad34: Who are the next potential goalies coming into this year's draft that may be targeted as a future starter?
Let's get this out of the way first.  I'm not a particularly strong scout when it comes to watching skaters.  When it comes to goalies, it's even worse.  Just keep that in mind as you read this answer.
I'm not sure there is a true number one goalie in this draft class.  By number one goalie, I mean a 50-plus game starter year after year that is the undisputed go-to guy in the playoffs.  But, frankly, how many of those are around nowadays?  As teams gravitate more toward platoons as cost-saving options, they will find value in those netminders.  And I think there are certainly a few of those platoon/1B players in this draft.
At the top, there's Michael Hrabal, a very tall goalie, one element scouts really love in their netminders.  His stock has steadily been on the rise but I think his development path will be a bit slower than others on this list.  Adam Gajan is a re-entry player that hasn't gone a traditional route but I really liked him at the World Juniors and I could see him having some pro success.  Trey Augustine is on the smaller side for a goalie (6'1) but based on how he has fared in the US NTDP, I see no reason to think he can't succeed in the NHL.  Carson Bjarnason is probably the top option from Canada after a decent showing in his first season as a full-fledged starter.
Hrabal, Augustine, and Bjarnason should all go in the second round; I've seen some speculate that Hrabal could crack the late first round.  Gajan is a bit of a wild card given his second-time status but he should go fairly early among the goalies.  I'm curious to see where Scott Ratzlaff goes, he wound up as the backup in WHL Seattle this season behind Thomas Milic (a third-year eligible who's also on the smaller side for a goalie) but I could see him being a value pick as Ratzlaff will take over as the starter next season on a team that's likely to allow a lot of shots as a lot of their Memorial Cup roster will move on.  but I think he could be one of the better goalies from this class even though he's not among the top few options on most lists.
dano62: Who are the next players after Dubois to flex their impending UFA status to force a trade? Do you see Pettersson as doing that during this season (he's an RFA after 2024, UFA after 2025)
There are two other players who are effectively doing this right now, Ottawa's Alex DeBrincat and Calgary's Noah Hanifin.  DeBrincat has given the Senators a list of teams he'd be willing to do a long-term contract with and is basically following the playbook of Matthew Tkachuk last summer.  Ottawa protected themselves a little bit by electing for cut-down arbitration which could save them a bit of money if he's still on the roster next season and if it comes to an in-season trade, the lower the AAV, the easier it is to make a move.  But it sure seems like the long-term contract that's eventually coming will be from someone other than the Sens.
As for Hanifin, recent reports indicate that he is unwilling to sign an extension with the Flames.  He's not exactly in the same situation as Dubois, DeBrincat, or Tkachuk last year who were entering their last RFA-eligible year as next season will be his second of what would have been UFA-eligible campaigns but still, close enough.  This feels like another situation where he will give GM Craig Conroy a shortlist of teams that he'd sign long-term with and from there, it'll be up to Conroy to extract the most value.
I don't think Elias Pettersson will go that route.  Things haven't gone great for Vancouver lately but his agent mentioned on the Got Yer Back podcast (audio link) a couple of weeks ago that they're going to engage on extension talks this summer.  That's not what someone looking to force a trade would be willing to do.  Now, if those discussions go sideways and it's another year to forget for the Canucks, perhaps that changes but I'm expecting a max-term extension around the $10MM mark to come down the pipe for him.
Gmm8811: Just wondering what the latest news is on the Hockey Canada investigation into the alleged 2018 sexual assault is and where the investigation stands? Has the NHL become involved? Thoughts on ramifications if accusations are proven true?
Black Ace57: My question too is if there is a lot of trade talk/activity around players who were on that team is that any indication that they have been cleared or there is an idea behind the scenes they will be?
WilfPaiement: Latest news on Alex Formenton, is he going to be in the NHL this season? Is Ottawa going to sign him?
Let's group these three together as they're all related.  In May, Hockey Canada turned over its findings of the third-party report to the London Police Services.  As of yet, I don't think London's subsequent investigation has been completed.  Meanwhile, the NHL's independent investigation has been concluded, according to Gary Bettman at his press conference at the Stanley Cup Final.  That report is expected to be presented to the league early this summer.
Until all investigations and reports are completed, I don't expect any sort of trade activity involving players from that team (including Formenton).  If the evidence and testimonials are compelling enough to the point of being actionable (either through charges being laid and/or discipline being handed down by the league), it would likely have a material impact on the value of those players.  Teams will want to see the outcome of those investigations before deciding about potentially acquiring them (or in Ottawa's case, re-signing Formenton after he spent the second half of the season in Switzerland).
Photo courtesy of USA Today Sports Images.