The Devils have a long list of free agents to contend with this summer.  Highlighting the restricted ones are wingers Jesper Bratt and Timo Meier while among the UFAs, center Erik Haula plus defensemen Ryan Graves and Damon Severson stand out.  New Jersey isn't in a spot where they'll be able to keep all of them around.
Other teams around the NHL are clearly aware of this and according to Sportsnet's Elliotte Friedman (video link), New Jersey is receiving calls with inquiries about Severson's negotiating rights.  At this point, the Devils are still believed to be trying to re-sign him but if those talks fall through, there might be enough interest to at least secure a late-round pick over losing him for nothing entirely.
Severson projects to be one of the top defensemen available on the open market next month.  The 28-year-old had a career year in 2021-22 with 11 goals and 35 assists in 80 games and while he wasn't able to repeat those numbers this season, he still managed 33 points in 81 contests despite having his playing time cut by nearly four minutes per night.
Severson had averaged at least 22 minutes per game in each of the last four seasons before this one which will certainly bolster his value in a market that doesn't have a lot of players capable of playing top-pairing minutes.  He's also a right-shot player, the side that is always in high demand.  As there continues to be a greater emphasis placed on mobility and puck movement from the back end, Severson fits in well with those requirements.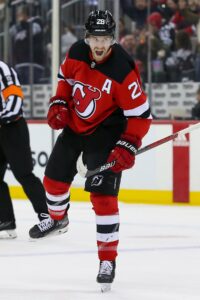 Of course, New Jersey would like to keep Severson around although it's fair to question if they should.  That isn't an indictment on his abilities by any stretch but rather a question of how they're allocating their money.  Their other two right-shot defenders are Dougie Hamilton and John Marino who are each signed through the 2026-27 season with a combined cap hit of $13.4MM.  As a player likely to be in high demand, Severson should be expecting a sizable raise from the $4.166MM on his previous deal; something in the $6MM range could be achievable.  Is it, then, wise for them to spend upward of $20MM on the right side of their back end when you factor in the other players they need to re-sign?  Based on the calls other teams are making about his negotiating rights, they're doing the same math as well.
It's important to note that a trade couldn't be arranged with a conditional draft pick contingent on Severson signing with the acquiring team.  Those used to be legal but that's no longer the case.  Instead, should a trade happen, it will be an unconditional pick going the other way.  In recent years, there haven't been many of those but one possible comparable would be Carolina moving Joel Edmundson's rights to Montreal for a fifth-rounder in 2020.  Severson's market for his negotiating rights is likely to come in somewhere around there as well.
Typically, there are at least a few days between the end of the draft and the start of free agency, allowing a team on draft day to flip the pick and have a bit of time to try to hammer out a new deal.  That isn't really the case this year as the draft will be ending less than 48 hours before free agency opens up.  Accordingly, if New Jersey can't get a contract done with Severson in the next few weeks, they may have to move those rights before the draft if they want a shot at getting some sort of value in return.
Photo courtesy of USA Today Sports Images.