The offseason has arrived for all but the two teams that still have a shot at winning the Stanley Cup.  It's time to examine what those eliminated squads will need to accomplish over the coming months.  Next up is a look at Boston.
It was an all-in year for the Bruins as they structured some contracts to buy them more flexibility this year at a high cost for next season.  That flexibility allowed them to make two significant additions at the trade deadline, setting the Presidents' Trophy-winning club up for what they thought would be a long playoff run.  Instead, they weren't able to pick up the final victory of their first-round series against Florida, providing an early exit and questions about what comes next.  If GM Don Sweeney intends to keep this team in contention, he'll have some work to do in the coming weeks.
Create Cap Space
Let's get the obvious out of the way first.  The Bruins are carrying over a significant bonus overage penalty into next season from the bonus-laden deals they handed Patrice Bergeron and David Krejci last summer.  David Pastrnak's AAV jumped up by more than $4.5MM while Pavel Zacha added $1.25MM on his new deal compared to 2022-23.
What's the end result of this?  They have over $78.5MM in commitments for next season already, per CapFriendly, and that's with at least six roster spots needing to be filled.  If all of those players signed for the minimum, they could squeak by from a cap perspective.  However, one of their restricted free agents alone could basically gobble up the less than $5MM in space they have left.
As a result, Sweeney is going to have to find ways to clear up space and might need to move multiple players to do so.  We'll look at some of those options throughout this article but if there isn't a move to be made with some of those players, they'll have to look at moving other pieces out.  They simply don't have a choice, Boston has to free up money in the next few weeks.
Goaltending Decisions
Lost in the fact that Linus Ullmark had quite the season in goal for Boston was the fact that Jeremy Swayman also had a very strong year as well, improving upon his numbers from 2021-22.  Frankly, that might be underselling it as he finished fourth in the NHL in both GAA (2.27) and SV% (.920).  That's a nice way to head into his first trip through restricted free agency.  To make matters better for him, the 24-year-old is also eligible for salary arbitration.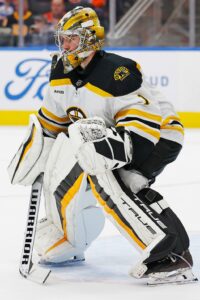 The market for second contracts for young goalies without a lot of NHL experience has shot up in recent years.  Carter Hart received three years at $3.979MM after just 101 games.  Jake Oettinger received three years at $4MM after only 77 regular season games (plus a strong showing in the 2022 playoffs).  Spencer Knight received three years with a $4.5MM AAV after only 36 games played.  Oettinger and Knight's contracts were signed within the last year so these are recent comparables to work with.  On top of things, it's also worth pointing out that Swayman's career numbers are better than what any of these three had at the time they signed their bridge contracts.
Those three contracts should give Sweeney a good idea of what Swayman will cost on his next contract.  Basically, all their cap space, give or take a few hundred thousand.  Can Boston afford that?  Not really as things stand.
As a result, there are some decisions to be made.  When determining who to trim from the roster to create cap space for, is it worth doing it to maintain an elite tandem with Ullmark, even though it would cost around $10MM for the two of them?  Considering that top goaltending can help overcome some offensive challenges, there's certainly a case to be made that doing so would be wise.
But if the answer to that question is no, then the question becomes who moves?  It'd be hard to move on from Ullmark, the likely Vezina Trophy winner.  He'll turn 30 late last month so is he their goalie of the future?  Or should Swayman, who has three years of control left, be the one to keep?  Both would command strong interest but losing one of them would certainly hurt their short-term fortunes.  The amount of cap space could also be limited since a decent backup would cost at least $2MM, likely more.  Considering the goaltending market typically shakes out quickly, the Bruins will need to decide which path they plan to take fairly quickly.
Get Center Help
This season, Boston had strong depth down the middle led by veterans Patrice Bergeron and David Krejci, who returned to the NHL after spending a season back home.  Bergeron finished third in the team in scoring and Krejci fifth, a nice return on a combined base cap hit of $3.5MM.  Of course, there were $4.5MM in bonuses, all of which were easily met and with the Bruins spending the season over the cap, that triggered the carryover penalty.  Both veterans are set to become unrestricted free agents once again this summer and while there's little concern that they'll sign elsewhere, it remains to be seen if one or both are willing to return for another year, 20 for Bergeron and 17 for Krejci.
If both decide to give it another go, they're likely to sign similarly-structured contracts to the ones they played on, allowing Boston to kick some of the cost over to 2024-25.  However, it'd only be kicking the problem down the road as organizationally, they need to add at least one longer-term middleman.  Pavel Zacha had a career year this season and could slide back to center but when he was with New Jersey, he struggled to produce so it's hardly a guarantee he'll be able to back up his 57-point campaign.  Charlie Coyle is a capable secondary center but not a true top-liner at this stage of his career so he shouldn't be the solution on the top line either.
If the Bruins want to look outside the organization, it will be tricky to land a replacement with their inability to afford a market-value contract.  There aren't any true top options in free agency and if they want to look to the trade market (perhaps to Winnipeg for one of their middlemen), they don't have much in the way of top picks at their disposal.  Their first available first-round pick is in 2025 while their next second-rounder is in 2026.  Prospect-wise, their pool isn't the strongest thanks to moving out several good draft picks to help keep them in contention.
It won't be easy to acquire one and it will be hard to afford it in their cap structure but there is a definite need down the middle to address this summer whether it's bringing back their long-term veterans or looking elsewhere.  One way or the other, Sweeney is going to have to try to find a way to accomplish this.
Move A Blueliner
One way that Boston can try to create some cap space is to move a defenseman or two.  As things stand, they have nearly $31MM committed to seven rearguards for next season.  No other team has that much money committed to their back end.  By the time you add in Ullmark's $5MM AAV and Swayman's likely number near that amount, it looks like the Bruins could have half of next year's cap committed to non-forwards.  That would certainly be a risky proposition.
Beyond Charlie McAvoy and Hampus Lindholm, it's plausible that any of their other defensemen could be in play.  Mike Reilly is someone they'd certainly want to move after he spent most of the year at AHL Providence although they'll likely have to incentivize a team to take him or take a similarly-sized contract back which wouldn't help their cap situation.  He has one year left at $3MM.  Derek Forbort is another pending UFA who can still hold his own on the third pairing but $3MM for someone in that slot is on the pricey side given their cap situation.  Even moving Jakub Zboril, another 2024 UFA, for someone making the league minimum would free up a little over $300K.
As for the other pending UFA out of this group, Matt Grzelcyk is one to watch for.  He was a top-four piece not long ago but has dropped into more of a depth role and found himself on the bench at times in the playoffs.  He's still a capable blueliner but again, he's on the pricey side for the role he was in down the stretch.  The expected departure of Dmitry Orlov could put him back on the second pairing but it still wouldn't be surprising to see Sweeney try to find him a new home.
Brandon Carlo is the other regular that hasn't been mentioned.  With four years left at $4.1MM, his contract is certainly reasonable for a second-pairing defender although he's not exactly the type of blueliner that's going to jump in the play and contribute much offensively.  In an ideal world, Boston would probably want to keep him but if they find themselves having to trade for a center, Carlo would be one of their more asked-about trade chips in such a scenario so moving him can't be ruled out either.
For now, the Bruins have the costliest defense in the NHL.  It seems unlikely that will still be the case in October when the 2023-24 campaign gets underway.
Photo courtesy of USA Today Sports Images.