The Montreal Canadiens have agreed to terms on an eight-year contract extension for star winger Cole Caufield through the 2030-31 campaign, the team announced Monday morning. The deal will carry a $7.85MM cap hit.
Per CapFriendly, Caufield has a modified no-trade list in the final three seasons of his contract, which is all he's eligible for, given his unrestricted free-agent eligibility. The full breakdown of the contract is as follows: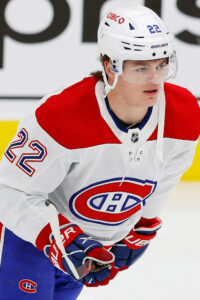 2023-24: $4.975MM base, $5MM signing bonus
2024-25: $4.975MM base, $5.5MM signing bonus
2025-26: $9.975MM base
2026-27: $8.705MM base
2027-28: $6.215MM base
2028-29: $5.985MM base, 15-team no-trade list
2029-30: $5.985MM base, 10-team no-trade list
2030-31: $5.985MM base, five-team no-trade list
Not only does this wrap up Montreal's highest offseason priority, but it also marks a generation-defining signing for this Canadiens core. Caufield, arguably on a discount deal, immediately becomes the second-highest-paid healthy Canadien behind captain Nick Suzuki, who earns $7.875MM per season through 2030.
While he has just over 120 NHL games of experience under his belt, the 22-year-old has been among the better goal-scorers in the league in limited samples. His 53 goals are second among 2019 NHL Draft picks, trailing only New Jersey Devils star Jack Hughes.
A season-ending shoulder injury in 2022-23 may have cost him a few thousand dollars on this deal. However, reports suggested the Canadiens are committed to keeping a strict salary hierarchy with Suzuki at the top. He tied for the team lead in goals despite playing in just 46 games, and his 26 goals in that time put him on pace for 46 in an entire 82-game season. That would have tied him for seventh in the league (and second among US-born players) with Dallas Stars phenom Jason Robertson.
The Wisconsinite may be one of the slightest wingers in the league at just 5-foot-7, but that hasn't stopped his all-world release from translating to the NHL level, even with little help around him. While Suzuki provides a formidable linemate, Montreal's offense ranked in the league's bottom 10 this year and boasted just seven double-digit goal-scorers.
In terms of the percentage of the salary cap ceiling at signing, Caufield's max-term extension is nearly identical to the eight-year deal signed by Carolina Hurricanes winger Andrei Svechnikov before the 2021-22 campaign. Svechnikov, however, had already eclipsed 200 NHL appearances before signing his extension.
Neither the Canadiens nor Caufield released a statement upon the initial announcement of the signing.
For other NHL teams, Caufield's extension takes 2023's top offer sheet candidate off the market. The last two offer sheet transactions in NHL history, Sebastian Aho (2019) and Jesperi Kotkaniemi (2021), involved the Canadiens.
For Montreal, the value of Caufield's cap hit gets them more than just a star goal-scorer for eight more seasons. It also gets them extremely valuable cost certainty as the cap ceiling is bound to rise in the coming seasons, allowing them to more comfortably afford any RFA or UFA signings as the team aims to return to championship contention over the next five years or so.
Behind Caufield and Suzuki, the two Habs under contract the longest are veterans Brendan Gallagher and Josh Anderson, both signed through 2027.
Photo courtesy of USA Today Sports Images