After months of rumors regarding Winnipeg Jets center Pierre-Luc Dubois and his hometown team, the Montreal Canadiens, Dubois' long-term landing spot has finally come into focus.
TVA Sports' Renaud Lavoie reported this morning that the Los Angeles Kings "continue to pursue Pierre-Luc Dubois," and The Fourth Period's David Pagnotta followed up reporting on a trade being worked on that would land Dubois in Los Angeles with "multiple players/pieces" going to Winnipeg, including forwards Gabriel Vilardi and Alex Iafallo. Sportsnet's Ken Wiebe adds that he's "expecting F Jansen Harkins to be involved" in a Dubois trade to Los Angeles as well.
Now, The Athletic's Murat Ates has given a more firm indication that Dubois could be headed to California, reporting that the Kings and Dubois are "talking contract extension," and although there are still things to be worked out regarding the deal and the exact trade, "things are well on their way" toward Dubois landing in Los Angeles.
That would be a relatively surprising outcome given the strong indications over the ongoing Dubois trade saga that his preferred destination was Montreal. But finding an ideal match between the Jets and Canadiens for a Dubois trade seems to have been difficult, especially since Montreal would likely be loath to surrender rising center Kirby Dach as part of a trade package. Los Angeles has a deeper pool of NHL-ready assets to attract the Jets as a trade partner, which is likely why a Dubois to L.A. move has gotten significantly more concrete momentum than a Dubois-to-Montreal trade.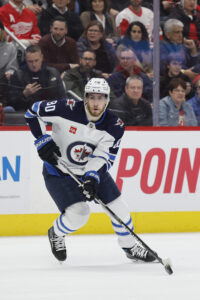 For the Kings, adding Dubois is in large part about succession planning for the eventual end of incumbent number-one center Anze Kopitar's playing career.
Kopitar, 35, scored 74 points and showed no real signs of slowing down this past season but with his contract set to expire next summer, Kopitar's future is becoming more and more of a team focus.
A top-of-the-lineup number-one center might just be the hardest thing to acquire in the NHL, and given the slower-than-expected development of 2020 second-overall pick Quinton Byfield, Dubois represents perhaps the best chance the Kings have at finding a franchise face for when Kopitar's playing days are over.
Dubois and Kopitar are represented by the same agent, CAA's Pat Brisson, so that shared relationship could aid the Kings in their efforts to lock up Dubois as their next star forward.
It's still up for debate whether Dubois is a true number-one center in the NHL. He scored 63 points in 77 games this past season and has certainly shown flashes of greatness, but he has also left fans wanting more at both NHL stops in his career.
In the immediate term, Dubois would be an exceptional complement to Kopitar in the team's top-six, and would shift Danault into a third-line center role. Danault, who scored 54 points last season and is among the league's most well-respected defensive centers, would instantly become arguably the league's top third-line pivot and their new arrangement would give the Kings some of the best center depth in the NHL.
Seeing as Dubois has been rumored to be seeking a maximum-term contract extension that mirrors the financial value of the $8.7MM contract Dylan Larkin received from the Detroit Red Wings, by actively attempting to acquire and extend him it's clear the Kings believe in Dubois' potential to be Kopitar's successor as a number-one center. All that's left now is for the team to complete the deal and for Dubois to prove them right on the ice next season.
For the Jets, this trade is about moving forward from a player who didn't see a long-term future for himself in Winnipeg and getting the best possible return for the one year left of control they have over Dubois' services. While a trade has yet to be completed and the rumored return centering around Iafallo and Vilardi is still just that, a rumor, Vilardi's presence as a centerpiece player reveals the Jets' priorities in their trade negotiations.
Despite facing quite a few significant departures in the next few weeks, the Jets remain committed to building around their established stars such as Kyle Connor and Josh Morrissey.
Getting Vilardi and locking him down to a long-term contract would add another building block into the mix, especially after Vilardi's breakout 2022-23 campaign where he scored 23 goals and 41 points in 63 games. While Vilardi has been a winger at the NHL level, he does have some prior experience playing center and the Jets could be planning on trying Vilardi down the middle again if they do end up acquiring him.
Again, it must be stressed that no trade is completed at the current moment and that how Winnipeg fares in this trade will likely come down to whether Vilardi is indeed the centerpiece of the deal and what other players, prospects, or picks are involved. At this moment the most concrete development that has been reported is that Dubois' camp is actively negotiating an extension with the Kings, meaning the long-awaited trade could be just around the corner.
Photos courtesy of USA Today Sports Images