Free agency is less than a month away and teams are looking ahead to when it opens.  There will be several impact players set to hit the open market in July while many teams have key restricted free agents to re-sign as well.  We continue our look around the NHL with an overview of the free agent situation for the San Jose Sharks.
Key Restricted Free Agents
F Noah Gregor – As the Sharks continue their rebuilding efforts, Gregor has quietly become a quality bottom-six option for San Jose to use throughout the season. Last year, Gregor had the best year of his career, scoring eight goals and 15 assists in 63 games. Gregor also had twice as many takeaways as giveaways and also managed to throw 118 hits for San Jose. This season, he continued much of the same, scoring 10 goals and seven assists in only 57 games.
Gregor once again made plenty of hits, and completed a good amount of takeaways, continuing to be a strong option for the Sharks given their current forward depth. Still only 24 years old, Gregor does not project to be anything more than what he currently is. There is some growth potential for a 30-point season, but Gregor may top out there offensively. As the Sharks continue their rebuild and find their way back to the Stanley Cup playoffs, Gregor has the play style that makes for a perfect deadline acquisition for a contending team in the near future.
Although he typically plays on the wing, San Jose may be able to recoup some assets in the next couple of years for Gregor should they trade him to a contending team. If they do stay course, and retain Gregor for the foreseeable future, he would be a great defensive option for the team once they do return to contention.
F Fabian Zetterlund – Unlike Gregor, Zetterlund does carry some serious offensive upside for the Sharks. Acquired in the trade that sent Timo Meier to the New Jersey Devils, Zetterlund was one of the main pieces of San Jose's return. Before the trade, the former 63rd overall pick scored six goals and 14 assists for the Devils in 45 games played this year.
His offense did not translate as well once he touched down in the Bay Area of California, earning only three assists in the next 22 games for the Sharks. Unfortunately for Zetterlund, in San Jose, he was only able to average just under 14 minutes of ice time per night.
In the next several years, if the Sharks are able to bump Zetterlund's playing time to over 15 minutes a night on average, Zetterlund's offensive capabilities should thrive. He has always been known as a player with impressive speed and has always stood out as one of the more engaged players on the forecheck.
Other RFAs: F Jacob Peterson, F Evgeny Svechnikov, F Jonah Gadjovich, F Martin Kaut, G Eetu Makiniemi, G Strauss Mann
Key Unrestricted Free Agents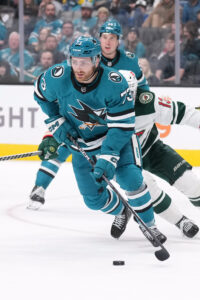 F Andreas Johnsson – Also acquired in the deal for Meier, Johnsson was receiving almost completely zero playing time in New Jersey. After two years prior with the Devils, Johnsson had completely fallen out of favor with head coach Lindy Ruff.
Unfortunately, much of the same continued with the Sharks since the trade. In only 11 games played in San Jose, Johnsson had three assists, losing the rest of the season to an injury. For a one-time 40-point scorer with the Toronto Maple Leafs, it has been quite a fall from grace for Johnsson.
Although Johnsson may become a quality roster filler for San Jose during their rebuild, he is unlikely to find himself back in the Bay Area. Losing seemingly an entire season before unrestricted free agency has not typically worked out well in the past, and with a youth movement expected for the Sharks, Johnsson's roster spot is likely better spent with a younger player.
G James Reimer – During the first year of his contract spent in San Jose, Reimer was actually quite good for the Sharks. In 48 games played during the 2021-22 season, Reimer held a 19-17-10 record, posting a .911 SV% and a 2.90 GAA. With not much of a solution in the net, Reimer held a trajectory of being a great stop-gap for the Sharks as they determined their long-term options.
This year, Reimer's numbers fell off dramatically, holding a record of 12-21-8, managing a .890 SV% and a 3.48 GAA. Already having goaltender Kaapo Kahkonen in the mix, the Sharks shouldn't be expected to retain Reimer this offseason. Likely not finding a role as starting goaltender this summer, Reimer could be coveted as a reliable backup option for most teams.
Other UFAs: F Jeffrey Viel, F Kyle Criscuolo, F C.J. Suess, D Derrick Pouliot, G Aaron Dell
Projected Cap Space
With a mostly mild crop of both restricted and unrestricted free agents heading into this offseason, San Jose's salary cap situation looks more than manageable. Heading into this summer, the Sharks will have around $14.1MM to spend, with little of that being used to retain both Gregor and Zetterlund.
Given the decent amount of cap space, the Sharks should have a decent enough cushion to retain salaries on any potential trades this offseason. Although it would be in their best interest to clear these salaries overall, the likes of Erik Karlsson, Marc-Edouard Vlasic, and potentially Logan Couture could all be on the block this summer.
Once a cap-strapped perennial contender every season, the Sharks' salary cap situation is looking to open up more and more each year. As rookie General Manager Mike Grier continues to cultivate the roster for this team, the Sharks are going to have plenty of options moving forward.
Photos courtesy of USA Today Sports Images.  Contract information courtesy of CapFriendly.