The offseason has arrived for all but the three teams that still have a shot at winning the Stanley Cup.  It's time to examine what those eliminated squads will need to accomplish over the coming months.  Next up is a look at Calgary.
2022-23 was not the season that the Flames were hoping for.  A roster that underwent some significant changes this summer still bolstered a strong lineup on paper but too many players struggled, resulting in them just missing out on the postseason.  There have already been changes as Brad Treliving opted not to return as GM while Don Maloney, while acting as interim GM, dismissed head coach Darryl Sutter.  Now, they're on their third GM in six weeks with Craig Conroy taking over this week and he'll have plenty of work to do this offseason.
Hire A Head Coach
Let's get the obvious one out of the way first.  With Sutter gone, the Flames are once again in need of a new bench boss.  It's a common theme for Calgary as the last coach to be behind the bench for 200 straight games was Bob Hartley and he was let go back in 2016.  (If you're curious who the last Calgary coach to coach for 300 straight games in a single stint, you have to go all the way back to the late Bob Johnson in the 1980s.)
Conroy, who has been with the Flames' front office for 13 years, is familiar with the internal options, of which there are a few.  Associate coach Kirk Muller has experience running an NHL bench back with Carolina while Ryan Huska has been an assistant for the past five seasons and was believed to be a finalist for the job in Detroit last season.  Meanwhile, Mitch Love, their coach at AHL Calgary, has won the Louis AR Pieri Memorial Award as Coach of the Year for the past two seasons, his only two seasons behind the bench.
Externally, the usual candidates are fairly well-known at this point, ranging from veterans like Gerard Gallant and Peter Laviolette to coaches looking for a second opportunity such as Andrew Brunette and Travis Green, plus first-time hopefuls like Spencer Carbery, Alex Tanguay, and Jay Leach.  Getting back to their offensive underperformance this season, it stands to reason that they'll be looking for a head coach that's offensive-minded to help get the most out of their core group and turn that weakness around.
Extension Discussions
During his introductory press conference, Conroy indicated that it "doesn't make sense" to enter next season with as many potential unrestricted free agents as there currently are.  It's not as if there are one or two to deal with either; there are seven of some significance.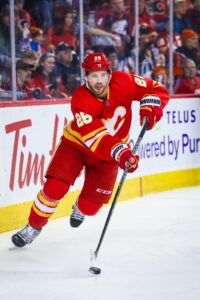 The most prominent one that Conroy will have to deal with is Elias Lindholm.  The 28-year-old is only one season removed from a 42-goal campaign, plays big minutes on both the power play and penalty kill, and consistently wins faceoffs at an above-average rate.  Lindholm isn't thought of by all as a number one center but he'd fit that role on quite a few teams.  He has been on a team-friendly $4.85MM for the last five years with one more season to go.  It's safe to say he'll be getting several million more on this next contract, one that has a good chance to be a max-term agreement as well.  There are plenty of teams that would love to add Lindholm this summer in a weak UFA market so if Lindholm expresses a desire either to test free agency in 2024 or indicates that he's likely to move on, Conroy might opt to move him quickly.
Two other forwards that need to be looked at are long-time center Mikael Backlund and winger Tyler Toffoli.  Both players are coming off career years offensively which will certainly complicate things.  Backlund will hit the market next year at the age of 35 and there will be questions as to how much longer he can play a top-six role which will go a long way toward determining his next salary.  He's currently on a $5.35MM deal and if Backlund thinks he has another strong year or two offensively in him, he could be looking for a small raise.  As for Toffoli, he has fit in quite well since being acquired last season and has reached 20 goals seven times in the last nine years, averaging 27 over the last three.  His AAV is $4.25MM on a deal that looked to be a bargain from the day he signed it and he could push to land closer to $6MM on a new multi-year agreement.
On the back end, no fewer than four regulars can test the market in 2024, headlined by Noah Hanifin.  Aside from 2021-22, his offense has never really stood out but even so, he can log heavy minutes and will be in the prime of his career that year at 27.  He's at $4.85MM now and a long-term extension should see him net more than teammate Mackenzie Weegar ($6.5MM) to once again become their top-paid defender.  If he's not willing to re-sign and he's put on the trade block, Conroy will have no shortage of interest.
The other three rearguards aren't as significant of a concern.  Chris Tanev is an effective shutdown defender but his market might not be as strong next year with teams starting to shy away from those stay-at-home players which could move his cost below his current $4.5MM price tag.  Nikita Zadorov has been year-to-year for the most part for several seasons (2023-24 being the lone exception) so there isn't a ton of risk having him in a walk year while Oliver Kylington will be returning after a year off; he'll need time to show if his 2021-22 performance was an outlier or a sign of things to come.
Suffice it to say, with this many notable players eligible for extensions as of July 1st, expect Conroy to be reaching out to the agents of those players soon if he hasn't already done so.
Add Top-Six Forward
This was a stated goal by Conroy in his press conference and with the team finishing in the bottom half of the league in goals scored, it makes sense.  While there is legitimate room for optimism that there should be some bounce-back performances under a new head coach (I don't think anyone expects another 55-point effort from Jonathan Huberdeau after being over a point per game for four seasons in a row), simply running it back with this exact core would also be risky.
To that end, Conroy also indicated that he was likely to move a core piece out.  This also makes some sense considering his comments about the 2024 UFA class as there's a good chance that not all of those players will want to re-sign this summer; if Conroy wants to avoid the risk of another Johnny Gaudreau situation, it could be those unwilling to extend now that move.  Speculatively, Andrew Mangiapane – signed for two more years at a $5.8MM cap charge – could be someone they look to move in a player-for-player swap.
Create Cap Space
It's one thing for Conroy to want to add a top-six piece but it's another to be able to afford to do it.  Frankly, they can't afford one with over $82MM on the books already, per CapFriendly, with a few roster spots to fill.  With the Upper Limit projected to be at or close to $83.5MM next season, that's not exactly a workable scenario.  That's why it makes sense for their top-six addition up front to come at the expense of one of their 2024 UFA class as frankly, they can't afford one otherwise.
That possible move notwithstanding, Conroy will need to free up a few million more in cap space.  One way to chip away at that would be to move backup goaltender Daniel Vladar who will begin his new two-year deal next season at a $2.2MM price tag.  Going to a cheaper second-stringer or promoting prospect Dustin Wolf would free up a little over $1MM, enough to fill at least one of those remaining roster spots.
Another spot could be to chip away at the back end which, with Kylington's return, will cost them over $27.25MM, putting them near the top of the league in spending at that position.  Trying to move out someone like Zadorov for a cheaper option or for a future asset would certainly help free up some wiggle room.  Accordingly, as much as Conroy will be looking to add this summer, he almost certainly is going to need to subtract from it as well.
Photo courtesy of USA Today Sports Images.