Kyle Dubas will not return as general manager of the Toronto Maple Leafs next season, team president Brendan Shanahan announced today.
Dubas, who has been with the Maple Leafs since 2014, served as an assistant general manager before being promoted to the role of general manager in May 2018, replacing Lou Lamoriello. Under his leadership, the team has yet to miss the postseason but has won just one game past the First Round, coming in this year's 4-1 Second Round loss to the Florida Panthers.
Per the announcement from the Leafs, this was not necessarily a mutual decision. The team's statement clarified that it was Toronto's decision to part ways with Dubas ahead of his contract expiring on June 30.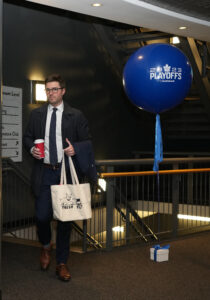 Shanahan expressed gratitude to Dubas for his near-decade of work with the Leafs organization:
I would like to thank Kyle for his unwavering dedication over these last nine seasons with the organization, including his last five as General Manager. Kyle fostered a great culture within our dressing room and staff, and consistently pushed to make our team better season over season. We wish Kyle and his family the best moving forward.
Dubas' immediate future in the NHL remains very uncertain. He stated on Monday that he would either continue with the Maple Leafs or take time away from the league to spend with family.
Regardless, there is bound to be considerable interest from other teams when or if he decides to pursue another general manager position in the future. Dubas' reputation as a progressive thinker, his analytical approach (which he had wavered from slightly in recent seasons), and a good recent history of high-value draft picks make him an attractive candidate for any franchise looking for a fresh perspective.
Dubas headed up one of the most formative periods in Maple Leafs history, signing multiple significant contracts with the team's top players. None, however, have faced more scrutiny than his free agent acquisition of captain John Tavares in 2018 to a seven-year, $77MM contract, one a large sect of fans have determined an overpayment for his services.
The news means someone new will be behind the helm to deal with potential contract extensions for Auston Matthews and William Nylander, who are both unrestricted free agents in 2024 and are eligible for extensions beginning July 1 of this year. The Leafs have a pair of internal candidates, assistant general manager Brandon Pridham and special assistant to the general manager Jason Spezza, who immediately jump out as potential replacements.
While it seems like the team's curse of playoff failures may never end, the reality is Dubas' successor is inheriting a team with many years left in a contention window if they play their cards right. A solid prospect base and some potential financial flexibility, especially if the next GM does trade one of the team's 'Core Four' of Matthews, Nylander, Tavares, and Mitch Marner, still have Toronto in solid positioning.
Sportsnet's Elliotte Friedman was first to report the news.
Photo courtesy of USA Today Sports Images