The calendar has flipped to May and on the ice, only eight teams remain.  Away from the rink, there was some notable news around the hockey world which is recapped in our key stories.
Sutter Fired: Before the season started, the Flames gave head coach Darryl Sutter a two-year, $8MM contract extension.  He won't coach a single second under that new deal, however, as the team fired the 64-year-old after a tough year that saw them miss the playoffs.  Calgary had some success during the regular season in his second stint with the team, posting a 103-63-28 record but after team president Don Maloney met with players following the departure of GM Brad Treliving, he decided that a change was needed.  This vacancy will likely sit open for a while as the Flames are likely to hire a new GM first before bringing in a new bench boss although AHL coach Mitch Love has to be considered a contender to take Sutter's spot behind the bench.  Sutter now sits ninth all-time in NHL coaching victories with 737 but with his coaching style, it's far from a guarantee that he'll get a chance to add to that total.
Kylington To Return: Still with Calgary, the Flames will get an important part of their defense back for next season as Oliver Kylington will return to the club.  The 25-year-old had a breakout year in 2021-22, picking up 31 points in 73 games, resulting in a two-year, $5MM contract last summer.  However, Kylington was not with the team at all this season and instead was in Sweden as he was dealing with a personal matter.  While cap space will be at a premium for whoever takes over as GM in Calgary, they'll certainly be happy to welcome Kylington back for next season, giving the Flames another quality defenseman in the fold.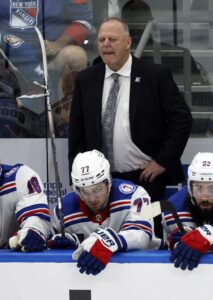 Gallant Leaves Rangers: After the Rangers added Vladimir Tarasenko and Patrick Kane leading up to the trade deadline, expectations were quite high for their playoff run.  Instead, they were ousted in the opening round by New Jersey and the first casualty is head coach Gerard Gallant as it was announced that he and the team are mutually parting ways.  Gallant helped lead New York to a .662 points percentage in the regular season in his two years behind the bench but they were one game below .500 in the postseason at 13-14.  His departure along with Sutter's this week and Andrew Brunette leaving Florida last season means that the three finalists for the 2022 Jack Adams Award (Coach of the Year) were all let go.  While there was some speculation that the Rangers might ask the league to look into reinstating Joel Quenneville, that's no longer expected to be the case.
Sticking Around: Marcus Johansson's first stint with Minnesota was short-lived and one to forget.  However, after the Wild acquired him at the trade deadline this year, his performance was much better as he recorded 18 points in 20 games down the stretch while adding a pair of goals in the playoffs.  While cap space is at a premium for them this summer, they still rewarded the 32-year-old with a two-year, $4MM extension.  Johansson has played on declining one-year deals the last two seasons so he gets a small raise and some much-desired security with this contract and if he is able to even come close to this level of production next season, Minnesota should get excellent value with this signing.
Klima Passes Away: Long-time NHL forward Petr Klima passed away at the age of 58.  He is remembered by many for scoring the goal to end the longest Cup Final game in history, helping Edmonton win the Stanley Cup in 1990.  Klima also will be remembered for being the first player from a country under Soviet control to defect to a United States-based team as he joined Detroit in 1985.  That led to a 13-year NHL career with stints with five different organizations where he picked up 313 goals and 260 assists in 786 games.  He returned to play at home for two more years before hanging up his skates in 2003 at the age of 38.
Photo courtesy of USA Today Sports Images.