As reported by Sportsnet's Elliotte Friedman, the Calgary Flames are expected to fire head coach Darryl Sutter. Sutter was set to enter a two-year extension with the team on July 1. The team made the news official later Monday morning.
Calgary will owe Sutter the $4MM per season committed on his extension, Pierre LeBrun of TSN and The Athletic confirms.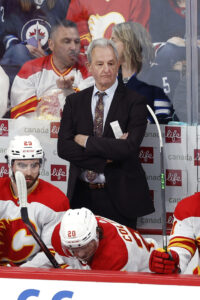 While the news comes with some surprise after the team retained Sutter while parting ways with general manager Brad Treliving weeks ago, it's not entirely unexpected based on Calgary's incredibly disappointing season. After making multiple high-octane changes during the offseason, the Flames were expected to compete for the Pacific Division title entering 2022-23. Instead, burnout struck the team, which missed the playoffs for the third time in six seasons.
Calgary Sports and Entertainment Corporation president and CEO John Bean gave the following statement on Sutter's dismissal:
On behalf of ownership and all Calgary Flames fans, we want to thank Darryl for his cumulative years of service to the Calgary Flames and to the community at large.
The news concludes Sutter's second tenure as head coach of the Flames. After serving behind the bench for three seasons between 2002 and 2006, the Flames brought Sutter back into the fold during the 2020-21 season. In total, he ends his Flames career as head coach with 404 games, a 210-136-15-43 record, and a Western Conference championship in 2004.
Sutter's reputation for strong defensive teams came through strong in 2021-22, with Calgary enjoying their best regular-season record behind their Stanley Cup-winning 1988-89 campaign. Finishing first in the Pacific Division with 111 points, Calgary's strong play dried up in the Second Round, losing to Connor McDavid and the Edmonton Oilers.
That same mentality didn't carry over to a 2022-23 team with significant offensive turnover, and prized acquisitions Jonathan Huberdeau and Nazem Kadri struggled heavily to fit into Calgary's system. With the team committed to both players for many years to come, interim general manager Don Maloney decided a new direction behind the bench was necessary for future success.
Whoever Calgary's next head coach may be, they'll inherit a team that still has the key components necessary to compete in the Western Conference. With a system more suited to the capabilities of Huberdeau and Kadri, as well as more opportunities for younger players such as Dillon Dubé, Jakob Pelletier, and Adam Ruzicka, the Flames aren't in a position where they need to tear down and start over.