The Philadelphia Flyers are providing their AHL affiliate with a major boost for their playoff push. Per a team announcement, Tyson Foerster and Egor Zamula have been loaned back to the AHL's Lehigh Valley Phantoms.
While the Phantoms are unlikely to be able to catch the Hershey Bears for the second seed in the AHL's Atlantic Division (therefore securing them a bye past the best-of-three first round of the playoffs) they could still feasibly catch the Charlotte Checkers to earn the third seed, which could be a factor that motivated these two loans.
Foerster in particular has made this decision a difficult one due to how well he's played in his first taste of NHL action. Foerster is riding a five-game point streak with three goals and seven points in that span. The Flyers have won four out of their last five games as well, with their only loss coming in overtime against the division-leading Carolina Hurricanes.
While this is unlikely to have been any significant motivator to the team sending Foerster back to the AHL, the Flyers are now four points ahead of the Montreal Canadiens for the fifth-best odds in the draft lottery.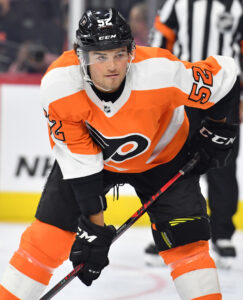 By sending their red-hot rookie scorer back to the AHL, the Flyers have (perhaps not intentionally) raised their chances of getting back into prime Connor Bedard contention.
There is, of course, a legitimate case to be made that this is the most appropriate choice for Foerster's development, and that's likely to be the sole reason the Flyers have sent him down.
Despite how much NHL front offices seem to value gaining the best odds in the draft lottery, a team is still far more likely to make decisions on individual players based on what they believe to be best for the player's development.
It's reasonable to believe that having Foerster play a crucial role in meaningful AHL games for the rest of this season will be better for his development than playing some extra NHL contests near the end of what has been a generally miserable Flyers season.
The 21-year-old 2020 first-round pick has excelled in the AHL this season, thoroughly bouncing back after an injury-plagued 2021-22. He's scored 19 goals and 39 points in 57 games and will be counted on as a top offensive option for second-year head coach Ian Laperriere.
If the Phantoms end up making any noise in the Calder Cup playoffs, it's likely that Foerster will be a major reason why.
As for Zamula, he heads back to the AHL where he, like Foerster, has spent most of this season. The 22-year-old has scored 16 points in 42 AHL games and has been a top-pairing all-situations blueliner for the team.
Eligible for restricted free agency in the summer, a strong showing as a number-one defenseman for a Calder Cup playoff team would put Zamula in a strong position for offseason contract negotiations, and help support the idea that he'll be ready to compete for a more regular NHL role in next fall's training camp.
Photos courtesy of USA Today Sports Images