With the All-Star break now behind us, the trade deadline looms large and is less than a month away. Where does each team stand, and what moves should they be looking to make? We continue our look around the league with the St. Louis Blues.
This wasn't the plan for St. Louis. After making it to the second round last season, investing heavily in their young core, and bringing back veterans like Nick Leddy, the focus was on the playoffs and the Stanley Cup. Now, more than halfway through the season, they are approaching the deadline as a seller with some of the biggest chips available.
Injuries – or their recovery – will seriously impact the Blues deadline strategy. But general manager Doug Armstrong has never been one to hold onto expiring veterans when he doesn't believe the team has a chance at a championship. It will be an interesting few weeks for St. Louis.
Record
23-25-3, 6th in the Central
Deadline Status
Seller
Deadline Cap Space
$1.186MM in LTIR relief, 0/3 retention slots used, 48/50 contracts used, per CapFriendly.
Upcoming Draft Picks
2023: STL 1st, STL 3rd, STL 4th, STL 5th, STL 6th, STL 7th
2024: STL 1st, STL 2nd, STL 3rd, STL 4th, STL 5th, STL 6th, STL 7th
Trade Chips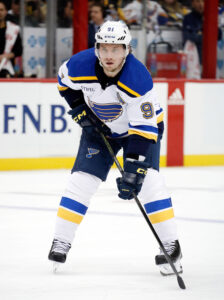 There are eight roster players scheduled to become unrestricted free agents at the end of the season for St. Louis, and any one of them could be moved in the coming weeks.
Things start with Vladimir Tarasenko, who has been limited by injury but still has 10 goals and 29 points in 38 games. After multiple shoulder surgeries, the veteran winger proved he could still be an impact player by putting up arguably the best season of his career in 2021-22, scoring 34 goals and 82 points in 75 games. Adding that Tarasenko has to be attractive to contenders who want a bit more punch in their top six, especially because his goal scoring has largely been at even strength over the years.
This is a proven Stanley Cup winner with 41 goals in 90 career playoff games, and even though his $7.5MM contract is substantial, it's not impossible to fit in with a bit of salary retention. The talk of proven champions doesn't end there, though. Captain Ryan O'Reilly was the Conn Smythe winner in 2019 when he led the playoffs with 23 points in 26 games, and he took home the Selke at the end of that season as the league's best defensive forward.
While this year has been something of a nightmare, and he is still on injured reserve, there is some optimism that he'll be ready before the deadline even comes. O'Reilly has resumed skating, according to Jeremy Rutherford of The Athletic, and is the kind of player that coaching staffs dream of adding to the third line of a contender.
Interestingly enough, though, there is a third forward who very well could have a wider market before the deadline. Ivan Barbashev has been told he isn't getting re-signed, according to Frank Seravalli of Daily Faceoff, making him a lock for a trade over the next few weeks. While Tarasenko and O'Reilly have huge cap hits that will have to be creatively dealt with, Barbashev comes at just $2.25MM and could fit in almost anywhere. Like most players in St. Louis, Barbashev is in the midst of a down year, with just nine goals and 24 points after scoring 26 and 60 last year. But his physicality, speed, and versatility will make him a wanted man.
All three of those forwards could bring back substantial returns for the Blues, giving them some ammunition to add more talent back to the roster in the offseason.
Other potential trade chips: D Niko Mikkola, F Noel Acciari, G Thomas Greiss
Team Needs
1) Young centers: Could O'Reilly be traded for another young center yet to make his mark? The Buffalo Sabres are certainly happy they included Tage Thompson in the 2018 deal that sent him to St. Louis, and J.T. Compher is still playing a big role for the Colorado Avalanche eight years after he was included in the original O'Reilly deal.
If the Blues decide to move on from O'Reilly, instead of re-signing him, they'll be left pretty thin down the middle of the ice. Targeting a young NHL-ready center in one of their deadline moves might be the way to go, giving them someone who can grow into a role behind Robert Thomas in the years ahead.
2) Draft picks: This isn't about podium visits in the summer – the Blues already have some good prospects and aren't going to be interested in a true rebuild. But picks you get now can be moved later to add players to the fold. They've done this before. In 2017, St. Louis was headed for the playoffs but had a decision to make with Kevin Shattenkirk. He was expiring, not expected to re-sign, but a huge part of their attack.
They flipped him to the Washington Capitals at the deadline for a haul, including a first-round pick. A few months later, that pick was sent to the Philadelphia Flyers as part of the package to acquire Schenn. It's hard for contenders to part with NHL talent at the deadline, but they throw around picks like candy. Adding assets now doesn't necessarily mean waiting around for them to mature – you just have more ammunition later on.
Photo courtesy of USA Today Sports Images