Though it has been evident for a while that Chicago Blackhawks legend Patrick Kane would be joining the New York Rangers, what wasn't so clear is the price they would be forced to pay for him.  That price is now known as the trade has been finalized with Kane and defenseman Cooper Zech heading to the Rangers as part of a three-team trade that also involves Arizona.  Chicago receives a 2023 conditional second-round pick and a fourth-round pick along with defenseman Andy Welinski from New York along with the rights to blueliner Vili Saarijarvi from Arizona while the Coyotes receive a 2025 third-round pick from the Rangers for brokering the deal by retaining 25% of Kane's contract after Chicago held back the maximum 50% of his $10.5MM AAV.
The 2023 second-rounder can become a first-round selection if the Rangers make it to the Conference Finals. It would then be conveyed in either 2024 (top-10 protected) or 2025.  The third-rounder going to Arizona will either be the Rangers' own pick or the better of theirs and Dallas' if defenseman Nils Lundkvist has 55 points combined this season and next which would transfer the Stars' 2025 selection to New York.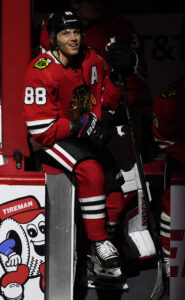 Just as it played out with Claude Giroux last season, a franchise icon with full no-movement protection essentially dictated his destination, resulting in an underwhelming return. The Blackhawks were not able to land a guaranteed first-round pick in the deal, but will send Kane to his preferred team and still recoup some value.
When it became clear that the Blackhawks were tearing it down to rebuild through the draft, it made little sense for them to re-sign Kane in the offseason. If he was going to leave anyway, getting a second (or first) before he walked out the door only helps the efforts of general manager Kyle Davidson. Kane wasn't forced out the door, but will now get another chance at the Stanley Cup this season with a loaded Rangers club.
After New York acquired Vladimir Tarasenko earlier this month, it appeared they were out of the running for Kane. They had a tight cap situation and had made their significant acquisition. Even Kane seemed to know he wouldn't be headed to New York, telling reporters that it seemed like they had "filled their void" with the deal.
But now, with the help of some creative cap gymnastics, the Rangers have made enough room to land both star wingers, giving them a forward group that looks like an All-Star roster.
He also leaves Chicago with a legacy that will be hard to beat. While Kane sits second on the all-time Blackhawks scoring list, many will remember him as the most talented player in franchise history. His 1,225 regular season points came in just 1,161 games, numbers that will have him in the Hall of Fame one day.
Now 34, Kane will be an unrestricted free agent this summer unless he signs an extension with the Rangers. That certainly seems possible, though it will be difficult for New York to fit everyone in, giving some raises they own to some other players. For now, the focus will be on winning the Stanley Cup after loading up as much as they can.
Should they reach the third round, and fork over a first-rounder to Chicago, the Blackhawks would then own seven first-round selections over the next three years. After picking three players at the top of the 2022 draft, their system will quickly be loaded with talent that can mature together. Perhaps they'll find the next star in that bunch, but simple probability suggests they won't find another Kane.
Daily Faceoff's Frank Seravalli was the first to report the draft picks while ESPN's Emily Kaplan was the first to report the conditional element on the second-rounder.  PHNX Sports' Craig Morgan was the first with the return for Arizona's involvement.
Photo courtesy of USA Today Sports Images.