While the Nashville Predators haven't missed the playoffs since 2013-14 (excluding a qualifying-round loss during the 2020 bubble) this season is certainly trending in that direction.
The production of some of Nashville's key players has regressed, leaving coach John Hynes' squad seven points behind the Minnesota Wild for the last Wild Card spot. While the team is 6-4 in its last ten games, they just recently lost Ryan Johansen to an injury that could keep him out for a while.
This has led many to believe that the best path forward for the Predators would be to punt on this season and look to begin a rebuild. Some in-market observers view the best path for the franchise to be a pivot to fully focusing on building for the future. Given the track record of GM David Poile and the Predators as a whole, though, it does seem unlikely that a full tear-down would be considered.
Instead, the Predators may prefer to work around the margins of their roster, hoping that a resurgence from their core players and smaller-scale additions could help the team return to contention.
One of those smaller-scale moves Nashville may be considering is trading defenseman Dante Fabbro. Speaking on the Jeff Marek Show today, Sportsnet's Elliotte Friedman reported that the Predators "have explored moving" Fabbro, and specifically references the San Jose Sharks as a potential destination.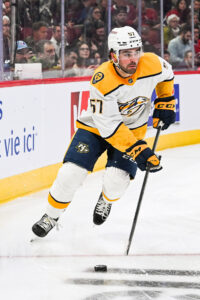 While the basement-dwelling Sharks may not seem like a natural fit to add a player, Fabbro will turn 25 in June, meaning he's still young enough to be a legitimate consideration for the Sharks' plans.
Moreover, acquiring Fabbro now rather than in the offseason (where he will be an arbitration-eligible restricted free agent) would give the Sharks a valuable run of games of Fabbro in their lineup, so they could see how he fits in their organization and evaluate their plans for his next contract.
The smooth-skating 2016 first-round pick was a key blueliner for Sharks head coach David Quinn during his time at Boston University, and while his offensive production has cratered this season (to just eight points in 52 games) if there's anyone that could get the best out of Fabbro, it'd be Quinn. This could be an opportunity for San Jose to buy relatively low on an asset that could grow into something more if he clicks with his new environment.
For the Predators, the rationale for trading Fabbro could center around how they view the prospect of heading to arbitration with him. Last season's breakout defenseman Alexandre Carrier will also be an arbitration-eligible restricted free agent in the summer, as will Tanner Jeannot and Cody Glass. It's possible that the Predators simply view getting an asset in return and moving on from Fabbro as the best path forward for both the player and the team.
In any case, Fabbro will be a name to watch leading up to the March 3rd trade deadline, as a Fabbro trade could either be a relatively minor move, or even the opening salvo of a long-awaited rebuilding process in Nashville.
Pictures courtesy of USA Today Sports Images