Navigating the salary cap is one of the more important tasks for any GM.  Teams that can avoid total cap chaos by walking the tightrope of inking players to deals that match their value (or compensate for future value without breaking the bank) remain successful.  Those that don't see struggles and front office changes.
PHR will look at every NHL team and give a thorough look at their cap situation for the 2022-23 season and beyond.  This will focus more on players who are regulars on the roster versus those who may find themselves shuttling between the AHL and NHL.  All cap figures are courtesy of CapFriendly.
Ottawa Senators
Current Cap Hit: $79,572,602 (under the $82.5MM Upper Limit)
Entry-Level Contracts
F Mark Kastelic (one year, $821.7K)*
F Shane Pinto (one year, $925K)
D Jake Sanderson (two years, $925K)
F Tim Stutzle (one year, $925K)*
*-Have already signed a second contract
Potential Bonuses
Pinto: $600K
Sanderson: $925K
Stutzle: $2.5MM
Total: $4.75MM
Pinto is healthy after missing almost all of last season due to a shoulder injury and he's off to a decent start with ten goals already.  That also has him on track to hit one of his 'A' bonuses worth $150K each but a small uptick in production could add to that total.  With a limited track record (he had just 17 games in his first two seasons), he might be tricky to lock up long-term; a bridge deal in the high-$2MM/low $3MM range depending on the term is where he could wind up.  We'll look at Stutzle and Kastelic's new deals later on but it's worth mentioning that Stutzle is on pace to hit all four of his 'A' bonuses which are worth a total of $850K.  Ottawa will need to budget room for that to hit the books after the season if they look to add a piece to help them get back into the playoff picture that pushes them closer to the cap.
Sanderson's first professional season has gone quite well as he has very quickly become one of their most trusted blueliners.  He's someone that they're likely going to want to sign to a long-term second contract as well and optimistically, if he follows the same path as Thomas Chabot, a deal around his $8MM might be possible.  He's tracking towards reaching all four of his 'A' bonuses as well.
Signed Through 2022-23, Non-Entry-Level
D Erik Brannstrom ($900K, RFA)
F Derick Brassard ($750K, UFA)
F Alex DeBrincat ($6.4MM, RFA)
F Dylan Gambrell ($950K, RFA)
D Travis Hamonic ($3MM, UFA)
D Nick Holden ($1.3MM, UFA)
F Tyler Motte ($1.35MM, UFA)
G Cam Talbot ($3.667MM, UFA)
F Austin Watson ($1.5MM, UFA)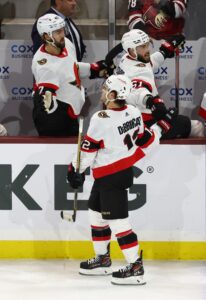 DeBrincat was Ottawa's first big splash this past offseason as they picked him up from Chicago on draft day.  He is a bargain from a cap perspective relative to his output with the Blackhawks but that's about to change.  He's subject to the old qualifying offer rules which means his $9MM salary this season also represents his qualifying offer.  At that point, he'll also have salary arbitration eligibility for the first time and be a year away from UFA eligibility.  GM Pierre Dorion made the move with the hope that he'd be able to get the 24-year-old to commit to a long-term extension.  Such a move is going to cost somewhere around that qualifier on a max-term agreement which would make him the highest-paid player on the team.
Watson hasn't been able to get back to the goal totals he had with Nashville but he has been a regular on Ottawa's fourth line for the past two-plus seasons while providing them with plenty of grit.  He's near the ceiling of what a player in that role can typically get on the open market but another contract around this price range is doable.  Motte didn't get the contract offers he was looking for early in free agency and had to eventually settle for this one-year deal.  His production has been limited early on so instead of perhaps looking more favorably on the type of offer he turned down in July next summer, his next deal might also check in around this price point.
Gambrell is a serviceable fourth liner but he hasn't brought much more to the table beyond the ability to cover eight to ten minutes per game.  This isn't overly pricey for someone in that role but his arbitration eligibility could work against him next summer as it's unlikely they'll want to give him that option.  Accordingly, an early contract around this price tag like they did last offseason could happen once again.  Otherwise, he's a non-tender candidate.  Brassard had to settle for a PTO, one that he got converted into a full contract.  He's giving the Senators a pretty good return on that early on but at this point of his career, he's likely to be in the six-figure or PTO range on any future contracts.
Hamonic is no longer the core stay-at-home defender he was with the Islanders but he's a reliable veteran in his own end that can still be effective on the third pairing and penalty kill.  There's still a role for those types of players but he'll be hard-pressed to make this much on the open market next summer.  Holden has had a much more limited role this season which is closer to the role he has had for long stretches of his career – more of a prototypical sixth defender.  At 35, it's hard to envision a multi-year agreement coming his way and teams feel that he is starting to slow down, he might have to accept a bit less than his current price tag.  Brannstrom wanted a multi-year deal in the summer but it failed to materialize.  It seems unlikely that they'll get one done in 2023 as well as his playing time has been considerably more limited.  With arbitration rights, he should be able to get a bit more than his $945K qualifying offer but it should be another short-term agreement since he still hasn't been able to establish himself as a productive option on Ottawa's back end.
Talbot was acquired from Minnesota to try to shore up the goaltending and while he got off to a bit of a tough start with injuries not helping things, he has settled in nicely as their starter.  However, he'll turn 36 just after free agency opens up and a long-earned reputation as more of a platoon player is going to still exist.  There's still some room for a small increase – a two-year deal around the $4MM range is certainly possible – but a long-term deal that makes him a concrete starter isn't likely to happen.
Signed Through 2023-24
F Parker Kelly ($762.5K, RFA)
D Nikita Zaitsev ($4.5MM, UFA)
Kelly has become a capable fourth liner that kills penalties and plays with a physical edge and even while he doesn't produce much offensively, he still provides a fair bit of value as someone that's on a minimum contract.  Assuming he stays in that role through next season, Kelly should be able to jump past the $1MM mark with arbitration rights but his limited production will certainly limit his earnings upside.
Zaitsev is a contract the Sens are very much interested in moving.  He cleared waivers already this season and it's likely he'll be back on there at some point.  He can still fill a limited role if need be but players like that are typically closer to the $1MM mark, not four times that amount.
Signed Through 2024-25
G Anton Forsberg ($2.75MM, UFA)
F Claude Giroux ($6.5MM, UFA)
F Mark Kastelic ($821K in 2022-23, $835K in 2023-24 and 2024-25, RFA)
Giroux opted to head home in free agency on what amounts to a bit of a team-friendly deal for someone that's still capable of playing on the top line when needed.  He has fit in nicely in a secondary scoring role and is giving them a good return so far.  However, he'll be 37 when this contract is up so his next one, if there is a next one, is quite likely to check in considerably cheaper than this one.  Kastelic has become a serviceable fourth liner and having one of those that doesn't make much more than the league minimum is always good.  If he sticks in that role throughout the contract, he'll position himself to get past the $1MM mark with arbitration rights in 2025.
Forsberg had a strong showing in 2021-22 and really gave Ottawa some stability between the pipes.  He was rewarded for his efforts with this deal, one that will hold up well as long as he's able to play in a platoon and put up reasonable numbers.  Those numbers aren't as good so far this season but relative to the rest of the league, he has been close to average which, for this price tag, isn't a bad return.  He didn't have a long track record when he signed this contract but that should change after this one.  If Forsberg does well in this role, he could add another million or more even as a platoon goalie on the open market.
Signed Through 2025-26 Or Longer
F Drake Batherson ($4.975MM through 2026-27)
D Thomas Chabot ($8MM through 2027-28)
F Mathieu Joseph ($2.95MM through 2025-26)
F Joshua Norris ($7.95MM through 2029-30)
F Tim Stutzle ($8.35MM through 2030-31)
F Brady Tkachuk ($8.206MM through 2027-28)
D Artem Zub ($2.5MM in 2022-23, $4.6MM from 2023-24 through 2026-27)
It's clear that Ottawa has wanted to try to keep the top cost of their core players around the $8MM mark.  Stutzle's deal is a bit on the high side based on his production at the time he signed it but as is often the case with contracts like these, they're banking on it becoming a team-friendly one a few years from now.  With the improvement he has shown so far this year, it looks like that will be the case.  Tkachuk took a while to sign this one with the RFA deal actually coming in-season but he's a power forward that's producing at a top-line level.  As long as he's doing that, this will be a below-market contract.
Norris had a breakout year last season, cementing himself as a top center and this price tag for a number one pivot in the prime of his career should hold up well.  Of course, things haven't gone well to start the season as injuries have limited him to just five games but they're hoping to have him back at some point in the second half which would be a big boost to their playoff hopes.  Batherson's deal carried a bit of risk at the time it was signed since he only had 99 career NHL games under his belt and just 23 goals.  However, he has hovered around the point-per-game mark since then and anytime you're getting top-line production for second-line money, that's a bargain.  He could be looking at a hefty raise if that continues over the next few years.  Joseph played quite well after being acquired from Tampa Bay at the deadline last season which got him this contract.  However, he has been more of a tertiary scorer this season, a role he had with the Lightning.  Someone in that role should be closer to half this amount and it wouldn't be surprising if Dorion was open to moving Joseph in the hopes of freeing up a bit of cap room.
Chabot doesn't get the type of attention some of other the top blueliners in the league do but he is an all-situations player that is routinely near the league lead in ATOI.  Offensively, the 55 points he had in 2018-19 might seem like an outlier but his point-per-game paces since then have been close to that total.  On the open market, he'd command a few million more per season.  Zub's extension was just signed recently.  It's a move that gives Ottawa some stability on the right side of their back end.  With his limited offense, it might seem a tad on the pricey side at first glance but he does a lot of things away from the puck that makes him one of their most important defenders.
Buyouts
D Michael Del Zotto ($500K in 2022-23, $750K in 2023-24)
D Dion Phaneuf ($354K in 2022-23)
F Bobby Ryan ($1.833MM through 2023-24)
F Colin White ($850K in 2022-23 and 2023-24, cap credit of $625K in 2024-25, $850K from 2025-26 through 2027-28)
Retained Salary Transactions
G Matt Murray ($1.563MM through 2023-24)
Best Value: Batherson
Worst Value: Zaitsev
Looking Ahead
It has been a tough year for Ottawa in the standings, one that not many would have seen coming.  The good news is that, unlike a lot of Eastern teams, they have ample cap space to take a swing and add to their roster now rather than having to wait until March.  Between that and Norris returning, they could get themselves back in the mix.  If they don't do that, they could be a possible third-party broker team at the deadline.
Beyond this season, there isn't a lot of flexibility left for a little while.  DeBrincat's next contract could check in around the $10MM mark which would eat up more than half of Ottawa's 2023-24 cap space with the team still needing to re-sign or replace another goalie and eight to ten skaters.  That makes it more pivotal that they can try to get out of some of their underperforming contracts in the near future.
Ottawa's rebuild has yielded a promising young core group that pretty much are all locked up through their prime.  That's not going to leave much wiggle room to augment things down the road but if their core group continues to progress, the Senators should be much stronger in the near future.
Photo courtesy of USA Today Sports Images.