Ryan Merkley's trade request has been granted as the Sharks have traded the defenseman to the Avalanche along with winger Matt Nieto in exchange for winger Martin Kaut and defenseman/winger Jacob MacDonald.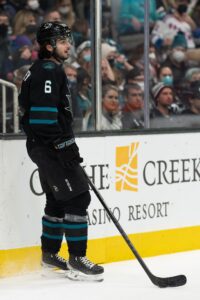 Merkley was a first-round pick by San Jose back in 2018 (21st overall) and showed plenty of offensive upside during his junior career in the OHL where he had 269 points in 248 games in four seasons.  However, that hasn't really translated into much offensive success in the minors as he has just two career goals in the minors, neither of which came this season.  Merkley made his NHL debut in 2021-22, getting into 39 games with the Sharks but he hasn't had a chance to suit up at the top level this year which resulted in the trade request.  He has 14 assists in 30 games with the Barracuda this season.  He's in the final year of his entry-level contract with a $863K cap hit and will be a restricted free agent this summer.
Nieto, meanwhile, is no stranger to Colorado as he spent parts of four seasons with them between 2016-17 and 2019-20.  During that stretch, he was a serviceable provider of depth scoring, notching 34 goals and 47 assists in 251 games.  The 30-year-old is producing at a similar clip this season, tallying eight goals and seven assists in 45 games with the Sharks while logging a career-high 15:39 per game.  He won't see that type of ice time in his second go-round with the Avs but with them in need of reliable options in the bottom six, Nieto should still be called upon to play an important depth role.  He's also in the final year of his contract with a $850K cap hit and will be eligible for unrestricted free agency this summer.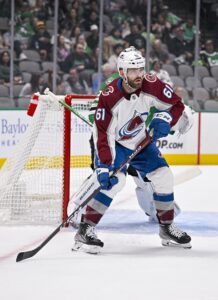 Kaut was also a first-round pick in the 2018 draft, going 16th overall to the Avalanche.  However, while he impressed in the minors as an 18-year-old and earned an NHL stint at 19, he hasn't had much success at the top level.  So far, he has played in just 47 career NHL contests, 27 of which have come this season where he has just a goal and two assists to his credit while averaging 9:08 per night.  Kaut has also played in ten AHL games this season where he has five goals and three helpers and is currently in the minors having been sent down last week.  The 23-year-old is also in the final year of his entry-level deal, one that carries an AAV of $863K.  He should get an opportunity to see some regular minutes for San Jose down the stretch in the hopes of him developing into a regular in the bottom six down the road.
MacDonald came up as a defenseman but has logged a lot of action on the wing this season with Colorado searching for bottom-six options as they've dealt with injuries all year long.  The 29-year-old has suited up 33 times so far in 2022-23, picking up a pair of assists along with 29 hits.  He has made 74 appearances with the Avs over the last three seasons, comprising the bulk of his NHL action (aside from a two-game stint with Florida in 2018).  MacDonald is in the first year of a two-year, two-way contract that pays the minimum salary in the NHL (a $762,500 AAV) and will be an unrestricted free agent in 2024.  He's likely to play a similar depth role with the Sharks, filling in at both positions when necessary.
Cap space is limited for the Avalanche and it's worth noting that they are adding a little less than $100K on their books with this swap.  However, they get a more proven forward in Nieto that should bolster their bottom six and an interesting wild card in Merkley.  If he's able to develop into a regular defender down the road, this will be a nice pickup for GM Chris MacFarland.  If it doesn't pan out, all it will cost them is a couple of depth options so it's a low-risk move that could carry a fair bit of upside as they look to hold onto a playoff spot in the tight Central Division.
Photos courtesy of USA Today Sports Images.