Navigating the salary cap is one of the more important tasks for any GM.  Teams that can avoid total cap chaos by walking the tightrope of inking players to deals that match their value (or compensate for future value without breaking the bank) remain successful.  Those that don't see struggles and front office changes.
PHR will look at every NHL team and give a thorough look at their cap situation for the 2022-23 season and beyond.  This will focus more on players who are regulars on the roster versus those who may find themselves shuttling between the AHL and NHL.  All cap figures are courtesy of CapFriendly.
Florida Panthers
Current Cap Hit: $85,265,406 (over the $82.5MM Upper Limit)
Entry-Level Contracts
G Spencer Knight (one year, $925K)
F Anton Lundell (two years, $925K)
Potential Bonuses
Knight: $1.85MM
Lundell: $850K
Total: $2.7MM
Lundell had a very nice rookie season, establishing himself as a key two-way center in a hurry.  He has been a bit quieter offensively to start this year but he still looks to be on track to be a part of their top six before too long.  At that point, the price tag is going to get expensive quickly.  A bridge deal could fall in the $4MM range as things stand and it will be difficult for them to work out a long-term agreement with their cap situation.  At the moment, he's on track to hit two of his 'A' bonuses ($425K in total).
We'll dig into Knight's next contract later but it's worth highlighting here that $850K of his bonuses are 'A' ones and he's on pace to hit four of those to max out.  There's a good chance at least some of those will have to roll over and be charged against the cap next season.
Signed Through 2022-23, Non-Entry-Level
D Radko Gudas ($2.5MM, UFA)
F Patric Hornqvist ($5.3MM, UFA)
D Josh Mahura ($750K, RFA)
F Eric Staal ($750K, UFA)
D Marc Staal ($750K, UFA)
F Colin White ($1.2MM, RFA)
Hornqvist came over in 2020 from Pittsburgh in a trade that hasn't aged well.  The veteran had a good first season but has slowed down considerably to the point where he's basically a fourth liner now.  If he gets another deal after this, it's likely to be closer to the $1MM mark with perhaps some potential bonuses as well.  White was bought out by Ottawa and wanted to find a team that could give him a real role.  So far, it looks like he made the right pick as he has been quite productive in the bottom six.  If that continues, he'll be well-positioned to more than double his price tag in arbitration.  However, that could be a risk they don't want to take.  The oldest of the Staal brothers, Eric didn't play at all last season and was only able to secure a PTO deal, one that lasted a couple of weeks into the year.  If he gets another contract, it'll be at the minimum as well.
Gudas is best known for the physicality he brings but he also can log top-four minutes while contributing positive possession numbers as well.  As a right-shot defender, his market might be stronger than some expect next summer which should allow him to add at least a million to his current AAV on another multi-year agreement.  Mahura was a waiver claim from Anaheim and has secured a spot on Florida's third pairing.  He's not dominating but the fact he's in there regularly gives him a chance to push for something closer to the $1MM mark with arbitration rights next summer.  As for the defender among the Staal brothers, Marc likely left some money on the table to join Florida as he can still play on the third pairing and kill penalties.  If he's chasing a Cup, he'll keep playing around this price tag.  If not, he could creep past the $1MM mark next summer as well.
Signed Through 2023-24
F Nick Cousins ($1.1MM, UFA)
F Anthony Duclair ($3MM, UFA)
D Gustav Forsling ($2.667MM, UFA)
F Eetu Luostarinen ($1.5MM, RFA)
D Brandon Montour ($3.5MM, UFA)
F Sam Reinhart ($6.5MM, UFA)
Reinhart's first season with the Panthers was a very successful one as he set new career highs across the board while producing more like a top-line center.  However, he has struggled this season with numbers more in line with his first couple of years with Buffalo.  If he can get back to the point-per-game mark, he can easily add a couple million per year on a max-term agreement if not a bit more than that.  But if he goes back to producing more like he did with the Sabres, he might have a hard time commanding much more than what he's getting now.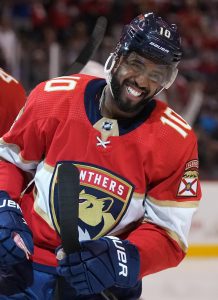 Duclair had a career year last season, really emerging as a consistent impact top-six winger for the first time.  But lots of players had those performances last season with Florida and have stepped back a bit.  In Duclair's case, he has yet to play due to a torn Achilles and it's an injury that will take a lot of time for him to get back up to speed once he does come back, forcing Florida's hand from a salary cap perspective in the process.  Realistically, it's not going to be a good season when it comes to assessing what his next deal will be.  Instead, the pressure will be on in 2023-24 when he'll be at full strength to start the year that will allow him to show if his 58 points last year were the outlier or a sign of things to come.
Luostarinen established himself as a full-time regular for the first time last season which earned him this bridge deal.  So far, he has improved upon his performance from last year and if he can become a 35-point player that moves up and down the lineup, doubling his current price tag could be doable.  Cousins has bounced around a lot in recent years and his value on the open market is pretty much established at this point.  He might have left a bit of money on the table to get a two-year commitment but what he's making now should be close to his market value in 2024 as well.
Signed Through 2024-25
F Sam Bennett ($4.425MM, UFA)
D Aaron Ekblad ($7.5MM, UFA)
F Carter Verhaeghe ($4.167MM, UFA)
The Panthers took a gamble that Bennett had more to provide offensively as they acquired him back in 2021.  He took off quickly with Florida and quickly inked this contract.  For a power forward that can also play down the middle in a pinch, it would be a bargain as long as he stayed in the top six.  That has certainly been the case so far as he set career highs across the board last year and is on pace for similar production this season.  With the going rate being so high for impact power forwards, Bennett's certainly on a below-market deal by a couple million at least.
Florida had Verhaeghe on a very below-market deal until this season.  Even now, it's still a very team-friendly contract.  He has broken out offensively since joining Florida, becoming one of their most consistent scoring threats while seeing time on the top line.  He's getting paid well below what someone in that role with that type of production typically gets.  It's not as big of a bargain as it was before but it's still a very good one.  The price tag for this type of production might put him past $7MM when this deal is up.
Ekblad's contract was at one point the richest given to a defenseman coming off an entry-level contract in NHL history; that has since been surpassed multiple times.  When healthy, he is a legitimate all-situations top defender and with the market rate for that type of player jumping up as much as it has, he's a good bargain for them as well.  But staying healthy has been a challenge as he has missed significant time in each of the last three seasons (including this one).  There's still plenty of time for that to change and if he stays healthy the last couple of years, his AAV could jump past the $10MM mark next time around.
Signed Through 2025-26 Or Longer
F Aleksander Barkov ($10MM through 2029-30)
G Sergei Bobrovsky ($10MM through 2025-26)
G Spencer Knight ($4.5MM from 2023-24 through 2025-26, RFA)
F Matthew Tkachuk ($9.5MM through 2029-30)
I think we've finally passed the point where Barkov can no longer be considered underrated.  He's a legitimate star two-way center in this league and GM Bill Zito paid up to make sure that he's not leaving Florida anytime soon.  $10MM per year for a proven star center is around what the going rate is so they'll have him on at least a market-value contract for a long time.  Zito then paid up big to land Tkachuk in the offseason.  Last year was the only time he'd reached the point-per-game mark so, from a production standpoint, there was a bit of risk.  However, star power forwards in their prime don't become available often so it was one worth taking.  The fact he's producing at a higher pace this year certainly makes it look like this will be a good contract for them for a while.
That same thing can't be said about Bobrovsky.  When he was with Columbus, he had the ability to steal games.  That hasn't happened anywhere near often enough with Florida and he has struggled mightily this season.  His numbers are currently at a level where if he was a pending free agent, it would be fair to question if he could get another contract.  Instead, he's on the books for a long time yet.  Knight's extension seemed a bit pricey and premature for someone that entered the season with a 2.74 GAA and a .909 SV% in 36 career appearances.  It's quite possible that he'll live up to that price tag if he's able to fully wrestle away the number one job but it's a move that's a new market-setter in terms of paying a goalie that has pretty limited NHL experience.
Buyouts
G Scott Darling ($1.183MM in 2022-23)
D Keith Yandle ($5.392MM in 2022-23, $1.242MM in 2023-24 and 2024-25)
Retained Salary Transactions
None
Best Value: Forsling
Worst Value: Bobrovsky
Looking Ahead
There's a short-term pressure point on the horizon as Duclair is a few weeks away from returning and they can't activate him as things stand as they don't have enough cap space to do so.  Accordingly, Florida is a team to watch for on the trade market as they're likely going to have to move a contract in a market where it's not all that easy to clear out money.  Depending on who goes, they might be able to bank a little bit of space in the second half but for the most part, this is basically their roster for the season.
The good news is that there's a bit of relief ahead as they'll free up more than $5MM on the cap next season simply from dead money coming off their books.  That will comfortably cover Knight's extension while the likely departure of Hornqvist will allow them some extra flexibility to round out their roster.  Things should be a bit better going forward for them as a result.  However, with Reinhart, Forsling, and Montour expiring in 2024, Zito will have to budget accordingly in his 2023 spending to make sure he'll still have room to re-sign or replace those players a year later.
Photo courtesy of USA Today Sports Images.