Success at the World Junior Championship doesn't guarantee success in the NHL. It's a junior tournament, after all, and there are countless examples of players who star there only to find it difficult to translate their game to the professional level. Esa Keskinen, for example, is one of the highest-scoring players of all time with 31 points in two tournaments. The fifth-round pick never came over to North America (likely due to his small stature during a different era of hockey), playing out his career in Finland and Sweden instead.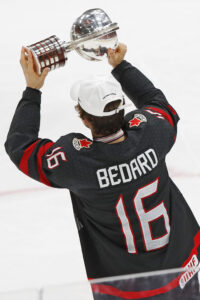 But even as scouts are starting to place less importance on performance there, the World Juniors plays an important role in something else for future stars: an introduction to a wider audience.
In the grand scheme of hockey fans, there aren't many watching Regina Pats games. They might not get a chance to see future first-overall pick Connor Bedard on a very regular basis, if at all. So when he puts up seven points in one game or comes within one goal of the Canadian record from a ridiculous angle suddenly fans from across the league start dreaming about him pulling on their sweater next season.
Tanking for the first-overall pick doesn't work all that well in hockey. The draft lottery gives hope to around half the league (depending on trades) and causes anxiety for those clubs at the bottom of the standings. Going into tonight's games, the Chicago Blackhawks have the best odds of winning the right to select Bedard. Chicago has lost nine of their last ten and 25 of 33 on the year. Their .303 winning percentage would be the third worst in the salary cap era if it continued all year. The two teams ahead (or behind) them though – the 2016-17 Colorado Avalanche and 2019-20 Detroit Red Wings – both failed to win the lottery.
Colorado fell to fourth after three teams jumped them, and got the consolation prize of Cale Makar. The Red Wings fell three spots too and had to settle for Lucas Raymond.
There have been some changes since then, meaning Chicago (or whoever finishes last) won't drop quite so far. But coming last still by no means guarantees the top pick. In fact, a team like the Montreal Canadiens could theoretically end up with an even greater chance, even without finishing last. The Canadiens have their own pick and Florida's, who are also currently out of the playoff picture. Should the Panthers drop even further, Montreal would essentially have two cracks to move up.
There is also a lot of hockey left to play. One more win would tie the Blackhawks with the Columbus Blue Jackets. Two would bring them even with the Anaheim Ducks, who have played three more games. There's a long race to be run by quite a few teams.
So as you watch Bedard (and Adam Fantilli) pile goals onto an overmatched Austrian squad, who do you think will enter the draft lottery with the best chance? Cast your vote below and explain how you see it playing out in the comments.
Photo courtesy of USA Today Sports Images