As Thanksgiving and the holiday season approaches, PHR will be taking a look at what teams are thankful for in 2022-23. There also might be a few things your team would like down the road. We'll examine what's gone well in the early going and what could improve as the season rolls on for the Chicago Blackhawks.
Who are the Blackhawks thankful for?
Sure, Kane's production (14 points in 18 games, a 64-point pace) so far this year isn't quite where it was last year. But looking at the bigger picture, the person the Blackhawks should undoubtedly be most thankful for is Kane. Why? Because the Blackhawks have been upfront with their team's direction, and Kane has been and will continue to be extremely helpful in getting GM Kyle Davidson where he wants his franchise to go.
Davidson is made it no secret, the Blackhawks are rebuilding. They are engaged in a relentless pursuit of as many future assets as possible and have begun building a formidable war chest of draft picks and prospects. Kane currently represents their most significant contributor toward building that stockpile this season.
First and foremost, Kane is the team's most attractive free agent. While his no-move protection and Blackhawks' desire to do right by their franchise icon may limit the trade return the team receives in any Kane deal, Kane is still likely to be the most sought-after player at next year's trade deadline. If Kane is traded, the Blackhawks will still net major assets in return, the type of assets the team craves as they build toward future contention.
Additionally, Kane's play is elevating the team's pursuit of future assets in other ways. This summer, the Blackhawks signed Max Domi and Andreas Athanasiou to identical one-year, $3MM deals. The implied intention of these deals was to give Domi and Athanasiou, two skilled offensive players, a wide-open environment to score as much as possible and turn themselves into attractive flippable assets at the trade deadline.
As Kane's center and left winger, respectively, Domi and Athanasiou have produced well (12 points for Domi and eight for Athanasiou) and have firmly placed themselves in the mix of forwards set to be dealt next year. If the Blackhawks receive more for Domi than the Blue Jackets received last year, Domi being able to ride shotgun next to Kane, one of the game's biggest stars, will be one of the reasons why.
So while Kane may not be able to bring one more Stanley Cup to Chicago, his potential parting gift to the franchise is still shaping up to be a valuable one.
What are the Blackhawks thankful for?
The strength of the 2023 draft class.
This was mentioned in the Thankful For piece on the Arizona Coyotes, but it's applicable to the Blackhawks as well. As a team expecting to be among the NHL's worst by the end of this season, the Blackhawks are likely to have their pick from the cream of the crop at the 2023 NHL draft. And luckily for them, this draft is shaping up to be quite the harvest of talent.
The Blackhawks will likely have a strong chance to land potential franchise-altering talent Connor Bedard, and even if they miss out on the big prize, Adam Fantilli, Matvei Michkov, and Leo Carlsson would each be quite the consolation prize.
But beyond just the top-end, the Blackhawks' many trades and their trades to come have put them in a position to have quite a few more draft picks at this draft than their originally-allotted seven selections.
The depth of this draft is as highly-regarded as its top-end, and the Blackhawks have placed themselves in a premier position to infuse their farm system with some major talent. While the losses to come this season will hurt, the quality of this upcoming draft class is definitely something to be thankful for.
What would the Blackhawks be even more thankful for?
Elite play from Seth Jones.
If Kane is indeed traded at any point this season, he will pass the torch as the Blackhawks' most important player to Jones. The 28-year-old blueliner is on a major $9.5MM AAV deal that will expire in the summer of 2030 and is in a position to be the linchpin of Chicago's defense for the rest of the decade.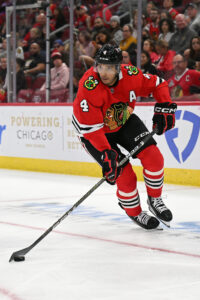 The Blackhawks would be even more thankful this holiday season, then, if Jones could return and display the sort of form he showed during his time with the Columbus Blue Jackets. Jones wasn't bad last season, scoring 51 points in 78 games in an all-situations, minutes-eating role, but he wasn't the sort of elite, top-ten defenseman his salary pays him to be.
This year, Jones has gotten off to a slower offensive start with four points in eight games, but his minutes have remained heavy, as he's averaging over 25 minutes per night.
Having turned 28 last month, Jones might not wish to remain in Chicago for the rest of his peak years while the team rebuilds. But for what it's worth, Jones has not communicated any sort of clear desire to be moved. And since he has a full no-movement clause and a hefty salary, the Jones-Chicago partnership is likely here to stay.
So, with that in mind, having Jones return to the lineup and put forth a dominant season on both ends of the ice would be an extremely welcome development for both the player and team, and it would be something Blackhawks fans could definitely be thankful for.
What should be on the Blackhawks' holiday wish list?
Other teams interested in acquiring the Blackhawks' veterans.
We've already covered the fact that the Blackhawks are likely to shop Domi and Athanasiou this season, but the potential names the Blackhawks could move doesn't end there. Veterans such as Jack Johnson, Connor Murphy, Jujhar Khaira, Colin Blackwell, Sam Lafferty, and Jason Dickinson could be of interest to other clubs, especially so in the cases of certain players off to hot starts, such as Lafferty and Dickinson.
What the Blackhawks should have on their wishlist, then, is a robust market of other teams interested in bidding on and eventually acquiring their players. While the success of Chicago's rebuild is unlikely to be singularly determined by their ability to extract as much as they possibly can from another team in exchange for their middle-of-the-lineup players, one just needs to take a short look to the East to see how other teams have jump-started their rebuilds through savvy deadline deals.
The New York Rangers, for example, took an in-decline Rick Nash and got a first-round pick and Ryan Lindgren, among other pieces, for him. Even as recently as last season, the Montreal Canadiens were able to pry a second-round pick from the Edmonton Oilers in exchange for Brett Kulak, and that second-rounder became Lane Hutson, who is currently terrorizing Hockey East defenders as a Boston University Terrier.
The Blackhawks have enough veteran players to add a glut of draft picks or prospects to their organization, so with that in mind the Blackhawks should definitely have heavy trade interest in their players on their 2022-23 holiday wishlist.
Pictures courtesy of USA Today Sports Images