American Thanksgiving is often viewed as a key point in the NHL season.  By now, teams have an idea of what their needs are and will start to try to fill some of those in the coming weeks.  We saw a couple of those moves made this past week which are highlighted in our key stories.
Extension Talks Start For Bratt: Jesper Bratt's last two contract negotiations haven't gone as well as either side would have hoped.  His bridge deal was signed just days before the 2020-21 season started and they opted to settle for a one-year, $5.45MM agreement to avoid an arbitration hearing over the summer.  Now, they're going to take another run at a long-term contract as extension discussions have now started.  Bratt is off to a strong start to his season with 25 points in 22 games, putting him on pace to set new career highs across the board.  If a new deal isn't reached, he'll enter restricted free agency this summer with the ability to file for arbitration and take a one-year contract that walks him to the open market in 2024 so it's safe to say that working something out is going to be a high priority for GM Tom Fitzgerald.
More Toronto Injuries: Already missing Jake Muzzin and T.J. Brodie, the back end for the Maple Leafs got thinned out even more when they placed Morgan Rielly on LTIR with what is believed to be an MCL injury that will keep him out at least a month.  That's a big blow to their offensive upside from their blueliners as the veteran has 16 assists in 20 games this season while he's logging 23 minutes a night.  On top of that, veteran Jordie Benn was placed on IR later in the week and is listed as out week to week with an upper-body injury.  Due to the injuries, Toronto GM Kyle Dubas opted to make a small move to add a bit of extra depth, acquiring Conor Timmins from Arizona for AHL center Curtis Douglas.  Timmins was once a highly-regarded prospect following a very productive junior career but has battled concussion trouble and has played in just 14 games between the NHL and AHL dating back to last season.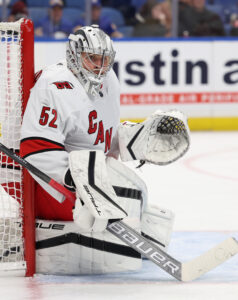 Four For Kochetkov: Counting the playoffs, Hurricanes goaltender Pyotr Kochetkov has made a total of 13 NHL appearances.  However, he is believed to be their goalie of the future and the team certainly signaled that, inking the 23-year-old to a four-year, $8MM contract extension that begins next season.  The deal gives Carolina half of their goalie tandem at what's likely to be a below-market rate for the foreseeable future and locks up at least one netminder with both Frederik Andersen and Antti Raanta eligible for unrestricted free agency this summer.  In the meantime, Kochetkov will continue to split time with Raanta with Andersen being on IR before likely returning to AHL Chicago later in the season.
Reaves To Minnesota: After being scratched for several games, Ryan Reaves had requested a trade from the Rangers and his request was granted as New York dealt him to Minnesota in exchange for a 2025 fifth-round pick.  The 35-year-old is best known for his physicality and it's clear that the Wild were looking to shake up their depth a bit as this move came on the heels of losing Tyson Jost to Buffalo on waivers last weekend.  Reaves' full $1.75MM cap hit is absorbed by Minnesota which allows the Rangers to bank some extra cap space which is notable as they're a team that many expect to try to make a splash on the trade front closer to the trade deadline.
Salming Passes Away: Just days after being honored in Toronto, Hall of Fame defenseman Borje Salming passed away at the age of 71.  He had been diagnosed with ALS (or Lou Gehrig's disease) back in August.  Salming was a six-time All-Star that finished in the top five of Norris Trophy voting for the first seven years of his career and is Toronto's all-time leader for points by defensemen with 768 amassed over 16 seasons with the team.  He was also one of the first European players to ever play in the NHL and is widely considered a trailblazer to help the game become the truly international one it is today.
Photo courtesy of USA Today Sports Images.