The 2023 draft is still months away, but fans of struggling teams are already salivating over the idea of adding talents like Connor Bedard, Matvei Michkov, or Adam Fantilli to their organization. Those three are among the 28 names that were included as "A" prospects in NHL Central Scouting's preliminary "players to watch" list, released today.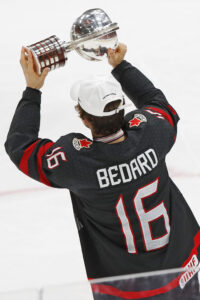 The full group of top prospects is as follows:
D Cameron Allen – Guelph, OHL
F Colby Barlow – Owen Sound, OHL
F Connor Bedard – Regina, WHL
F Zach Benson – Winnipeg, WHL
G Carson Bjarnason – Brandon, WHL
F Daniil But – Yaroslavl, Russia Jr.
F Leo Carlsson – Orebro, SHL
F Nate Danielson – Brandon, WHL
F Dalibor Dvorsky – AIK, Sweden-2
F Adam Fantilli – Michigan, NCAA
F Ethan Gauthier – Sherbrooke, QMJHL
D Mikhail Gulyayev – Omsk, KHL
F Kasper Halttunen – HIFK, Liiga
F Riley Heidt – Prince George, WHL
F Samuel Honzek – Vancouver, WHL
G Michael Hrabal – Omaha, USHL
F Ryan Leonard – USNTDP
F Matvei Michkov – SKA St. Petersburg, Russia-2
F Oliver Moore – USNTDP
F Gabriel Perreault – USNTDP
F Calum Ritchie – Oshawa, OHL
F Eduard Sale – Brno, Czechia
D Axel Sandin Pellikka – Skelleftea, Sweden Jr.
F William Smith – USNTDP
F Otto Stenberg – Frolunda, Sweden Jr.
F Charlie Stramel – Wisconsin, NCAA
F Matthew Wood – UConn, NCAA
F Brayden Yager – Moose Jaw, WHL
These are the players who are listed as "1st round candidates," though it should be noted that there will be several changes before the draft actually rolls around. If you are noticing there is a distinct lack of defensemen listed, you're not wrong. The preliminary list for the 2021 draft had nine defensemen listed in the 31-player "A" group, while the 2022 group had five out of 23 players listed. This year, the defensemen are almost equal with the goaltenders, showing just how rare difference-making blueliners might be.
Speaking of goaltenders, having two in the preliminary group is rather rare. The 2022 list didn't have any, and a netminder didn't come off the board until Topias Leinonen at No. 41 when the draft rolled around. The 2021 group shows how much things can change though. When their preliminary list came out, Jesper Wallstedt was the only goaltender listed as an "A." While he did end up going in the first round, Sebastian Cossa – ranked a "B" prospect at this point two years ago – was the first goalie off the board, selected 15th overall.
For that matter, Kevin Korchinski, who went seventh overall to the Chicago Blackhawks just a few months ago, was a "B" prospect at this point last year. Korchinski had a breakout season with the Seattle Thunderbirds and skyrocketed up draft boards – something a handful of players do every year.
So while the "A" players may be early favorites to go in the first round, there's a reason why the whole list is dubbed the players to watch. These are the names you'll hear bandied about in the months to come, with arguments about upside and floor happening on bar stools and bleachers all across the hockey world.
Photo courtesy of USA Today Sports Images