Navigating the salary cap is one of the more important tasks for any GM.  Teams that can avoid total cap chaos by walking the tightrope of inking players to deals that match their value (or compensate for future value without breaking the bank) remain successful.  Those that don't see struggles and front office changes.
PHR will look at every NHL team and give a thorough look at their cap situation heading into the 2022-23 season.  This will focus more on players who are regulars on the roster versus those who may find themselves shuttling between the AHL and NHL.  All cap figures are courtesy of CapFriendly.
Vegas Golden Knights
Current Cap Hit: $92,736,310 (over the $82.5MM Upper Limit)
Entry-Level Contracts
None
Signed Through 2022-23, Non-Entry-Level
G Laurent Brossoit ($2.325MM, UFA)
G Adin Hill ($2.175MM, UFA)
F Brett Howden ($1.5MM, RFA)
F Phil Kessel ($1.5MM, UFA)
F Nolan Patrick ($1.2MM, RFA)
F Sakari Manninen ($750K, UFA)
Kessel was brought in a couple of weeks ago once the Golden Knights learned that they had some extra LTIR flexibility.  He's not the high-end sniper he was in the prime of his career but he still finished third on the Coyotes in scoring last season and should be a low-cost secondary scoring option on a team that doesn't have a lot of value contracts.  Howden was limited last season due to injuries and often was on the fourth line when he was in the lineup.  Despite that, he received this contract back in July to avoid any possibility of arbitration but he'll need to take on a bigger role to justify getting qualifying him with arbitration rights next summer.
Patrick saw very limited action last season as his concussion issues continued and he might be another LTIR candidate for the upcoming season.  Unless something changes, he'll be non-tendered in June.  Manninen's strong showing at both the Olympics and the Worlds earned him his first NHL contract at the age of 30 on a one-way agreement and will have a good chance to earn a roster spot, especially if they have enough LTIR flexibility to carry more than the minimum-sized roster.
Brossoit was brought in last summer to serve as the backup goaltender and continued his trend of alternating good and bad years with 2021-22 landing in the latter category.  His availability for the start of this coming season is in question due to hip surgery so he is going to have a limited window to show that he's worthy of a similar contract next summer.  Hill was recently acquired using part of their extra LTIR space and should get a good opportunity to boost his stock heading into free agency next summer, especially if he could lock down the starting role at some point.  Even if not, he could get a small boost as the backup market continues to improve.
Signed Through 2023-24
F Michael Amadio ($763K, UFA)
F William Carrier ($1.4MM, UFA)
D Ben Hutton ($850K, UFA)
F Jonathan Marchessault ($5MM, UFA)
D Alec Martinez ($5.25MM, UFA)
F Chandler Stephenson ($2.75MM, UFA)
Marchessault is one of the few remaining original Golden Knights and is the leading scorer in franchise history after five strong seasons.  He'll be 33 on his next deal and if he can maintain the type of production he has provided Vegas, he could get a multi-year agreement around this rate again.  Stephenson has become quite the bargain after Washington couldn't find a regular role for him in the lineup.  He has quickly become a top-six center that makes third-line money and at this point, him doubling his current AAV is definitely doable on the open market in 2024.
Carrier isn't a significant scorer although he produces more than most fourth-liners do while providing them with plenty of physicality.  This is a bit of an above-market deal for someone in that role compared to a lot of fourth-liners signing for around $1MM or less but Vegas is getting more out of him than other teams will from their depth pieces.  Amadio was brought in off waivers last year and was a decent depth contributor, earning himself a one-way deal but he'll need to become an everyday regular to do much better than that in 2024.
Martinez likely left money on the table when he signed an extension last summer but injuries really limited him last season which has hurt his value.  He'll be 37 when his next contract starts and at that point, he might have to go year-to-year at a lower rate than this one.  Hutton turned a PTO into a one-year deal, then did well enough to get this extension.  He has been in a fringe role for a few years now so his market isn't likely to change much over the next couple of seasons.
Signed Through 2024-25
F Keegan Kolesar ($1.4MM, UFA)
G Robin Lehner ($5MM, UFA)
F Jake Leschyshyn ($767K, UFA)
D Brayden McNabb ($2.85MM, UFA)
F Jonas Rondbjerg ($767K, UFA)
F Reilly Smith ($5MM, UFA)
D Shea Theodore ($5.2MM, UFA)
G Logan Thompson ($767K, UFA)
Smith hasn't been able to produce at the level he did early on in his time with Vegas but he continues to be a reliable secondary option that can play in all situations so the team opted to hand him a new three-year deal in July at the same rate of his last one.  If the downtick in production continues though, he'll be hard-pressed to get another $5MM deal in 2025.  Kolesar avoided arbitration with his deal last month and did well with this agreement following his only full NHL season.  Clearly, Vegas believes he has another level he can get to which would make this a team-friendly deal if he can step into a regular role on the third line.  Leschyshyn and Rondbjerg were both up and down last season but are now waiver-eligible which could help them stick at the end of the roster and could boost their stock by securing a regular spot in the lineup at some point during their contracts.
Theodore has emerged as a strong top-pairing blueliner over the last few seasons which makes his deal one of the biggest bargains they have as they're getting top production at a second-pair rate.  He'll be 30 at the end of this agreement so a max-term contract could be coming his way at a considerably higher price tag than this one.  McNabb, meanwhile, isn't a big point-producer and provides most of his value on the defensive side of things.  As long as he can continue to hover around the 20-minute mark, the Golden Knights will get a good return on this contract.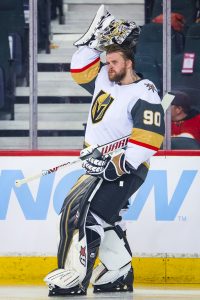 Lehner was the undisputed starter for Vegas last season with Marc-Andre Fleury being traded away last summer in a straight salary cap dump move.  However, injuries limited him to just 44 games while he battled inconsistency which is hardly the outcome they were hoping for when they picked Lehner to be the starter.  To make matters worse, they recently revealed that he will need hip surgery that will keep him out for all of the upcoming season.  While that created the LTIR room for them to add Kessel and Hill, Lehner's absence certainly also creates a big question between the pipes not only for the upcoming season but beyond as well since hip issues can often be a lingering issue.
Thompson will get an opportunity to be at least the short-term answer to the goaltending question as he will get a long look at being the starter this season.  If he can lock down that role, his contract will become one of the top bargains in the league.  If things don't go well, however, he's a candidate to be sent down when Brossoit is cleared to return; Thompson remains waiver-exempt for the upcoming season.
Signed Through 2025-26 Or Longer
F Jack Eichel ($10MM through 2025-26)
F William Karlsson ($5.9MM through 2026-27)
D Alex Pietrangelo ($8.8MM through 2026-27)
F Nicolas Roy ($3MM through 2026-27)
F Mark Stone ($9.5MM through 2026-27)
D Shea Weber ($7.857MM through 2026-27)
D Zach Whitecloud ($2.75MM through 2028-29)
Eichel's addition was supposed to provide Vegas with the one thing they haven't had in their brief NHL tenure, a legitimate number one center.  They allowed him to have the desired disk replacement surgery on his neck and he was able to come back for the final few months of the season although he didn't produce at a level up to expectations.  He needs to be better than a point-per-game player to justify the price tag and most importantly, he needs to stay healthy now.  Stone battled injury trouble of his own last season, costing him 45 games.  When he's healthy, he remains one of the top two-way wingers in the league and he should be able to maintain that distinction for a few more years at least.
Karlsson was the breakout star in his first season with Vegas but there has been a steady decline in production since then.  With Eichel now in the fold and Stephenson establishing himself in the top six, Karlsson's offensive opportunities will start to dry up.  He'll still play an impact role but if he continues to put up point totals in the high-30/low-40 range, his contract will be more of an above-market one.  Roy had a breakout year but surprisingly settled for a deal that pays him like a third-liner for five years.  Even if his production drops slightly, this is still a team-friendly pact.
Pietrangelo has been as advertised in his two seasons with Vegas as an all-situations player.  There will be some question marks about how much longer he can play close to 25 minutes per game and when that starts to be dropped, this will start to be more of a negative-value deal but it should still be a few years before things get to that point.  Whitecloud is very quietly the player signed for the longest on this squad after being a reliable defender towards the bottom of their lineup the last two seasons.  There's still potentially some room for improvement while he could creep closer to the 20-minute ATOI mark and if those happen, he'll quickly become quite the bargain as well.
Weber (or more specifically, his contract) was acquired this offseason in exchange for Evgenii Dadonov.  He didn't play at all in 2021-22 and isn't expected to play again.  He'll be on LTIR for the remainder of his deal.
Buyouts
None
Retained Salary Transactions
None
Still To Sign
Hague has held down a spot on the third pairing over the last two seasons and has acquitted himself rather well.  With no arbitration eligibility, the 23-year-old doesn't have a lot of leverage.  He's worthy of a multi-year bridge deal in the $2MM range but with Vegas wanting to maintain cap flexibility, their preference might be to try to force him to take a one-year agreement, one that would hand him arbitration rights next summer.  At the moment, it doesn't appear as if they're close to getting something done.
Best Value: Stephenson
Worst Value: Eichel
Looking Ahead
It's quite interesting to see how quickly Vegas has brought about one of the most complex and tight salary cap situations in the league.  But even with that, there aren't many contracts that are well above market value on this roster.
For the upcoming season, the Golden Knights should have enough room under their revised LTIR cap ceiling to carry some extra skaters and while that might not sound like much, that's a big improvement compared to the last couple of years.  However, with them being squarely in LTIR, they won't be able to bank and accrue any true cap space throughout the year; whatever difference there is between their spending at the time and their ACSL once their players hit LTIR, that's all they'll have to work with during the year.
With Weber being locked into LTIR for the foreseeable future, Vegas won't have the ability to bank in-season cap space until either the deal ends or he's traded again.  He's a year away from his actual salary dipping to just $1MM so that scenario could become plausible next summer.  Until that happens, they'll be over the Upper Limit.  If nothing else, at least they're used to being in that situation.
Photo courtesy of USA Today Sports Images.