Navigating the salary cap is one of the more important tasks for any GM.  Teams that can avoid total cap chaos by walking the tightrope of inking players to deals that match their value (or compensate for future value without breaking the bank) remain successful.  Those that don't see struggles and front office changes.
PHR will look at every NHL team and give a thorough look at their cap situation heading into the 2022-23 season.  This will focus more on players who are regulars on the roster versus those who may find themselves shuttling between the AHL and NHL.  All cap figures are courtesy of CapFriendly.
Columbus Blue Jackets
Current Cap Hit: $82,083.333 (under the $82.5MM Upper Limit)
Entry-Level Contracts
F Yegor Chinakhov (one year, $925K)
F Kent Johnson (two years, $925K)
F Cole Sillinger (two years, $925K)
Potential Bonuses
Chinakhov: $700K
Johnson: $925K
Sillinger: $850K
Total: $2.475MM
Sillinger was the lone player from the 2021 draft class to spend the full season in the NHL and he acquitted himself well with 31 points in a middle-six role.  If he can secure a top-six role for the next two seasons, he's a candidate to bypass a bridge deal but it's still too early to forecast his second contract.  It's possible that he hits one or two of his 'A' bonuses worth $212.5K as well.  Johnson burned the first season of his entry-level pact with a nine-game stint down the stretch where he didn't look out of place.  He should be able to push for a regular spot in 2022-23 but unless he steps into a dominant role quickly, a shorter-term second contract is likely coming his way.  The same can be said for Chinakhov.  He fared okay in a limited role last season but players in lower roles rarely get long-term second contracts.  If he stays in the bottom six, a one-year deal worth around $1MM or a two-year pact closer to $1.5MM are his likely outcomes.
Signed Through 2022-23, Non-Entry-Level
D Gavin Bayreuther ($750K, UFA)
D Vladislav Gavrikov ($2.8MM, UFA)
G Joonas Korpisalo ($1.3MM, UFA))
F Gustav Nyquist ($5.5MM, UFA)
F Mathieu Olivier ($750K, RFA)
D Andrew Peeke ($788K, RFA)
After missing all of 2020-21 due to injury, Nyquist played in every game last season and put up a respectable 53 points.  He'll need a better showing next season to have a shot at making more on his next deal.  Otherwise, at 34, he'll be looking at a shorter-term deal closer to the $4MM range.  Olivier was brought in from Nashville to give the Blue Jackets a bit of grit up front but unless he can secure a regular spot, he'll be signed for the minimum or close to it a year from now.
Gavrikov took a big step forward last season and really established himself as one of their top blueliners; he sat second on the team in ATOI.  Getting someone that spends a fair bit of time on the top pairing for money that's usually reserved for fourth or fifth defenders is quite good.  He'll be 27 next summer when a long-term deal worth around double his current AAV might await him.  Peeke is also in line for a sizable raise after showing that he's capable of playing on the second pairing in a stay-at-home type of role.  With arbitration rights next summer, he could jump into the $3MM range or even a bit higher on a contract that buys out multiple UFA years.  Bayreuther should be on the fringes of the lineup this season so he's unlikely to command much more than the minimum next summer.
Korpisalo had a tough year, one that saw him miss nearly half the games due to injury or illness and when he was between the pipes, he struggled mightily.  Knowing his market wouldn't have been strong in free agency, he opted to take a considerable pay cut to try to rebuild his value this season.  If he can, he could get back to the $2.5MM to $3MM range next summer.
Signed Through 2023-24
D Jake Bean ($2.33MM, RFA)
F Emil Bemstrom ($900K, RFA)
D Nick Blankenburg ($825K, RFA)
F Justin Danforth ($975K, UFA)
F Eric Robinson ($1.6MM, UFA)
F Jack Roslovic ($4MM, UFA)
F Alexandre Texier ($1.525MM, RFA)
F Jakub Voracek ($8.25MM, UFA)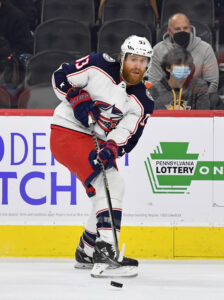 Voracek was brought back for a second stint with the Blue Jackets last summer in a move to shake up the core with Philadelphia.  On the one hand, he led the team in points with 62 points.  On the other hand, only six of those were goals.  Players making that much money should be expected to score more than six times but they have to be pleased with the assist total.  He is already showing signs of slowing down and the fact he'll be 35 in 2024 won't help either.  A contract closer to half of his current price might be where his market falls at that time unless he starts to show a lot more of a scoring touch over these next two years.
Roslovic had a career season with 45 points but somewhat surprisingly, the Blue Jackets weren't able to work out a deal to extend their team control, instead opting for a second bridge that walks him right to free agency.  Assuming he can at least remain as a second-line center between now and then, he will land a bigger contract at that time.  Robinson has become a capable bottom-six checker that produces fairly well at even strength which pushed him over the $1MM mark for the first time.  If he can find another level and get to the 35-point mark or so, he could make a case to add another million on the open market.
Texier technically only has one year left on his contract but since he won't play this season under suspension (which allowed him to play closer to home for family reasons), his deal won't expire until 2024.  He was showing signs of breaking out in limited action last season and if he plays at that level if and when he returns for 2023-24, he could land closer to double his $1.75MM qualifying offer.  Bemstrom and Danforth had limited roles last season and will first need to secure a full-time lineup spot before they can hope to earn any sort of significant raise on their next deals.
Bean was hoping to get an expanded role after being acquired from Carolina and that's exactly what happened as his ATOI jumped up by more than six minutes per game while moving into their top four.  He's a bargain at this price tag and if he can hold that role for two more years, he'll earn considerably more than his $2.8MM qualifying offer.  Blankenburg signed as an undrafted college free agent down the stretch, burning his one-year deal in the span of a few weeks.  He's waiver-exempt and could see some time in the minors but if he's a regular by the end of this contract, he'll push past the $1MM mark.
Signed Through 2024-25
D Adam Boqvist ($2.6MM, RFA)
F Sean Kuraly ($2.5MM, UFA)
G Daniil Tarasov ($1.05MM, RFA)
Kuraly signed with his hometown team last summer and got a bit of a bigger role than he had with Boston.  He responded with the best offensive season of his career with 14 goals and 30 points in 77 games while leading all Columbus forwards in shorthanded ice time per game.  This deal looked like a bit of an overpayment at the time but if he keeps up that type of production, the Blue Jackets will get decent value from it.
Boqvist was a key part of the return from Chicago in the Seth Jones trade last summer and showed some promise when he was healthy, notching 11 goals in just 52 games.  That was enough for GM Jarmo Kekalainen to award him with this three-year bridge deal, one that carries a $3.12MM qualifying offer.  If he can establish himself in their top four and provide above-average production, he could be looking at a sizable raise of his own in 2025.
Tarasov is waiver-exempt this coming season and is likely to be in the minors.  However, with a one-way and three-year commitment, it's clear that the Blue Jackets view him as the backup heading into 2023-24 so it's safe to slot him into Korpisalo's spot on the roster a year from now.  Even as a second-stringer, two good seasons from him could more than double his current cost.
Signed Through 2025-26 Or Longer
F Johnny Gaudreau ($9.75MM through 2028-29)
D Erik Gudbranson ($4MM through 2025-26)
F Boone Jenner ($3.75MM through 2025-26)
F Patrik Laine ($8.7MM through 2025-26)
G Elvis Merzlikins ($5.4MM through 2026-27)
D Zach Werenski ($9.583MM through 2027-28)
Gaudreau was a surprise acquisition for the Blue Jackets this summer.  For a team that was believed to be in the midst of some sort of rebuild, to turn around and sign the most prominent free agent to a max-term deal is a pretty significant pivot.  Gaudreau instantly gives them a second high-end scoring threat even if he isn't able to get back to the 115-point mark as he did last season.
Ever since he was acquired, there were questions about Laine's willingness to stay beyond his UFA-eligible season which would have been next summer.  He put that to rest with this deal, one that still gave him a nice boost on the $7.5MM he made last season while ensuring he'll stick with Columbus for three years past that UFA-eligible mark.  He's particularly streaky but when he's on, he's a legitimate top-liner.  Jenner was likely to reach career-highs offensively had a back injury not ended his season prematurely in March.  As Sillinger and Johnson progress into bigger roles, it's Jenner that will likely lose some of his more offensive-minded minutes but as an all-situations player that is above-average at the faceoff dot, he'll still provide lots of value even if his numbers dip.
After Jones didn't want to sign long-term with Columbus, Kekalainen moved quickly to lock up Werenski to a deal that, for a moment, had him set to be the highest-paid player in franchise history.  He's another player that had a career year offensively while he logged over 25 minutes a night for the first time.  He might not be a player that immediately comes to mind when talking about number one defensemen around the league but he definitely fills that role well for them.  Gudbranson was one of the more shocking contracts of the summer.  Yes, he fills a hole in terms of grit but he's also a player that's best suited for a fourth or fifth role at most.  Four years is a lot for that type of player and $4MM is more than many expected.
Merzlikins was the clear starter for the first time last season and the results were mixed.  Granted, the Blue Jackets weren't expected to be contenders but his save percentage dipped to .907 after being no lower than .916 over his first two seasons.  Expectations will be higher now with an improved team in front of him and if he can get back to that .916 mark, this will be a strong value contract for Columbus.
Buyouts
F Alexander Wennberg ($442K in 2022-23, $892K from 2023-24 through 2025-26)
Retained Salary Transactions
None
Still To Sign
None
Best Value: Gavrikov
Worst Value: Voracek
Looking Ahead
At the beginning of the offseason, it didn't seem like the Blue Jackets would be among the teams that are tight to the salary cap for 2022-23.  Before all was said and done, they basically had to give Oliver Bjorkstrand, who led the team in goals last season, away to Seattle just to get compliant.  They should start the season at least $1MM under the Upper Limit and while that might not seem like much, that's probably going to be better than half the league.
Most of this core is already in place for 2023-24 as well with Nyquist being the only key expiring.  Voracek expiring the year after will help to afford raises on their bridge deals and youngsters but until there's a big jump in the salary cap, there isn't going to be a lot of room to add to this core.  Instead, any improvements from here on out will be coming from within.
Photo courtesy of USA Today Sports Images.