Navigating the salary cap is one of the more important tasks for any GM.  Teams that can avoid total cap chaos by walking the tightrope of inking players to deals that match their value (or compensate for future value without breaking the bank) remain successful.  Those that don't see struggles and front office changes.
PHR will look at every NHL team and give a thorough look at their cap situation heading into the 2022-23 season.  This will focus more on players who are regulars on the roster versus those who may find themselves shuttling between the AHL and NHL.  All cap figures are courtesy of CapFriendly.
Carolina Hurricanes
Current Cap Hit: $85,116,917 (over the $82.5MM Upper Limit)
Entry-Level Contracts
F Seth Jarvis (two years, $894K)
Potential Bonuses
Jarvis: $500K
Jarvis had a nice rookie season in 2021-22 with 40 points in 68 games, good for eighth in team scoring.  Three of the seven ahead of him have since moved on so there should be an opportunity for him to take on a bigger role in his sophomore year.  Notably, he barely achieved $100K of his bonuses last season so Carolina shouldn't automatically expect him to hit the $500K this time around.  A sizable jump in production over the next couple of years could have him in line for a longer-term deal that bypasses a bridge contract; a deal like that could push into the $6MM range if he can get closer to the 60-point mark.
Signed Through 2022-23, Non-Entry-Level
G Frederik Andersen ($4.5MM, UFA)
D Ethan Bear ($2.2MM, RFA)
D Dylan Coghlan ($762.5K, UFA)
F Jesper Fast ($2MM, UFA)
D Jake Gardiner ($4.05MM, UFA)
F Ondrej Kase ($1.5MM, UFA)
F Max Pacioretty ($7MM, UFA)
F Lane Pederson ($750K, RFA)
G Antti Raanta ($2MM, UFA)
F Jordan Staal ($6MM, UFA)
F Paul Stastny ($1.5MM, UFA)
Potential Bonuses
Stastny: $500K
Carolina acquired Pacioretty with the hopes he'd help replace some of the lost scoring from the departures of Vincent Trocheck and Nino Niederreiter.  Unfortunately for them, he then tore his Achilles in training and will miss most of the regular season.  He'll be 34 when his next contract starts and missing this much time in 2022-23 doesn't bode well for his next deal.  If he gets a multi-year agreement, it'll be at a discount.  A one-year deal with some performance bonuses will also be an option since he'll have missed enough time to qualify.  Staal is in the final season of his 10-year deal and while the captain is still a key defensive player, his production has fallen off lately.  He'll be 35 on his next contract and could be a year-to-year player with bonuses while a two-year agreement could check in closer to the $3.75MM range.
Fast has fit in quite well with Carolina as a secondary scorer and even with a weakened market for wingers, he should be in line for at least a small raise on this price tag.  That said, it felt like he signed an under-market contract last time around.  Kase, when healthy, can be a capable top-six forward but staying healthy has proven to be difficult which has led to two straight non-tenders.  Even if he stays away from concussion trouble this coming season, his market shouldn't improve by much.  Stastny took a little less to go to a contender with his bonuses only being payable if Carolina wins the Stanley Cup.  His market value is closer to the $3.5MM range if he was to prioritize salary on his next contract.  Pederson comes over from San Jose and should be a regular on the fourth line but should still check in under $1MM on his next contract.
Gardiner missed all of last season due to injuries and while he's hoping to return this season, there's still no guaranteed roster spot for him.  Carolina can waive him and free up $1.125MM in cap space while his market value next summer might be closer to the $1MM mark.  Bear was speculated to be a non-tender candidate after being a frequent scratch down the stretch but the Hurricanes will give him one more look.  If he's still only able to hold down a spot on the third pairing, he won't be in position to command much more than this.  Coghlan was the prize for Carolina absorbing Pacioretty's contract and could push his way past the $1MM mark if he's able to lock down a regular spot on the third pairing.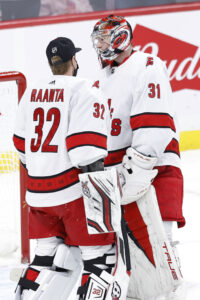 Andersen didn't sign with the Hurricanes when they drafted him but 11 years later, he joined them in free agency on a short-term deal with the hopes of rebuilding some value.  One year in and it's so far, so good.  He turned in a career year, finishing fourth in Vezina Trophy voting.  Even so, Carolina's system is good at supressing shots so even a repeat performance isn't going to drastically boost his value.  A small jump is achievable while he might be able to get an extra year or two as well.  Raanta had a nice bounce-back after a tough year in Arizona.  Frequent injuries are going to continue to limit the 33-year-old to a second-string role although he might be able to get closer to the $3MM mark next summer.
Signed Through 2023-24
F Sebastian Aho ($8.46MM, UFA)
D Jalen Chatfield ($762.5K, UFA)
F Jordan Martinook ($1.8MM, UFA)
F Martin Necas ($3MM, RFA)
D Brett Pesce ($4..025MM, UFA)
D Brady Skjei ($5.25MM, UFA)
F Teuvo Teravainen ($5.4MM, UFA)
Aho's contract, you may recall, came from an offer sheet from Montreal back in 2019, one that Carolina wasted little time matching.  He has blossomed into a star two-way center and because of the offer sheet, he has positioned himself to reach the open market before his age-27 season where a max-term, big-money offer certainly awaits.  $10MM or more is certainly attainable if he continues to hover around the point per game mark.
Teravainen has picked up 60 or more points in four of the last five seasons, making him a very reliable top-six winger.  His two-way game is also strong so even with wingers feeling the squeeze a bit in recent years, he should be an exception to that as he should be able to command something in the $7MM range.  Necas will begin his bridge deal with a chance to really lock down a full-time spot in the top six.  He has ranged between 36 and 41 points the last three years and will need to boost the high end of that if he wants to get significantly more than his $3.5MM qualifying offer in 2024.  Martinook has been a reliable checker on the fourth line over his tenure with the Hurricanes although this contract is an above-market one in terms of that role.  He'll likely come in a bit lower on his next deal.
Skjei arguably had a career year in 2021-22 and has become a key part of Carolina's top four on the back end.  He'll be 30 when his contract is up and while he shouldn't be able to command top-pair money, he should be in a position to add a million or so on his next deal while perhaps landing his second straight six-year agreement.  Pesce continues to be a high-end defensive defender that has chipped in with some quality secondary scoring.  Between that and the fact he's a right-shot player, he could surpass the $6MM mark as well on his next contract, one that could be close to a max-term agreement if he makes it to the open market.
Signed Through 2024-25
D Brent Burns ($5.28MM, UFA)*
D Jaccob Slavin ($5.3MM, UFA)
* – San Jose is retaining another $2.72MM on Burns' deal
Slavin has always been a high-end defensive defender but last season, he found a way to contribute more offensively as well, setting career-highs in assists (38) and points (42), a scoring rate he maintained in the playoffs.  If he's able to keep this up, he'll be even more of a bargain while setting himself up for a big raise in 2025.  When it comes to Carolina's defensemen, being on team-friendly deals is a common factor.  With the Sharks holding back so much of Burns' deal, the same could be said for him as well.  Even at 37, he logged more than 26 minutes a game last season while recording 54 points.  If he can maintain that with Carolina, that's number one production for number three money.  He'll be 40 at the end of this deal and it will be interesting to see if he extends his career past this point.
Signed Through 2025-26 Or Longer
F Jesperi Kotkaniemi ($4.82MM through 2029-30)
F Andrei Svechnikov ($7.75MM through 2028-29)
Svechnikov continues to improve as he cracked the 30-goal mark for the first time in his career and considering he's only 22, there's still room for the 2018 second-overall pick to continue to grow.  If he stays at this level, he's probably still worth this contract and if he gets to the point-per-game mark, this deal should age quite well.  Kotkaniemi, the third pick from that same draft class, isn't anywhere near that mark yet.  After a successful offer sheet at just over $6MM, he expectedly signed a long-term agreement at a lower rate although it's one he has some work to do to be worth.  He spent a lot of time last season in the bottom six while recording just 29 points.  He's certainly still young enough to grow into a top-six role and with Trocheck's departure, he'll have a shot at that spot but for now, this is definitely an above-market contract.  They're hoping that won't be the case for much longer.
Buyouts
None
Retained Salary Transactions
None
Still To Sign
None
Best Value: Slavin
Worst Value: Kotkaniemi
Looking Ahead
For this season, being cap-compliant won't be an issue for the Hurricanes at the start of the season thanks to Pacioretty's injury.  When he's ready to return, however, which should be somewhere near the trade deadline in February, then it will get interesting.  If everyone's healthy, they might have to move someone out to be able to afford to activate the winger.  But lots can change on that front between now and then.
From a long-term perspective, 2024 is the summer to watch for when Aho, Teravainen, Skjei, and Pesce are all up.  They're all heading for raises and how much they have to spend will be determined by what they do next summer.  With a lot of expiring contracts in 2023, there's a lot of wiggle room for GM Don Waddell to work with although there will be plenty of roster spots to be filled.  At this point, it looks like they should be in decent shape to afford those raises.  Compared to a lot of teams around the NHL, the Hurricanes are well-positioned on the salary cap front.
Photo courtesy of USA Today Sports Images.