Hindsight is an amazing thing, and allows us to look back and wonder "what could have been."  Though perfection is attempted, scouting and draft selection is far from an exact science, and sometimes, it doesn't work out the way teams – or players – intended. For every Patrick Kane, there is a Patrik Stefan.
We're looking back at the 2008 NHL Entry Draft and asking how it would shake out knowing what we do now.  Will the first round remain the same, or will some late-round picks jump up to the top of the board?
The results of our redraft so far are as follows with their original draft position in parentheses:
1st Overall: Steven Stamkos, Tampa Bay Lightning (1)
2nd Overall: Drew Doughty, Los Angeles Kings (2)
3rd Overall: Roman Josi, Atlanta Thrashers (38)
4th Overall: Alex Pietrangelo, St. Louis Blues (4)
5th Overall: Erik Karlsson, Toronto Maple Leafs (15)
6th Overall: John Carlson, Columbus Blue Jackets (27)
7th Overall: Jacob Markstrom, Nashville Predators (31)
8th Overall: Braden Holtby, Phoenix Coyotes (93)
9th Overall: Jordan Eberle, New York Islanders (22)
10th Overall: Jared Spurgeon, Vancouver Canucks (156)
2008 was quite a year for defensemen as Spurgeon becomes the sixth blueliner to go in the top ten in our redraft.  He takes the place of Cody Hodgson who was the original pick of the Canucks.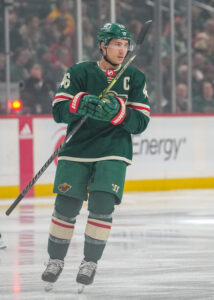 The Islanders did quite well in drafting Spurgeon early in the sixth round.  If you're thinking to yourself that you don't remember the blueliner being with New York, there's a good reason for that.  They opted not to sign him despite two strong seasons with Spokane, making him an unrestricted free agent.  Minnesota invited him to rookie camp and liked what they saw, quickly signing him to an entry-level contract in 2010.
That decision certainly worked out well for the Wild as he made his NHL debut that season and never looked back from there.  He has played in a dozen NHL seasons, all with Minnesota and he sits second in franchise history in points by a defenseman.  He's 24 behind Ryan Suter for that distinction and assuming he stays healthy, he should get there at some point this upcoming season.
Spurgeon was named Minnesota's captain in January 2021 and has five seasons left on his contract.  Along the way, he should pass former captain Mikko Koivu for their all-time games played mark.  Not too shabby for a player that the Islanders opted not to sign.
Now, we move on to pick number eleven which was held by the Chicago Blackhawks.  They selected center Kyle Beach from the WHL, a true power forward that put up plenty of points and plenty of penalty minutes.  He signed his entry-level deal in 2009, making his pro debut soon after with Rockford.  Unfortunately for him and Chicago, he wasn't able to duplicate the offensive success he had in junior and in 2013, he was traded to the Rangers for winger Brandon Mashinter.
It also must be noted that in 2010 when he served as a Black Ace for the Blackhawks' Stanley Cup run, he was sexually assaulted by then-video coach Brad Aldrich.  While he was identified as John Doe during the course of the NHL's investigation into the incident and lawsuit which concluded last year, he revealed himself to be the victim in an interview with TSN's Rick Westhead in October.  Stan Bowman was let go soon after while Joel Quenneville resigned his position as head coach of the Panthers following the results of the investigation being made public.
Since the 2013-14 season, Beach has played overseas, spending time in Sweden, Austria, Germany, and Slovakia.  He spent the last two years in the German third division, averaging over a point and a half per game.  He is not currently under contract for the upcoming season.
With what transpired back in 2010, there will be a lingering question of 'what if' when it comes to Beach but it's also clear that there were better choices for them at that time.  As we continue our hindsight draft, who should the Blackhawks have selected?  Make your selection in the poll below.
App users, click here to vote.
Photo courtesy of USA Today Sports Images.