When it became clear that the Chicago Blackhawks would be pursuing a no-holds-barred teardown under new GM Kyle Davidson, many presumed that, at the very least, any player on an expiring deal in Chicago would be dealt by the team at the trade deadline. Davidson traded Ryan Carpenter and Marc-Andre Fleury, two players on expiring deals, but one of the team's top pending unrestricted free agents, Calvin de Haan, stayed put. It seemed curious that a veteran, experienced defenseman with a defense-first game like de Haan would not be dealt as a deadline rental, but that's exactly what happened.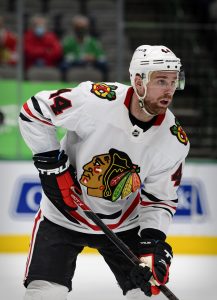 Now, de Haan's offseason free agent market is looking a lot like his trade market: curiously slow. Expecting a vibrant, robust market for de Haan would have been a mistake. The veteran of over 500 NHL games has been on the decline, and his health has been a nagging problem since he began his professional career. De Haan has played in a full 82-game season just once, which is worrying due to the fact that he made his NHL debut in 2011-12. He's had every opportunity but just hasn't been able to remain available consistently.
Additionally, de Haan's game has become a bit one-dimensional. In a league where the two-way, transitional defenseman is in vogue, de Haan's game is a bit of a throwback. To say de Haan is "defense-first" would be an understatement. He's "defense-only" at this point in his career, with little in the way of offensive utility. He had just eight points in 69 games, and his issues with shoulder injuries have taken a toll on his puck skills. But, even with all that in mind, it still is a bit of a surprise to see de Haan unsigned in August, especially given the leaguewide sentiment of "you can never have too many capable defensemen."
Despite all the flaws in his overall profile, there still is a place for de Haan in the NHL. His usage has been remarkably consistent throughout his career. He got around 19-20 minutes of ice time per game earlier in his career and now gets around 18 minutes a night with second-unit penalty-killing duties. While some could see his defensive style to be one-dimensional and a negative to his game, others could see value in the steadiness and safety he provides. To use a popular hockey cliche, de Haan is a defenseman who is best when he's not noticed, and de Haan has become adept at remaining anonymous on the ice as he's aged. That style isn't for everyone, but it's hard to believe that there aren't any teams in the NHL who want to add that to their roster, even if he does have to spend some time on injured reserve.
Stats:
2021-22: 69 GP, 4G 4A 8pts, -21 rating, 33 PIMs, 107 shots, 18:57 ATOI
Career: 520 GP, 19G 100A 119pts, 0 rating, 195 PIMs, 736 shots, 19:29 ATOI
Potential Suitors:
Based on de Haan's overall profile, he fits best with a team in need of a steady, veteran defenseman to stabilize their blueline and help them integrate young defensemen into the fold. Given de Haan's status as a still unsigned free agent, he may not be in a strong enough position to be able to pick and choose his destinations. While he undoubtedly would like to sign with a contender, a mentorship role on a younger team could be a better fit at this stage of his career. Additionally, with cap space at an absolute premium, he may only receive the sort of contract he desires from a team with lots of cap space, and most teams with cap space right now are ones not in a "win-now" phase.
One potential fit for de Haan is the Buffalo Sabres. They had an encouraging season last year, but their team is still remarkably young, especially on defense. Their oldest defender who projects to be in their nightly lineup is Ilya Lyubushkin, who is 28 but has just 211 NHL games under his belt, and just seven career playoff contests. The next-oldest defenseman likely to make their NHL roster is Jacob Bryson, who is just 24 and made his NHL debut in 2020-21. If we assume Mattias Samuelsson will partner with Rasmus Dahlin on the team's first pairing, as he did at times last season, and Owen Power will slide into a second-pairing role next to Lyubushkin, the Sabres have a possible opening for de Haan on their third pairing next to Henri Jokiharju. Jokiharju, a defenseman with puck-moving ability, could be a solid partner for de Haan and someone whose game could be improved thanks to the stability de Haan would provide.
Additionally, the Sabres have a glut of tweener defensemen in their organization, names like Lawrence Pilut, Chase Priskie, and Kale Clague, who could insulate team from a de Haan injury. They also have nearly $20MM in available salary cap space and just one remaining free agent to tie up, goalie Ukko-Pekka Luukkonen. While there hasn't been a bidding war for de Haan's services by any means, the Sabres could make any de Haan deal fit onto their books quite smoothly.
Another fit could be a return to his former team, the New York Islanders. The Islanders' top-four on defense looks set. The Adam Pelech–Ryan Pulock pairing isn't going to change anytime soon, and summer trade acquisition Alexander Romanov will likely get a long look next to breakout star Noah Dobson. Their bottom pairing, though, looks a bit more open. Scott Mayfield will play on the right side, but who will be his partner? The team could opt to go young and stick Robin Salo in the role, but if he's not ready they could be forced to give Sebastian Aho regular minutes, which might not be ideal if the team is intent on returning to the playoffs. De Haan would fit into their current salary cap puzzle and give Salo veteran competition for that third-pairing role, as well as give the Islanders yet another defense-first option to fit into their style of play.
He has familiarity with the organization and a clear place to play in the lineup if the youngsters aren't ready. Might the team prefer to stick a more up-tempo, pace-pushing option next to Mayfield? Sure, but giving de Haan a contract and a chance to win that job wouldn't hurt, either.
Projected Contract:
De Haan ranked 49th on PHR's 2022 Top 50 UFAs list, and was projected to earn a one-year, $1.5MM deal from the Ottawa Senators. A role on the Senators as either a seventh defenseman or competition to Erik Brannstrom for a third-pairing role could make sense, but maybe not at the $1.5MM cost we projected, especially if Senators GM Pierre Dorion is still seeking a big-name defensive addition.
It's difficult to exactly project de Haan's next deal, as on paper he's more qualified than the veteran defensemen who have received one-year, two-way league minimum deals this summer.
But, on the other hand, he's also had issues with availability and many teams place value on a defenseman who is able to stay in the lineup and remain healthy. It's definitely possible that de Haan has to settle for a minimum contract with a sizeable minor-league guarantee, but that doesn't seem likely. A one-year deal with one of the above clubs at a cap number similar to our $1.5MM projection seems like a reasonable outcome for his free agent journey, even if the ultimate number does come in a bit closer to $1MM.
Photos courtesy of USA Today Sports Images. Financial information courtesy of CapFriendly.