10:20 PM: We have some more details on the contract. Here's the financial structure of the deal, per Friedman. 
2023-24: $7MM signing bonus, $3.5MM salary
2024-25: $7MM signing bonus, $3.5MM salary
2025-26: $7MM signing bonus, $3.5MM salary
2026-27: $9.5MM signing bonus, $1MM salary
2027-28: $9.5MM signing bonus, $1MM salary
2028-29: $7MM signing bonus, $3.5MM salary
2029-30: $9.5MM signing bonus, $1MM salary
2030-31: $5MM signing bonus, $5.5MM salary
The deal carries a full no-move clause, and the final two years have a partial no-move clause that allows him to be dealt to 12 teams.
The Flames have also now officially announced the deal.
9:54 PM: Before he's even played a game for the team, Jonathan Huberdeau has chosen to remain with the Calgary Flames for the next nine seasons. Per Elliotte Friedman of Sportsnet, the Flames and Huberdeau have agreed on an eight-year, $10.5MM AAV deal, a contract that is the richest in Calgary Flames franchise history.
This is a legitimately massive extension, and it already bodes well for Flames GM Brad Treliving's bold decision to acquire two at-the-time pending unrestricted free agents (along with a prospect and a pick) for Matthew Tkachuk. Huberdeau is one of the most talented players in the NHL, and he's perhaps the closest comparable to Johnny Gaudreau that Treliving could have acquired.
A pass-first winger, Huberdeau was a crucial part of a Florida Panthers offensive attack that seemed to score at will in 2021-22. Huberdeau scored 30 goals and 115 points, numbers that would have won Art Ross and potentially Hart trophies just a few years ago, in the days before the dominance of players such as Connor McDavid and Auston Matthews.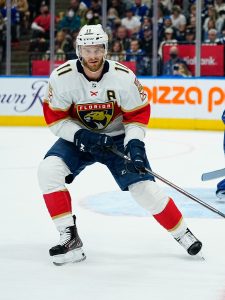 Huberdeau is one of the rare wingers in the NHL who can drive a line. When Huberdeau is at his best, he functions as a rising tide that lifts everyone else who shares the ice with him. The Panthers have had many breakout success stories in recent years, such as Carter Verhaeghe, Jonathan Marchessault, and Anthony Duclair, to name a few, and Huberdeau's presence helped each of those players reach new heights in their careers.
While nobody will mistake Huberdeau for a Selke Trophy contender, the reality is he has put increased effort into polishing his two-way game. Former interim Panthers head coach Andrew Brunette frequently used Huberdeau on the penalty kill, and in Calgary he should be able to help there in a pinch, although they should already have specialists more suited for those minutes.
With his full on-ice value in the picture, getting Huberdeau under contract beyond this season is a major win for the Flames, even at a $10.5MM cost. Huberdeau's 115-point season earned him that kind of hefty cap number, and the Flames, still reeling after the loss of Gaudreau and Tkachuk, have to be eagerly willing to pay it.
Will this deal look the best in 2028, 2029, or 2030? No, it probably won't. Huberdeau is 29 and isn't getting any younger. But the Flames had a strong regular season last year, and clearly want to win a Stanley Cup in the immediate future. This contract will take Huberdeau into his late thirties. With Gaudreau and Tkachuk now gone, they needed to acquire players like Huberdeau. Once they got one, they needed to find a way to hold on to him. Now they have.
In all fairness, there is the possibility that Huberdeau could regress. But on the flip side, he could age like his former teammate, Claude Giroux, who has scored well as he's aged and recently earned a large, multi-year contract from the Ottawa Senators despite the fact that he'll turn 35 in January.
Any way you slice it, this is a deal the Flames simply had to make. Some might quibble about the term, the cap hit, et cetera, and that's fair. This is a lot of money to commit to a player for a long time. But NHL teams don't have the luxury of getting picky with their 115-point players.
Paying a little bit too much for a little bit too long is simply the nature of shopping at the top of the market in the NHL. The reality is nearly every team would rather pay a star a bit too much than have nobody worth paying. This is a big win for Calgary and extremely welcome news for a Flames fanbase that just a few weeks ago felt completely hopeless.
Picture courtesy of USA Today Sports Images