After new San Jose Sharks general manager Mike Grier explained yesterday that he'll let Brent Burns "lead the way" on his future, speculation has drummed up around the league. Pierre LeBrun of The Athletic tweeted earlier today that the Carolina Hurricanes are kicking tires on Burns (and Montreal Canadiens defenseman Jeff Petry) as they look to replace the offense that left with Tony DeAngelo, while Bruce Garrioch of Postmedia notes that the Ottawa Senators have done the same.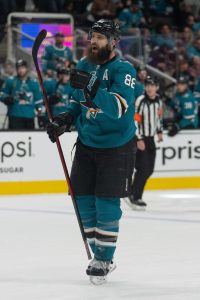 The team most often linked is the Dallas Stars, who are losing John Klingberg this offseason and have some clear connections to Burns through head coach Peter DeBoer and veteran forward Joe Pavelski.
While Grier might be letting Burns take the lead, getting out from his contract certainly wouldn't be the worst thing for the Sharks, as they try to move forward in a different direction. The 37-year-old defensemen has three years left on his deal and carries an $8MM cap hit, though the actual salary owed is much less. Burns will earn just $16.5MM over the last three seasons of the eight-year, $64MM contract, and $3.5MM of that was in the form of a signing bonus already paid this summer.
Though his is not a full no-trade clause, Burns does have almost full control of the situation. He submits a list of just three teams that he can be traded to on July 1 of every year.
The part that makes Burns' future so interesting is that despite his age, he is still an effective player. He recorded 54 points last season while still averaging more than 26 minutes a night and actually saw his deployment skew more defensive than in years past. In a more sheltered, offensive role, perhaps he could be even more effective for a contending team.
While the focus now is on free agency that starts in under 24 hours, there will be a number of trades also going down over the next few weeks. Whether Burns stays in San Jose appears to be completely up in the air at the moment.
Photo courtesy of USA Today Sports Images