The Edmonton Oilers and Evander Kane remain split in contract negotiations, according to Frank Seravalli of Daily Faceoff, who notes that the two sides met yesterday and made little progress. The separation appears to be in the length of the deal, with the Oilers looking to go short-term with the pending free agent forward. In fact, following the meeting, Kane has been granted permission to start speaking with other teams, according to Pierre LeBrun of The Athletic, though agent Dan Milstein notes that there is still hope a deal can be worked out in Edmonton.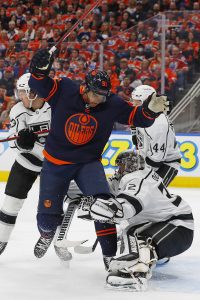 Of course, there is also the fact that Kane is currently involved in a grievance over what he claims was a wrongful termination by the San Jose Sharks, a process that does not appear to be headed toward a resolution before free agency opens on Wednesday. That certainly clouds things for the Oilers and any other team that wants to sign Kane, as there is the potential–however remote–that a new deal could be voided if the arbitrator re-instates his contract with the Sharks. By then, a team would be left out in the cold, with cap space in hand and no premier free agents left to sign. While a settlement between the Sharks and Kane would appear to be the most likely outcome, it is not decided yet.
There is also an apparent belief from Kane's camp that he will be able to land a deal worth somewhere between $40MM and $50MM on the open market, after showing just how dominant he can be down the stretch. After joining the Oilers in January, Kane scored 22 goals in 43 regular season games and another 13 in 15 playoff contests. That is a 49-goal pace over a full 82-game season, obviously making him one of the most dangerous offensive weapons in the league.
While some of that was obviously driven by the opportunity to play with Connor McDavid, it's exactly that chemistry that makes Kane such an appealing asset for the Oilers. Not every player can keep up with a superstar but the Oilers finally found a perfect match for McDavid in Kane, potentially making him even more valuable to them than any other team.
The fact that he appeared to stay out of trouble off the ice during his time in Edmonton will only help his case, and the Oilers' newfound cap space should only make it easier to work out a deal. Still, if the two sides remain far apart just days before free agency, it might seem prudent for the Kane camp to at least wait to see what else is out there before circling back.
Photo courtesy of USA Today Sports Images