Turns out Evgeni Malkin isn't heading to market after all. After going back and forth for months, the Pittsburgh Penguins and their Russian superstar have come to an agreement just 12 hours before he was set to hit the open market. Malkin has signed a four-year extension that will pay him $24.4MM ($6.1MM AAV).
General manager Ron Hextall released the following statement:
Evgeni is a generational talent who will be remembered as one of the greatest players in NHL history. His hockey resume and individual accomplishments speak volumes about him as a player, and we are thrilled to watch him continue his remarkable legacy in Pittsburgh.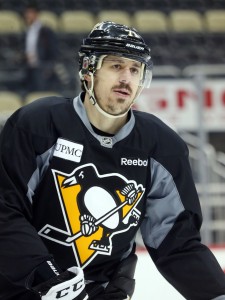 Malkin, 35, will now be under contract through the 2025-26 season, one year longer than teammate Sidney Crosby (but two years shorter than the recently-extended Kris Letang, who now carries the same cap hit). Pierre LeBrun of The Athletic reports the full details of the contract:
2022-23: $4.0MM salary + $4.0MM signing bonus
2023-24: $6.0MM salary
2024-25: $5.6MM salary
2025-26: $1.0MM salary + $3.8MM signing bonus
The deal also includes a full no-movement clause throughout, though trade speculation will likely never stop, as it has followed Malkin through most of his career.
What a career it has been. The second-overall pick from 2004 stepped into the NHL in 2006 as an instant superstar, winning the Calder Trophy in a landslide over Paul Stastny (Malkin received 120 of the 143 first-place votes) and scoring 85 points in 78 games. By year two, he was already the Hart Trophy runner-up and by year three he was taking home the Art Ross as the league's most productive player. He also happened to take home the Conn Smythe that year, as the Malkin and the Crosby-led Penguins lifted the Stanley Cup for the first time. They would do it twice more with that dynamic duo in place, and now look to try it again while they are still effective.
It has never been Malkin's effectiveness that is questioned, only his consistency and health. The big center has only played 70 games in a season once over the last decade, usually missing significant stretches due to injury. This season he played in just 41 games, though he still managed to score at a better than point-per-game pace, registering 20 goals and 42 points.
The negotiation, obviously stressful on both sides, has resulted in a deal that seems more than reasonable. The Penguins get to have Malkin back for a cap hit quite a bit lower than the $9.5MM he had been carrying since 2014, while the veteran forward gets the security of a four-year deal to play out his career in Pittsburgh.
Now the question of whether Malkin, Crosby, and Letang are still good enough to lead this team to the promised land will be asked–or whether all this contract confirms is that they will each be Penguins for life.
Photo courtesy of USA Today Sports Images