Why sleep when you can sign contract extensions! The Edmonton Oilers and Evander Kane reached a late-night agreement on a new four-year contract, that will bring the winger back before he reaches unrestricted free agency. Kane himself announced the deal, which carries a cap hit of $5.125MM. PuckPedia has the full breakdown:
2022-23: $750K salary + $5.5MM signing bonus
2023-24: $1.5MM salary + $4.0MM signing bonus
2024-25: $2.75MM salary + 2.0MM signing bonus
2025-26: $4.0MM salary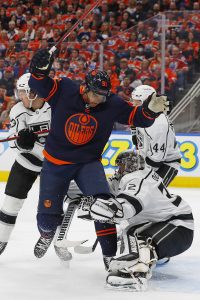 It also includes a full no-movement clause until February 28, 2025, at which point it will change to a 16-team trade list. While the team hasn't actually announced the deal, they did amplify Kane's tweet about it, which included the following message.
A big part of my decision to stay in Edmonton was because of the opportunity given to me only 7 months ago but also the chance to be a part of a championship team. I want to win, and I believe after signing this deal we will be able to add the right pieces along with myself to accomplish that goal, a championship.
There's no doubting Kane's ability on the ice. He scored 35 goals in just 58 games between the regular season and playoffs, finding instant chemistry with Connor McDavid and finally offering the kind of high-impact scoring talent that the Oilers have been looking for. It is all the off-ice stuff that has limited his market, as seen by this new contract, which comes in well below what a player of his production level would have earned normally on the open market.
There is also still some uncertainty around his future because of a grievance with the San Jose Sharks over wrongful termination, though it should be noted that this new contract is worth almost exactly the same amount as what was left on his previous deal. Perhaps there is a path to settlement, which would clear up any potential issues with this new deal.
The Oilers, who are also expected to make a big splash in the goaltending market today, get better by bringing Kane back. The team has said goodbye to some of its older players, including Duncan Keith and Zack Kassian, and appears poised to take another run at the Pacific Division crown in 2022-23. For Kane in particular, the risk was always in a long-term deal. Keeping it to four years at least someone protects the Oilers from that risk.
Photo courtesy of USA Today Sports Images